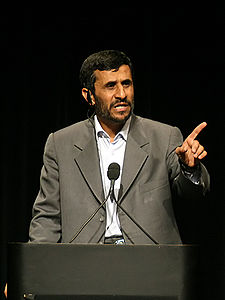 Mahmoud Ahmadinejad
In his update last night, Mark Armstrong wrote:
In the Middle East, there are reports that Iran has prepared a site for a nuclear test explosion. How's that for a response to the soaring speeches and bridge-building diplomacy? Israel is disheartened that the current U.S. administration is prepared to accept the coming reality of a nuclear-armed Iran. There are so many facets of Bible prophecy moving toward fruition that it is difficult to keep track.
At the COGwriter site, I will try to keep readers informed on facets of Bible prophecy that I see moving forward.
Iran itself is apparently starting to conclude that it needs to say something about Israel attacking it and made an announcement today:
Iran will strike Israel nuclear sites if attacked

(AFP) – 3 hours ago

TEHRAN — Iran has the capability to strike arch-foe Israel's nuclear sites firmly and will do so if it comes under attack, the head of the elite Revolutionary Guards Corps said on Saturday.

Asked by Iran's Arabic language television channel Al-Alam whether Iran has the ability to strike Israeli nuclear sites, Mohammad Ali Jafari said: "Yes, definitely we have this capability because of the advances we have made in the past two years to carry out such a task."

"We have said that all of Israel's soil is under the coverage of our missiles. We have such capability and can certainly respond to any attack" by Israel.

Jafari said Iran will give a "firm and precise" answer if attacked by Israel.

"We are not responsible for this regime and other enemies' foolishness. If they strike Iran, our answer will be firm and precise. They will have no answer when Iran bombards them and sends several of its missiles."…

Relations between the two arch-foes have deteriorated in the past four years under the rule of President Mahmoud Ahmadinejad.

Israel, although widely believed to have nuclear weapons itself, is strongly against Iran's controversial nuclear programme.  http://www.google.com/hostednews/afp/article/ALeqM5giHwkUWNcgOo2Q7G8csX6vzwVu0Q
Iran has a tendency to make strong statements, but the degree to which it would actually carry them out is unknown.
Many (including Hal Lindsey yesterday) believe that Israel only has a short window of time to strike Iran and hence may do so relatively soon.  And that may be.
Two articles of possibly related interest may include:
Is There A Future King of the South? Some no longer believe there needs to be. Might Egypt, Islam, Iran, Arabs, or Ethiopia be involved? What does the Bible say?
The Arab World In the Bible, History, and Prophecy The Bible discusses the origins of the Arab world and discusses the Middle East in prophecy. What is ahead for the Middle East and those who follow Islam?