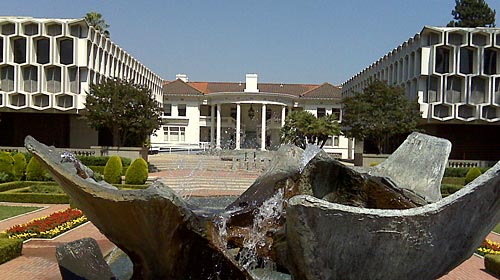 The old Worldwide Church of God used to own the above buildings, which since have been demolished.

ICG's Mark Armstrong reported that his mother Shirley died:
To all concerned,

I am sorry to report that my sweet Mother, Shirley Ann Armstrong died peacefully at 3:17 am this morning. The news apparently flew throughout the internet almost immediately, but I wanted to add some context to this terribly sad event.

Most of Mom's immediate family was able to be at her side before the end came, and for that we are all very thankful.

The days leading up to October 16th were some of the best she'd had in months. I was able to talk to her at least three times by phone while traveling, passing along the great news that Michael and Melody are expecting. She said, "Tell them congratulations for me." She also spoke lucidly with them and with Sonja by phone, exchanging information about each other's circumstances as you'd expect.. Wednesday the 15th was a particularly good day for Mom. She was up for breakfast, lunch and dinner, feeding herself and expressing her gratitude to my brother David who was staying with her.

Mom never used a wheelchair or was confined to her bed. She got where she was going, on one of our arms, on her own two feet right up to the last day. Though she really never felt good or energetic for at least the last two years, she was never in any agonizing pain, and for that we are eternally grateful.

When I got word, pre-dawn in Lake Tahoe that Mom was in the midst of a life-ending emergency, I was able to secure an early morning flight and arrive at her side by about 8:30 pm last night. Matthew and his sons Andrew and Hunter had arrived and visited with her earlier. She was only in a semi-conscious state, but I'm sure she was aware of my presence and hope that was a comfort. She held on until my Son, Michael and his wife, Melody along with her only granddaughter, Sonja and her husband, Matt arrived shortly after 1:00 am. We all had the opportunity to speak and be close with her until her breathing became labored.

I was able to reach beneath the covers, take her hand in mine and say a prayer thanking God for her, for all she's done for all of us and all she's meant to so many; for the fine example of sterling character that defined her whole life; for being the rock and the glue that has held the Hammer and the Armstrong families together; and asked God to take good care of her. After saying "Amen" she yawned once or twice, and breathed no more.

She's safe in God's Hands, she didn't suffer terribly as many do. Her time had come, as it must have been God's will. Surely it is a time of great sadness and we're all missing her already. But we also have a tremendous amount for which to be thankful and can rejoice in the life we were blessed to share with her. We loved her dearly, as did everyone who crossed her path. She took care of us, kept us all in line, and we're going to try to stay that way. She was a wonderful wife and an inspiration to my Dad, Garner Ted Armstrong, and crucial to the Evangelistic Association and the ICG.

Heartfelt thanks to everyone for the prayers and well-wishes. We believe they were answered, according to His will. The funeral will be held at Croley Funeral Home at 401 N. Center, Gladewater, TX on Wednesday, October 21 with the time yet to be established.
Mark Armstrong
While Shirley Hammer Armstrong may have been a wonderful wife, her husband reportedly roamed around and that was a reason he was put out of the old Worldwide Church of God.
Those interested in the true church may find the following of interest:
Intercontinental Church of God ICG was Garner Ted Armstrong's last group; it is now led by Mark Armstrong.
Where is the True Christian Church Today? This free online pdf booklet answers that question and includes 18 proofs, clues, and signs to identify the true vs. false Christian church. Plus 7 proofs, clues, and signs to help identify Laodicean churches. A related sermon is also available: Where is the True Christian Church?
Unity: Which COG for You? Why so many groups? Why is there lack of unity in the Churches of God? Has it always been this way? What can/should be done about it? Here is a related article in the Spanish language: Unidad: ¿Cuál Iglesia de Dios para usted?
The Philadelphia Church Era was predominant circa 1933 A.D. to 1986 A.D. The old Radio Church of God and old Worldwide Church of God, now the remnant of that era is basically the most faithful in the Church of God, like who hold to the beliefs and practices of the Continuing Church of God.
The Laodicean Church Era has been predominant circa 1986 A.D. to present. The Laodiceans are non-Philadelphians who mainly descended from the old WCG or its offshoots. They do not properly understand the work or biblical prophecies and will face the Great Tribulation if they do not repent.