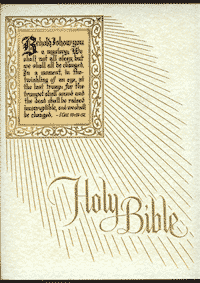 Jim Franks, of the Church of God, a Worldwide Association (COGWA), sent out an email letter to COGWA's ministry with some very interesting statistics:
As of March 1, we have more than 200 congregations holding weekly services with more than 170 elders and 8,000 in attendance around the world.
As I reported yesterday the number of congregations claimed is now 232.  Also as I reported last week, it appears that 174 elders resigned (mainly voluntarily, but some involuntarily) from the United Church of God (UCG) since June 2010.  Thus, Jim Frank's letter suggests that nearly all of them have made their way to become part of COGWA.  The announced membership/attendance figures suggest that COGWA is likely now the third largest COG.
UCG, the group that COGWA broke away from, may still be the largest (and probably is).  The Living Church of God (LCG) still seems to be the second largest (though possibly not by very much). Gerald Flurry's improperly named Philadelphia Church of God (PCG) was third in size and now is apparently fourth. David Hulme's COGaIC is probably fifth.  Once the Fall 2011 Feast of Tabernacles' attendance figures are released (which is something that UCG and LCG have always done, and COGWA will probably do), sizes will be clearer (some in UCG may still go to COGWA or elsewhere, and some who have started attending COGWA may leave it).  (PCG generally does not publicly release its Feast of Tabernacles' attendance figures, and COGaIC has not publicly done so for years; both groups seem to have less attendees than they each had at their peaks a few years ago.)  Of all the COGs, LCG spends the most money and other resources to attempt to reach the world with Christ's gospel of the kingdom (Matthew 24:14).
Although there has been a lull in the number of elders leaving UCG for COGWA in the past couple of weeks, I have received word that more members are transitioning over to COGWA from UCG.  If UCG actually has lost over 8,000 people (and since not all in COGWA necessarily came from UCG, it may not have), UCG is in a worse situation than it has seemed.  Hence UCG's recent income projections showing a 22.5% decrease, made last week by its Treasurer Aaron Dean (see UCG's Aaron Dean Reports Finances, AC Reports Another Ministerial Loss), may prove to be too optimistic.  Time will tell (since UCG, like LCG, publishes audited financial statements, UCG's income for its fiscal year ending 6/30/2011 should become public no later than next Fall).
COGWA's Spending
In the same letter, Jim Franks also reported:
Starting over is not easy, but within a matter of 10 weeks a new organization is up and running—not quite on all cylinders just yet—but up and running. On Feb. 7, sixty employees began work for COGWA.  As of March 1, we began providing financial support for international areas (Latin America, South Africa, Zimbabwe, Zambia, Malawi, Ghana, the Philippines, Caribbean, French regions of Africa, France and New Zealand—with more to come). This will be a large financial undertaking, to the tune of $900,000 on an annual basis. Outside of the employment of 60 people, this will be the largest expenditure to date for the new organization.
The above is consistent with what I expected (as well as what I have, in writing, warned about COGWA).  COGWA's main financial priorities seem to be to provide employment for ministers as well as to provide other financial support for their congregations.  Gospel proclamation will likely to continue to take a lower priority.  And while some will argue about what to expect from a group that did not officially form until December 23, 2010, I will simply state that the old Global Church of God (the vast majority of whom ended up in LCG) was on radio within two months of its formation, and the Living Church of God had a telecast on superstation WGN within two months of its formation in late 1998.  There is a difference in priorities in the COGs.
To me this is clear.  Others will have excuses, but remember that Jesus taught, "For where your treasure is, there your heart will be also" (Matthew 6:21, NIV).
I believe that the crisis was a wake up call, a "knocking on the door" (cf. Revelation 3:20) if you will, for those in or formerly in UCG.  Yet, it seems that most who are or were part of UCG have not truly understood this warning as they have tended to be satisfied with a work that was not hot (Revelation 3:14-17). This crisis affecting UCG/COGWA could be part of the final warning to those who have rejected Philadelphia-era governance and gospel proclamation priorities to get them to consider their state (Revelation 3:17-19).
Notice something that Isaiah was inspired to write:
8 Now go, write it before them on a tablet,
And note it on a scroll,
That it may be for time to come,
Forever and ever:
9 That this is a rebellious people,
Lying children,
Children who will not hear the law of the Lord;
10 Who say to the seers, "Do not see,"
And to the prophets, "Do not prophesy to us right things;
Speak to us smooth things, prophesy deceits. (Isaiah 30:8-10)
Many people prefer to hear "smooth things", but I believe that pointing out these spending matters shows love as Jesus seemed to have pretty strong messages in the end for the people of God, including their works (cf. Revelation 3, the entire chapter) and/or approach to it.  This crisis has been a real struggle for many of those in or once part of UCG as many on both sides seem to be offended by the actions of those on the other side. This split is also seems to be causing financial and organizational tensions for the two primary groups affected.
If you are or were part of UCG/COGWA and are confused about what to do, please pray, fast, and study the Bible about this.
Ask yourself what are the true priorities that the Bible indicates that the church most faithful to the words of Jesus would do and act appropriately.
Can you see what really has happened?  Is this YOUR time to support the primary group that is doing the gospel proclaiming work?
Some articles of possibly related interest may include:
Polycarp, Herbert W. Armstrong, and Roderick C. Meredith on Church Government What form of governance did the early church have? Was it hierarchical? Which form of governance would one expect to have in the Philadelphia remnant? The people decide and/or committee forms, odd dictatorships, or the same type that the Philadelphia era itself had?
Unity: Which COG for You? Why so many groups? Why is there lack of unity in the Churches of God? Has it always been this way? What can/should be done about it?
Differences between the Living Church of God and United Church of God This article provides quotes information from the two largest groups which had their origins in WCG as well as commentary.
There are Many COGs: Why Support the Living Church of God? This is an article for those who wish to more easily sort out the different COGs. It really should be a MUST READ for current and former WCG/GCI members or any interested in supporting the faithful church. It also explains a lot of what the COGs are all about.
Concerns about Church of God, a Worldwide Association This seems to be the largest group that came out of the United Church of God. Here is some history and concerns about it.
Should the Church Still Try to Place its Top Priority on Proclaiming the Gospel or Did Herbert W. Armstrong Change that Priority for the Work? Some say the Church should mainly feed the flock now as that is what Herbert W. Armstrong reportedly said. Is that what he said? Is that what the Bible says? What did Paul and Herbert W. Armstrong expect from evangelists?
The Laodicean Church Era has been predominant circa 1986 A.D. to present. These are non-Philadelphians who mainly descended from the old WCG.