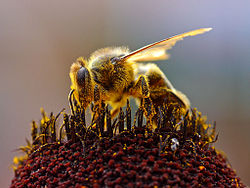 I was just forwarded the following:
From Jason Webster, secretary, UCG Southern Africa:

Neil and Isella Wallis were attacked and chased by a swarm of African Bees while walking on their farm earlier today. They began to run in different directions, and the bees went after Neil. These bees can be extremely dangerous, especially as to how one's body reacts. Neil is now unable to see, his blood pressure is low and he's having difficulty breathing.  Isella was also stung a few times but was able to get away from the bees. Neil has been put on an adrenaline drip. The doctor is "literally standing over him watching how he is reacting to the bee poison." Every minute counts, as this is very serious. Please pray for God to help him through this and to completely heal him. With love and thanks from the whole family, Jason Webster and Shannon Sweat.
Although I have been to South Africa, I do not know these members of the United Church of God. But they are in my prayers.