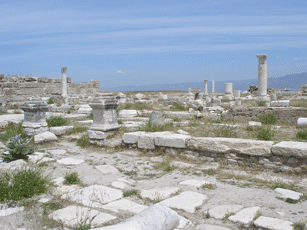 Ancient Laodicea

UCG reported the following in a letter from its current Council members late yesterday:
Dear Ministers and Members,

This letter to you is from the entire sitting Council of Elders and has also been signed by Dennis Luker as president of the United Church of God, representing the administration and ministerial team…

This morning, during the regularly scheduled meetings of the Council of Elders, Melvin Rhodes was presented with the resignations of three members of the Council: David Baker, Michael Blackwell and David Treybig. The Council resignations today followed on the resignation from the Council submitted last Friday by Jim Franks. All resignations were received in a civil and respectful manner. No resignations from the Council from these four men were solicited by other Council members and they were not anticipated.
In following the process established by the Church's Constitution, Roy Holladay and Victor Kubik were installed as members of the Council of Elders…
As the work and mission of the United Church of God continues forward, we as the current Council of Elders, together with Mr. Luker, want to emphasize the intensely earnest need for all of us to be in alignment with God's will (Romans 12:1-2). We must surrender ourselves to that divine will in order for this Church—this group of called-out ones—to be healed of our differences, achieve reconciliation and forge together in unity…
One, the members in Latin America have not been cut off. No one on the Council has abandoned anyone…
Two, no doctrines of the Church are being changed, subtly or overtly…
Three, we on the Council and in the administration believe that credentialed ministers serving within the United Church of God must fulfill their ministerial duties…
In Christ's service,

The Council of Elders [Scott Ashley, Bob Berendt, Aaron Dean, William Eddington, Roy Holladay, Victor Kubik, Darris McNeely, Melvin Rhodes (chairman), Mario Seiglie and Robin Webber] and Dennis Luker (president).
The Council admitted that it did not expect several of the resignations it received yesterday, thus it may not have realized how deeply this crisis has affected many in UCG.  It is interesting, to me at least, that Roy Holladay is once again back on the Council
UCG will likely make several more announcements.  And some (like many who were part of UCG in Latin America earlier this year) will disagree with several statements quoted above.  The goal, listed above, for UCG to "forge together in unity" is one that it has not truly attained in the past if my encounters with UCG members have been at all representative of UCG (and I have attended UCG services numerous times–before GCG/LCG was in this area, and while traveling).
Changes keep happening at UCG.  Now while UCG's current, as of yesterday, Council may not intend to change doctrine, the reality is that it may wish to look at UCG's history.  Some of the changes in doctrine and policy are documented in the articles Differences between the Living Church of God and United Church of God and In Their Own Words: Doctrinal Differences Between the old United Church of God and the old Global Church of God.
Speaking of UCG matters, according to the AC site, Kenneth Giese, a UCG former minister (who resigned last month), wrote the following related to his departure:
Since my resignation from employment with the United Church of God on November 4, 2010, various UCG ministers and administrators have expressed their disappointment over my "refusal" to accept the offer of a transfer to the three-church circuit (Mobile, Geneva and Pensacola) currently covered by Harold Rhodes, a long-time pastor and close personal friend of mine…

It has consistently been Harold's hope to return to serve those three congregations following his recovery. Several months ago, Victor Kubik assured Harold that any decision to retire or diminish his role in serving those three congregations would be his to make. In fact, Victor Kubik updated the entire ministry on Harold's condition in the most recent issue of The Ministerial Newsletter and Journal (November 24, 2010).

It should also be noted that Harold was completely unaware of his circuit being offered to me at the conclusion of Mr. Luker's and Mr. Kubik's recent visit to Sacramento (Sabbath, October 30th).

Here are two quotes from an e-mail message I received from Vic Kubik on Friday, November 5th (the day after I resigned from employment with UCG):

"Your characterization that we asked you to move because you didn't support the Council was not really accurate. Why would we ask you to go elsewhere if you were not supportive of us? Rather, the real reason is the continuously divided church after many visits with no end in sight. Our hope was that your taking another assignment, a fresh start to all, would be a solution. We did have the very needy circuit available in Alabama/Florida that has been without a pastor going on a year."

Please consider the following:

My concern over recent COE and administrative decisions and directives was well known to both Messrs. Luker and Kubik. However, I made a concerted effort to share my specific concerns privately with the COE and administration and NOT share them with my congregations. Essentially, I have the same question that Mr. Kubik posed in the above quote: Why would they ask me to go elsewhere if I was not supportive of them in the context of the total loyalty they appear to be demanding?…

During their three-day visit to Sacramento, the current administration managed to accomplish the following: thoroughly discredit the former administration's efforts (of over four years) to resolve the issues present here, permanently divide these two congregations and leave at least one-half of the Sacramento congregation without a shepherd, endorse the inappropriate behavior of the former pastor and make it impossible for me to continue as the pastor of these two congregations.

Please ask yourself what you would have done, given these circumstances. To accept the proposed "transfer" was completely unacceptable as was the administration's handling of this entire situation. I chose to resign.
UCG has issues.  And governance and administration have long been part of them.
Any interested in supporting the remnant of the Philadelphia era of the COG should prayerfully check out LCG.
Those not interested will either remain part of UCG (or where ever they are), go with one of the former UCG break-away ministers/groups, go somewhere else, or drop out.  God will hold all accountable for what they do and do not do.
Some articles of possibly related interest may include:
Polycarp, Herbert W. Armstrong, and Roderick C. Meredith on Church Government What form of governance did the early church have? Was it hierarchical? Which form of governance would one expect to have in the Philadelphia remnant? The people decide and/or committee forms, odd dictatorships, or the same type that the Philadelphia era itself had?
Unity: Which COG for You? Why so many groups? Why is there lack of unity in the Churches of God? Has it always been this way? What can/should be done about it?
Differences between the Living Church of God and United Church of God This article provides quotes information from the two largest groups which had their origins in WCG as well as commentary.
There are Many COGs: Why Support the Living Church of God? This is an article for those who wish to more easily sort out the different COGs. It really should be a MUST READ for current and former WCG/GCI members or any interested in supporting the faithful church. It also explains a lot of what the COGs are all about.
Should the Church Still Try to Place its Top Priority on Proclaiming the Gospel or Did Herbert W. Armstrong Change that Priority for the Work? Some say the Church should mainly feed the flock now as that is what Herbert W. Armstrong reportedly said. Is that what he said? Is that what the Bible says? What did Paul and Herbert W. Armstrong expect from evangelists?
The Laodicean Church Era has been predominant circa 1986 A.D. to present. These are non-Philadelphians who mainly descended from the old WCG.