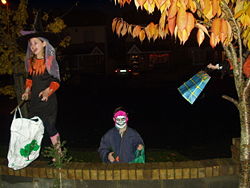 It seems like stores have been selling 'Halloween' related items earlier than they once did.  Notice also the following:
The 2012 Halloween consumer spending survey from the National Retail Federation predicts that 170 million people will spend a total of $8 billion. Both are highs in the ten year history of the survey, and the 2011 total spending was $6.86 billion.
"By the time Halloween rolls around each year it's safe to say Americans have already spent two months preparing for one of the fastest-growing and most widely-loved holidays of the year," said NRF president and CEO Matthew Shay.

The average person is predicted to spend $79.82 on costumes, candy and decorations. Spending on just costumes was $28.65, up two dollars from the previous year.  http://southington.patch.com/articles/record-halloween-spending-expected-in-2012-250b0729

This year, Obama masks are outselling Romney masks by more than 30 percent, according to the sales records at BuyCostumes.com and Spirit Halloween Stores, two popular seasonal retailers. BuyCostumes.com statistics said Obama is up 30 percentage.  http://www.huffingtonpost.com/2012/09/26/presidential-halloween-masks_n_1917020.html
Of course, the origins of today's Halloween are not biblical.  A biblical holy day, the Last Great Day, is today, yet few will keep it.
Halloween is not a holiday that the Bible enjoins.  Instead it warns against various elements associated with it.  Despite that, Americans are getting more and more involved with it.
The Bible repeatedly warns against the practices of witches (Exodus 22:18; Deuteronomy 18:10, Galatians 5:20) and dealing with ghosts/etc. (Deuteronomy 18:11, I Chronicles 10:13).
Some items of possibly related interest may include:
Is Halloween Holy Time for Christians? This article provides some historical and biblical insight on this question.
Do You Practice Mithraism? Many practices and doctrines that mainstream so-called Christian groups have are the same or similar to those of the sun-god Mithras. Do you follow Mithraism combined with the Bible or original Christianity?
Anglo – America in Prophecy & the Lost Tribes of Israel Are the Americans, Canadians, English, Scottish, Welsh, Australians, Anglo (non-Dutch) Southern Africans, and New Zealanders descendants of Joseph? Where are the lost ten-tribes of Israel? Who are the lost tribes of Israel? What will happen to Jerusalem and the Jews in Israel? Will God punish the U.S.A., Canada, United Kingdom, and other Anglo nations? Why might God allow them to be punished first?
The Feast of Tabernacles: A Time for Christians? Is this pilgrimage holy day still valid? Does it teach anything relevant for today's Christians? What is the Last Great Day? What do these days teach?
Holy Day Calendar This is a listing of the biblical holy days through 2017, with their Roman calendar dates. They are really hard to observe if you do not know when they occur 🙂