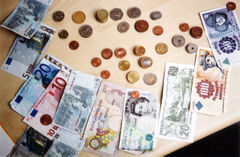 World Currencies
A few hours ago, picked up my personal/family tax returns, and plan to mail them later today.
April 15th is traditionally the day income tax returns are due in the USA (the date is extended if the 15th falls on a weekend or holiday). But what about taxes? Should Christians pay them? Why do the descendants of Israel pay them?
In the USA, one of the biggest bites on our income is taxes. There are state and federal income taxes, sales taxes, property taxes and other taxes. And some countries, especially in Europe, taxes are higher.  In the USA, and elsewhere, additional taxes, such as "wealth taxes" are likely to be proposed and implemented.
What did Jesus teach about taxes?
Jesus taught that people were to pay taxes:
14 When they had come, they said to Him, "Teacher, we know that You are true, and care about no one; for You do not regard the person of men, but teach the way of God in truth. Is it lawful to pay taxes to Caesar, or not? 15 Shall we pay, or shall we not pay?"

But He, knowing their hypocrisy, said to them, "Why do you test Me? Bring Me a denarius that I may see it." 16 So they brought it.

And He said to them, "Whose image and inscription is this?" They said to Him, "Caesar's."

17 And Jesus answered and said to them, "Render to Caesar the things that are Caesar's, and to God the things that are God's." (Mark 12:14-17)
Notice that He also paid taxes, even though He knew He should be legitimately exempted:
24 When they had come to Capernaum, those who received the temple tax came to Peter and said, "Does your Teacher not pay the temple tax?"

25 He said, "Yes."

And when he had come into the house, Jesus anticipated him, saying, "What do you think, Simon? From whom do the kings of the earth take customs or taxes, from their sons or from strangers?"

26 Peter said to Him, "From strangers."

Jesus said to him, "Then the sons are free. 27 Nevertheless, lest we offend them, go to the sea, cast in a hook, and take the fish that comes up first. And when you have opened its mouth, you will find a piece of money; take that and give it to them for Me and you." (Matthew 17:24-27)
The Apostle John taught:
6 He who says he abides in Him ought himself also to walk just as He walked. (1 John 2:6)
While governments come up with reasons that they want taxes, some of which seem more legitimate than others, the Bible suggests that governments will increase taxes essentially for the benefit of the government. And essentially this is a punishment for disobedience.
Notice what happened to ancient Israel when they wanted a king instead of a prophet of God as their primary human leader:
4 Then all the elders of Israel gathered together and came to Samuel at Ramah, 5 and said to him, "Look, you are old, and your sons do not walk in your ways. Now make us a king to judge us like all the nations."

6 But the thing displeased Samuel when they said, "Give us a king to judge us." So Samuel prayed to the Lord. 7 And the Lord said to Samuel, "Heed the voice of the people in all that they say to you; for they have not rejected you, but they have rejected Me, that I should not reign over them. 8 According to all the works which they have done since the day that I brought them up out of Egypt, even to this day — with which they have forsaken Me and served other gods — so they are doing to you also. 9 Now therefore, heed their voice. However, you shall solemnly forewarn them, and show them the behavior of the king who will reign over them."

10 So Samuel told all the words of the Lord to the people who asked him for a king. 11 And he said, "This will be the behavior of the king who will reign over you: He will take your sons and appoint them for his own chariots and to be his horsemen, and some will run before his chariots. 12 He will appoint captains over his thousands and captains over his fifties, will set some to plow his ground and reap his harvest, and some to make his weapons of war and equipment for his chariots. 13 He will take your daughters to be perfumers, cooks, and bakers. 14 And he will take the best of your fields, your vineyards, and your olive groves, and give them to his servants. 15 He will take a tenth of your grain and your vintage, and give it to his officers and servants. 16 And he will take your male servants, your female servants, your finest young men, and your donkeys, and put them to his work. 17 He will take a tenth of your sheep. And you will be his servants. 18 And you will cry out in that day because of your king whom you have chosen for yourselves, and the Lord will not hear you in that day."

19 Nevertheless the people refused to obey the voice of Samuel; and they said, "No, but we will have a king over us, 20 that we also may be like all the nations, and that our king may judge us and go out before us and fight our battles." (1 Samuel 8:4-20)
Since the time of Samuel, governments have often not been satisfied for a tenth, but have wanted more and more. And this is happening to many of those in USA, Canada, Europe, and elsewhere.
History shows that taxation occurred in places such as ancient Egypt, Persia, Greece and Rome. The famous Rosetta Stone mentions taxes on grain and wine. Humankind has suffered taxation throughout history, and much of this is a consequence of rejecting God's government. But of course, taxes themselves are a lesser of the many evils human's have suffered because of this rejection.
Yet, the time will come when Jesus will return and restore the government of God. There will be no improper nor unfair taxes then. When Jesus comes and establishes His kingdom, humankind will accept His government and the current tax burdens will be replaced by a proper tithing based system.
Some items of possibly related interest may include the following:
Taxes What caused the descendants of Israel to pay taxes? Should Christians pay taxes? If you prefer, or additionally, you could watch the video Should Christians Pay Taxes?
The Bible, Peter, Paul, John, Polycarp, Herbert W. Armstrong, Roderick C. Meredith, and Bob Thiel on Church Government What form of governance did the early church have? Was it hierarchical? Which form of governance would one expect to have in the Philadelphia remnant? The people decide and/or committee forms, odd dictatorships, or the same type that the Philadelphia era itself had? What are some of the scriptural limits on ecclesiastical authority? Do some commit organizational idolatry? Here is a Spanish language version La Biblia, Policarpo, Herbert W. Armstrong, y Roderick C. Meredith sobre el gobierno de la Iglesia. Here is a link to a sermon titled Church Governance.
What is the Gospel? True religion should be based upon the true gospel. What are some of the different gospels and where did they come from? Do you believe the true or a false gospel? Who is preaching the gospel? Here is a version in Korean 복음이란 무엇인가?
The Gospel of the Kingdom of God was the Emphasis of Jesus and the Early Church Did you know that? Do you even know what the gospel of the kingdom is all about? You can also see a YouTube video sermon The Gospel of the Kingdom.
Did The Early Church Teach Millenarianism? Was the millennium (sometimes called chiliasm) taught by early Christians? Who condemned it? Will Jesus literally reign for 1000 years on the earth? Is this time near?
Does God Have a 6,000 Year Plan? What Year Does the 6,000 Years End? Was a 6000 year time allowed for humans to rule followed by a literal thousand year reign of Christ on Earth taught by the early Christians? Does God have 7,000 year plan? What year may the six thousand years of human rule end? When will Jesus return? 2019 or 202x?
Tithing Questions and Some Answers Addresses some non-biblical arguments against tithing. Should people tithe?
Anglo – America in Prophecy & the Lost Tribes of Israel Are the Americans, Canadians, English, Scottish, Welsh, Australians, Anglo-Saxon (non-Dutch) Southern Africans, and New Zealanders descendants of Joseph? Where are the lost ten-tribes of Israel? Who are the lost tribes of Israel? What will happen to Jerusalem and the Jews in Israel? Will God punish the U.S.A., Canada, United Kingdom, and other Anglo-Saxon nations? Why might God allow them to be punished first? Here is a link to the Spanish version of this article: Anglo-América & las Tribus Perdidas de Israel. A video of possible interest may be Will Will USA Spying Help the Beast Power?
Will the Anglo-Saxon Nations be Divided and Have People Taken as Slaves? Will the lands of the United States, United Kingdom, Canada, Australia, and New Zealand be divided? What about Jerusalem? What does Bible prophecy teach? Are there non-biblical prophecies that support this idea? Who will divide those lands? Who will end up with the lands and the people? Here is a link to a video titled Will the USA and other Anglo-nations be Divided and Their People Made Slaves? Here is a related item in the Spanish language ¿Serán divididas las naciones anglosajonas?