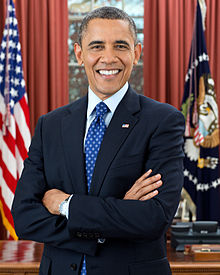 Barack Obama
(Official Whitehouse photo)

Former US President Barack Obama wants women to rule over us:
December 16, 2019

Speaking at a private event in Singapore on Monday, President Obama said that if women ran every country, we would all live with significantly improved living standards and there would be less war and strife. When it comes to leadership, women are "indisputably better" than men, Obama said, according to the BBC, which was apparently invited to the event.

Most of the world's problems, Obama said, stem from too many old men in positions of power, an obvious slight directed at President Donald Trump, though he wasn't explicitly named.

Although they're not perfect, women are so much more advanced and even-headed than men, that Obama believes if women were given two years running every country on earth, all of our problems would be fixed.

"Now women, I just want you to know; you are not perfect, but what I can say pretty indisputably is that you're better than us [men]."

"I'm absolutely confident that for two years if every nation on earth was run by women, you would see a significant improvement across the board on just about everything…living standards and outcomes."

When asked if he would ever consider going back into political leadership, he said he believed in leaders stepping aside when the time came.

"If you look at the world and look at the problems it's usually old people, usually old men, not getting out of the way," he said.

"It is important for political leaders to try and remind themselves that you are there to do a job, but you are not there for life, you are not there in order to prop up your own sense of self importance or your own power."

For the record, there was no hint in the BBC story about Obama's comments that he was joking. https://www.zerohedge.com/political/obama-says-women-are-indisputably-better-men-and-should-lead-every-country
Notice a prophecy from the Book of Isaiah:
9 The look on their countenance witnesses against them,
And they declare their sin as Sodom;
They do not hide it.
Woe to their soul!
For they have brought evil upon themselves.

10 "Say to the righteous that it shall be well with them,
For they shall eat the fruit of their doings.
11 Woe to the wicked! It shall be ill with him,
For the reward of his hands shall be given him.
12 As for My people, children are their oppressors,
And women rule over them.
O My people! Those who lead you cause you to err,
And destroy the way of your paths." (Isaiah 3:9-12)
Barack Obama, when president, refused to enforce the Defense of Marriage Act, and eventually supported its removal. He has assisted many in declaring their sin like Sodom (more biblical warnings about Sodom are in the article: The Bible Condemns Homosexuality).
And, also notice, that the Bible warns against women ruling. It is not that they can never help, but God says those who promote such things are causing people to err and get their way destroyed.
Although Barack Obama, particularly while campaigning to become US President, repeatedly claimed to be a Christian, he has overlooked many scriptures.
Jesus said that Christians are supposed to live "by every word that proceeds from the mouth of God" (Matthew 4:4).
The Bible does NOT teach that the world would be a better place if old men move aside and let women rule (for more on women's biblical roles, check out the article: Women and the New Testament Church).
Furthermore, the Bible teaches what the solution is.
It is repentance and turning to Jesus, individually (Acts 2:38) as well as repentance nationally to save a people (Hosea 11:3a, 5b-7).
Since national repentance is not expected, the end of the USA (Daniel 11:39) and other governments of this world is coming:
15 Then the seventh angel sounded: And there were loud voices in heaven, saying, "The kingdoms of this world have become the kingdoms of our Lord and of His Christ, and He shall reign forever and ever!"  (Revelation 11:15-16)
However, the good news is that Kingdom of God is the solution (watch also The Kingdom of God is the Solution).
That  Kingdom will renew the earth and help all: men and women, boys and girls, rich and poor, etc.
Sadly, leaders like Barack Obama are causing people to err and not move in that biblical direction.
Some items of possibly related interest may include:
Women and the New Testament Church What roles did women play in the ministry of Jesus and the apostles? Did Jesus and the Apostle Paul violate Jewish traditions regarding their dealings with women? Do women have any biblical limitations on their role in the Church? Were there female prophets? Do women have any special responsibilities in terms of how they dress? What does the New Testament really teach about women? Here are links to two related sermons: Women's Roles in the Church and New Testament Women.
Prophecy Obama: Prophecies of Barack Obama? Reasons why Barack Obama is apocalyptic and reasons why Barack Obama is not the Antichrist. This article includes many biblical and non-biblical prophecies, from around the world, that seem to discuss Barack Obama. Did Nostradamus predict Barack Obama dealing with the Antichrist?  Might Barack Obama set the stage for the kings of the North and South as at least one Shiite prophecy suggests?  Read it and decide for yourself if President Obama seems to be fulfilling various prophecies. Watch also the YouTube Barack Obama and the State of the Apocalypse.
Is God Calling You? This booklet discusses topics including calling, election, and selection. If God is calling you, how will you respond? Here is a link to a related sermon: Could God be Calling You? A short animation is also available: Is God Calling You?
Christians: Ambassadors for the Kingdom of God, Biblical instructions on living as a Christian This is a scripture-filled booklet for those wishing to live as a real Christian. A related sermon is also available: Christians are Ambassadors for the Kingdom of God.
Christian Repentance Do you know what repentance is? Is it really necessary for salvation? A related sermon is also available titled: Real Christian Repentance.
Just What Do You Mean — Repentance? Do you know what repentance is? Have you truly repented? Repented of what? Herbert W. Armstrong wrote this as a booklet on this important subject.
Proof Jesus is the Messiah This free book has over 200 Hebrew prophecies were fulfilled by Jesus. Plus, His arrival was consistent with specific prophecies and even Jewish interpretations of prophecy. Here are links to seven related sermons: Proof Jesus is the Messiah, Prophecies of Jesus' birth, timing, and death, Jesus' prophesied divinity, 200+ OT prophecies Jesus filled; Plus prophecies He made, Why Don't Jews Accept Jesus?, Daniel 9, Jews, and Jesus, and Facts and Atheists' Delusions About Jesus. Plus the links to two sermonettes: Luke's census: Any historical evidence? and Muslims believe Jesus is the Messiah, but … These videos cover nearly all of the book, plus have some information not in the book.
Anglo – America in Prophecy & the Lost Tribes of Israel Are the Americans, Canadians, English, Scottish, Welsh, Australians, Anglo-Saxon (non-Dutch) Southern Africans, and New Zealanders descendants of Joseph? Where are the lost ten-tribes of Israel? Who are the lost tribes of Israel? What will happen to Jerusalem and the Jews in Israel? Will God punish the U.S.A., Canada, United Kingdom, and other Anglo-Saxon nations? Why might God allow them to be punished first? Here is a link to the Spanish version of this article: Anglo-América & las Tribus Perdidas de Israel. Information is also in the YouTube sermons titled Where are the Ten Lost Tribes? Why does it matter? and British are the Covenant People. A short YouTube of prophetic interest may be: Are Chinese threats against Australia for real?
Will the Anglo-Saxon-Celtic Nations be Divided and Have People Taken as Slaves? Will the lands of the United States, United Kingdom, Canada, Australia, and New Zealand be divided? What about Jerusalem? What does Bible prophecy teach? Are there non-biblical prophecies that support this idea? Who will divide those lands? Who will end up with the lands and the people? Here is a link to a video titled Will the USA and other Anglo-nations be Divided and Their People Made Slaves? Here is a related item in the Spanish language ¿Serán divididas las naciones anglosajonas?
British are the Covenant People What do 'British' and 'Britain' mean in Hebrew? Are the descendants of the Anglo-Saxons people of the covenant? Does the British royal family connect to the throne of David? What does the Bible teach? What does history show us? Is there any DNA evidence related to British-Israelism? When did Christianity make it to the British Isles? Could Jeremiah have made it to the British Isles? What type of Christians made it to the British Isles? Did the last King of England believe in British Israelism?
Canada in Prophecy: What Does Bible Prophecy, Catholic Prophecy, and other Predictions Suggest About the Future of Canada? There are prophecies that suggest involvement with Canada. And many are not positive about its future. A sermon of related interest is also available: Canada in Prophecy.
Australia and New Zealand in Prophecy Do biblical prophecies help explain the wealth blessings for Australia and New Zealand? Might cursings from disobedience come in the 21st century? Here is a link to a related sermon: Australia and New Zealand: Origins and Prophecy.
Did The Early Church Teach Millenarianism? Was the millennium (sometimes called chiliasm) taught by early Christians? Who condemned it? Will Jesus literally reign for 1000 years on the earth? Is this time near? Two related sermons are available Millennial Utopia and The Millennium.
Does God Have a 6,000 Year Plan? What Year Does the 6,000 Years End? Was a 6000 year time allowed for humans to rule followed by a literal thousand year reign of Christ on Earth taught by the early Christians? Does God have 7,000 year plan? What year may the six thousand years of human rule end? When will Jesus return? 2027 or 20xx? There is also a video titled 6000 Years: When will God's Kingdom Come? Here is a link to the article in Spanish: ¿Tiene Dios un plan de 6,000 años?
When Will the Great Tribulation Begin? 2020, 2021, or 2022? Can the Great Tribulation begin today? What happens before the Great Tribulation in the "beginning of sorrows"? What happens in the Great Tribulation and the Day of the Lord? Is this the time of the Gentiles? When is the earliest that the Great Tribulation can begin? What is the Day of the Lord? Who are the 144,000? Here is a version of the article in the Spanish language: ¿Puede comenzar la Gran Tribulación en 2018 o 2019? ¿Es el Tiempo de los Gentiles? You can also see the English language sermon videos: The Great Tribulation from the Mount of Olives and Can the Great Tribulation begin before 2020? A shorter and newer video is: Could the Great Tribulation Begin in 2020?
The Times of the Gentiles Has there been more than one time of the Gentiles? Are we in it now or in the time of Anglo-America? What will the final time of the Gentiles be like? A related sermon is available and is titled: The Times of the Gentiles.
Armageddon Who is involved and when will this gathering happen? Here is also a video from Dr. Thiel, from Tel Megiddo in Israel: Armageddon. Other videos include: Armageddon Will it come on Trump's watch?, Iraq, Armageddon, & Prophecy, Freemasonry, Armageddon, and Rome, Is China paving roads to Armageddon?, and Jordan, Petra, and Armageddon.
The Gospel of the Kingdom of God was the Emphasis of Jesus and the Early Church Did you know that? Do you even know what the gospel of the kingdom is all about? You can also watch YouTube video sermons: Why Teach the Kingdom of God, The Gospel of the Kingdom, and The Kingdom of God is the Solution.