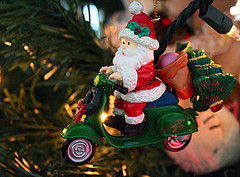 As mentioned earlier, the early Catholic Church did not celebrate Christmas.  And this is clearly admitted as The Catholic Encyclopedia teaches:
Christmas was not among the earliest festivals of the Church (Martindale C. Transcribed by Susanti A. Suastika. Christmas. The Catholic Encyclopedia, Volume III. Copyright © 1908 by Robert Appleton Company. Online Edition Copyright © 2003 by K. Knight. Nihil Obstat, November 1, 1908. Remy Lafort, S.T.D., Censor. Imprimatur. +John Cardinal Farley, Archbishop of New York).
It's observance was condemned as pagan around 200 A.D. by Tertullian:
The Minervalia are as much Minerva's, as the Saturnalia Saturn's; Saturn's, which must necessarily be celebrated even by little slaves at the time of the Saturnalia. New-year's gifts likewise must be caught at, and the Septimontium kept; and all the presents of Midwinter and the feast of Dear Kinsmanship must be exacted; the schools must be wreathed with flowers; the flamens' wives and the aediles sacrifice; the school is honoured on the appointed holy-days. The same thing takes place on an idol's birthday; every pomp of the devil is frequented. Who will think that these things are befitting to a Christian master, unless it be he who shall think them suitable likewise to one who is not a master? (Tertullian. On Idolatry, Chapter X. Translated by S. Thelwall. Excerpted from Ante-Nicene Fathers, Volume 3. Edited by Alexander Roberts and James Donaldson. American Edition, 1885. Online Edition Copyright © 2004 by K. Knight).
But, however, the majority (of Christians) have by this time induced the belief in their mind that it is pardonable if at any time they do what the heathen do, for fear "the Name be blasphemed"…To live with heathens is lawful, to die with them is not… But if we have no right of communion in matters of this kind with strangers, how far more wicked to celebrate them among brethren! Who can maintain or defend this?…By us,…the Saturnalia and New-year's and Midwinter's festivals and Matronalia are frequented–presents come and go–New-year's gifts–games join their noise–banquets join their din! Oh better fidelity of the nations to their own sect, which claims no solemnity of the Christians for itself!…(Tertullian. On Idolatry, Chapter XIV. Translated by S. Thelwall. Excerpted from Ante-Nicene Fathers, Volume 3. Edited by Alexander Roberts and James Donaldson. American Edition, 1885. Online Edition Copyright © 2004 by K. Knight).
Despite the fact that by the third century, the Church of Rome did not adopt Christmas until the fourth century.  It is well known that the date of December 25th was observed by non-Christians as part of the celebration of Saturnalia as well as the date of the birthday of the sun-god Mithra (or Mithras).
The Catholic Encyclopedia notes:

Mithraism A pagan religion consisting mainly of the cult of the ancient Indo-Iranian Sun-god Mithra. It entered Europe from Asia Minor after Alexander's conquest, spread rapidly over the whole Roman Empire at the beginning of our era, reached its zenith during the third century, and vanished under the repressive regulations of Theodosius at the end of the fourth century…Helios Mithras is one god…The 25 December was observed as his birthday, the natalis invicti, the rebirth of the winter-sun, unconquered by the rigours of the season (Arendzen. J.P. Transcribed by John Looby. Mithraism. The Catholic Encyclopedia, Volume X. Published 1911. New York: Robert Appleton Company. Nihil Obstat, October 1, 1911. Remy Lafort, S.T.D., Censor. Imprimatur. +John Cardinal Farley, Archbishop of New York).
The World Book Encyclopedia notes:
In 354 A.D., Bishop Liberius of Rome ordered the people to celebrate on December 25. He probably chose this date because the people of Rome already observed it as the Feast of Saturn, celebrating the birthday of the sun (Sechrist E.H. Christmas. World Book Encyclopedia, Volume 3. Field Enterprises Educational Corporation, Chicago, 1966, pp. 408-417).
It needs to be understood that some scholarly sources believe that the celebration in Rome of Christmas may have began 2-3 decades earlier (by Constantine, who had been a follower of Mithraism), but none I am aware of suggest it was prior Constantine in the fourth century. There have been scholars who believe that Constantine was involved as tradition claims a certain church in Rome as the first site of a December 25th "Christmas" celebration as the following news account indicates:
The church where the tradition of celebrating Christmas on Dec. 25 may have begun was built near a pagan shrine as part of an effort to spread Christianity, a leading Italian scholar says…the Emperor Constantine built the Basilica of St. Anastasia, where some believe Christmas was first celebrated on Dec. 25…

It opted to mark Christmas, then celebrated at varying dates, on Dec. 25 to coincide with the Roman festival celebrating the birth of the sun god, Andrea Carandini, a professor of archaeology at Rome's La Sapienza University, told reporters Friday. The Basilica of St. Anastasia was built as soon as a year after the Nicaean Council. It probably was where Christmas was first marked on Dec. 25, part of broader efforts to link pagan practices to Christian celebrations in the early days of the new religion, Mr. Carandini said. "The church was built to Christianize these pagan places of worship," he said. "It was normal to put a church near these places to try to 'save' them." Rome's archaeological superintendent, Angelo Bottini, who did not take part in Mr. Carandini's research, said that hypothesis was "evocative and coherent" and "helps us understand the mechanisms of the passage from paganism to Christianity." (Scholars link 1st yule church to pagan shrine. Washington Times – Dec 23, 2007 ROME (AP). http://washingtontimes.com/apps/pbcs.dll/article?AID=/20071223/FOREIGN/924350661/1001 viewed 12/24/07).
And the December 25th date was adopted apparently because the Greco-Roman church was filled with people who were not bothered by the fact that this was the Saturnalis/Mithra birthday, so calling it by the name of Christ somehow was believed to make the sun rebirth activities more acceptable.
In a commentary today, LCG's Davy Crockett wrote:
The sounds, the smells, the colorful lights and decorations; folks being thoughtful and remembering the poor, good feelings all around; what could possibly be wrong with any of this? Short days, cold, long nights can use some brightening up and some cheerful activities, so "Just leave me alone" the devotees to Christmas might say to those who decry the celebrations of the season…

This greatest of all the "Christian" holidays began in antiquity, as a pagan observance of the winter solstice, and has morphed into a quasi-religious observance that is really a great merchandising opportunity for merchants who cater to every whim, as people scramble to buy gifts for family, friends, and business associates. Surely, one can't be against booming commerce which brings jobs and prosperity to so many people…

Consider that the Bible says that truth is important. Notice John 8:32: "And you shall know the truth, and the truth shall make you free." I'm certain you are aware that one of the basic ten commandments given by God on Mt. Sinai concerned being truthful: "You shall not bear false witness" (Exodus 20:16). With that in mind, consider that Jesus Christ was not born on December 25th. So, the basic premise of the observance is based on an untruth – that's right – a lie!…

Revelation 21:8 states: "…all liars shall have their part in the lake which burns with fire and brimstone, which is the second death."

Clinging to traditions is not new. Jesus dealt with the subject when He strongly corrected the Pharisees and Sadducees saying: "All too well you reject the commandment of God, that you may keep your tradition" (Mark 7:9). In another place, Jesus explained that paying lip service and using His name is not what is required. "Not everyone who says to Me, 'Lord, Lord,' shall enter the kingdom of heaven, but he who does the will of My Father in heaven" (Matthew 7:21). What is His will?  That we worship him with sincerity and truth (1 Corinthians 5:8; cf., 1 Peter 1:22).

Christmas is not the only popular tradition or teaching that is not biblical.
Since no early Christians celebrated Christmas, it is obviously a tradition that some adopted based upon practices that were not held by the original apostles.
Is it your practice?  Should it be?
Some articles of possibly related interest may include:
What Does the Catholic Church Teach About Christmas and the Holy Days? Do you know what the Catholic Church says were the original Christian holy days? Was Christmas among them?
Is January 1st a Date for Christians Celebrate? Historical and biblical answers to this question about the world's New Year's day.
Did Early Christians Celebrate Birthdays? Did biblical era Jews celebrate birthdays? Who originally celebrated birthdays? When did many that profess Christ begin birthday celebrations?
Is There "An Annual Worship Calendar" In the Bible? This paper provides a biblical and historical critique of several articles, including one by WCG which states that this should be a local decision. What do the Holy Days mean? Also you can click here for the calendar of Holy Days.