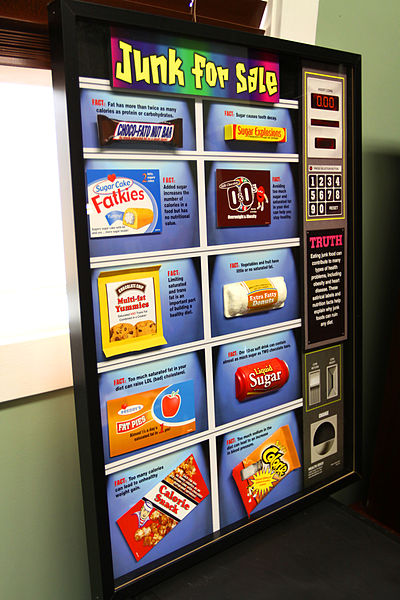 Some foods commonly consumed by Americans in the USA and Canada gross foreigners out:
Our food doesn't exactly have a good reputation abroad; we might be best-known for exporting McDonald's Big Mac hamburgers overseas.
Business Insider reports that Reddit recently asked its non-American users which U.S. foods they consider gross or weird.

From grits to Velveeta cheese and Hershey's chocolate, the foods that made the icky list turn out to be kitchen staples in many American kitchens.

Cheese Whiz, a cheese-like product that squirts out of a can, topped the list.

One user reported, "It tastes like plastic and cancer."

Another Reddit user couldn't believe that Pop-Tarts, rectangular pre-baked toaster pastries with a sugary filling, were considered a morning meal.

"They were revolting," homovore wrote. "People actually eat them for breakfast?"

Red Vines candy also made the list for tasting like "soap", supermarket bread was deemed "too sweet", and casseroles using Campbell's soups were likened to a "sodium bomb."

Root Beer floats — root beer soda with a scoop of ice cream in it — are a special treat to many Americans, but one foreigner called it "disgusting". To be fair, many Americans might agree with the latter opinion.

President Obama has been photographed eating number 11 on the list. The most powerful man in the world might enjoy a snow cone — crushed ice with sugary, flavored syrups poured over it — but the rest of the world doesn't appear to share his tastes.

And while many American children love the colors and treats that come in sugary cereals, our overseas friends do not.

"It has all these different colors and weird tastes, and there are marshmallows in some of it too," wrote a user called TheInsaneDane. "That's not ideal for a breakfast meal. No wonder why many kids struggle with obesity."

Other foods on the gross list as selected by non-Americans include Twizzlers candy, beef jerky, grits, corn dogs, biscuits and gravy, meatloaf and bacon. http://blogs.voanews.com/all-about-america/2014/10/27/17-all-american-foods-that-foreigners-find-gross/
There is a lot of questionable items that Americans eat. I have never tasted Cheese Whiz. Grits, which once were made of ground, whole organic corn, are now made with degerminated GMO corn, 'fortified' with synthetic vitamins. After corn was 'degerminated' many people in the Southern USA died from a disease called pellagra. Instead of going back to whole corn, chemically-derived synthetic vitamins were added, which I consider to be dangerous.
Breakfast cereals used to be one of the original 'health foods' when Dr. Kellogg first introduced Corn Flakes at his clinic in Battle Creek, Michigan. It was basically made of whole organic corn. Now, it seems to be made with GMO corn (its label does not state otherwise, which in the USA means the corn source is almost always genetically-modified) and is 'fortified' with synthetic vitamins.
Many other breakfast cereals, especially the ones targeted towards children are made of refined, degerminated grains, synthetic vitamins, a lot of sugar, and artificial colors. Pop-Tarts made of refined, degerminated grains, synthetic vitamins, fruit, sugar, gelatin (probably biblical unclean; see also The New Testament Church and Unclean Meats), and artificial colors.
As far as sodas go, they are not healthy and most should avoid them.
Notice something from the German press about artificial sweeteners:
Sugar-free products stop us getting slimmer

Many people believe that synthetic sweeteners will help them lose weight. But it turns out that one common substitute for sugar actually blocks the function of an enzyme that is essential for preventing obesity. …

Subsequently, the researchers took four groups of mice. Two of them received a normal diet, the other two a high-fat diet. One of each of them received water to drink and the other an aspartame solution.

The amount of sweetener solution given to the normal diet group was equivalent to a human drinking three-and-a-half cans of soda a day. For the high-fat group it amounted to the equivalent of two cans.

In the end, there were hardly any noticeable differences between the two groups of mice that were fed a normal diet. But among the groups that received a high-fat diet, the mice that drank the sweetener solution became considerably heavier than those who drank plain water.

However, the blood sugar level was higher than normal in all of the mice that received sweetener solution. This is usually an indicator of glucose intolerance. All of these mice also experienced an increase of a protein called TNF-alpha in their blood. This protein is typically related to inflammations that are common in cases of metabolic syndrome.

What does that mean for humans? You'd be better off drinking plain water, or tea without sugar or sweetener, than grabbing a "zero-sugar" refreshment.  11/24/16 http://www.dw.com/en/sugar-free-products-stop-us-getting-slimmer/a-36504096
Phony foods are not food, but basically a form of deception.
As far as bacon (biblically unclean), biscuits, and gravy go, a study came out last year that the typical Southern diet (which tends to contain those) was unhealthy and increased risk for strokes (see Obesity, processed foods, health risks, and the Bible).
Furthermore, the Bible warns about eating things that are not really food:
2 Why do you spend money for what is not bread,
And your wages for what does not satisfy?
Listen carefully to Me, and eat what is good (Isaiah 55:2).
Refined processed "breads," refined and artificial sweeteners, chemical additives, and some other items commonly associated with junk foods and hydrogenated fats would seem to be consistent with that warning.
What should you eat? You should eat real food and be careful about your quantities.
2…Listen carefully to Me, and eat what is good (Isaiah 55:2).
People should try to eat real, not artificial, foods.
Notice also the following about hot dogs:
Americans love to eat hotdogs; they spent $2.5 billion on this processed food last year. But a food analytics lab has found that there are unwanted and potentially dangerous ingredients lurking in hotdogs that consumers are not aware of.

Clear Labs, a startup that uses genomic technology to analyze foods at a molecular level, looked at 345 hotdogs and sausages from 75 brands sold at 10 different food retailers. The company found that 14.4 percent of the products examined contained ingredients that were not disclosed on the label.

The DNA analysis revealed unexpected ingredients as well with some of the products found to contain meat not found on the label such as meat in vegetarian products. Human DNA was also found in 2 percent of the samples and even in some of the vegetarian samples. Some of the ingredients that were advertised on the labels were not likewise found.

"The food industry has been a black box for too long. Food consumers have to trust that food labels are accurate, but that isn't always the case," said Clear Labs CEO Sasan Amini. "We've found a 10 to 15 percent rate of discrepancy between labeled ingredients and actual ingredients across our internal tests to date."

Some individuals opt for chicken and turkey sausages to avoid pork but there were evidences of pork substitution in 3 percent of the samples tested. Pork was found to make its way to chicken and turkey sausages.

"Pork is a particularly unwelcome substitution in any food when you consider that significant number