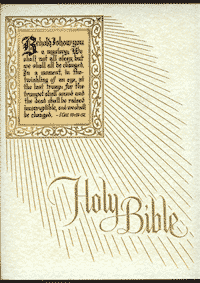 Two studies made the news:
Prenuptial Cohabiting Can Spoil Marriage

Live Science – July 14, 2009  by Jeanna Bryner, Senior Writer

Couples who shack up before tying the knot are more likely to get divorced than their counterparts who don't move in together until marriage, a new study suggests.

Upwards of 70 percent of U.S. couples are cohabiting these days before marrying, the researchers estimate. The study, published in the February issue of the Journal of Family Psychology, indicates that such move-ins might not be wise.

And it's not because you start to get on one another's nerves. Rather, the researchers figure the shared abode could lead to marriage for all the wrong reasons.

"We think that some couples who move in together without a clear commitment to marriage may wind up sliding into marriage partly because they are already cohabiting," said lead researcher Galena Rhoades of the University of Denver…

Overall, about 40 percent of participants reported they didn't live together before marriage, 43 percent did so before engagement, and about 16 percent cohabited only after getting engaged.

Those who moved in with a mate before engagement or marriage reported significantly lower quality marriages and a greater potential for split-ups than other couples. For instance, about 19 percent of those who cohabited before getting engaged had ever suggested divorce compared with just 12 percent of those who only moved in together after getting engaged and 10 percent of participants who did not cohabit prior to the wedding bells…

In another study led by Rhoades published in the February issue of the Journal of Family Issues, cohabiting couples ranked a list of reasons for cohabitation. More than 60 percent of participants ranked spending more time together as the number-one reason for moving in, followed by nearly 19 percent who put "it made most sense financially" at the top of their list, and 14 percent ranking "I wanted to test out our relationship before marriage" highest.

Those who listed "testing" as the primary move-in reason were more likely than others to score high on measures of negative communication, such as, "My partner criticizes or belittles my opinions, feelings, or desires." Such testers also had lower confidence in the quality and stability of their relationships.

Overall, those who want to test the commitment might want to think again…

"Cohabiting to test a relationship turns out to be associated with the most problems in relationships," Rhoades said. "Perhaps if a person is feeling a need to test the relationship, he or she already knows some important information about how a relationship may go over time." http://www.livescience.com/culture/090714-cohabit-couples.html
Those of us who take the Bible's commands seriously always knew that cohabitation was the wrong thing to do.  It is nice that some researchers are starting to understand this.
Some articles of possibly related interest may include:
The Ten Commandments Reflect Love, Breaking them is Evil Some feel that the ten commandments are a burden. Is that what Jesus, Paul, Peter, James, and John taught?
Was the Commandment to Love the Only Command? Some have stated that John's writings teach this, but is that what the Bible really says?
The Ten Commandments and the Early Church Did Jesus and the Early Church keep the ten commandments? What order were they in? Here are quotes from the Bible and early writings.