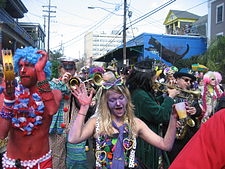 New Orleans Mardi Gras (Infrogmation)
Today is known in some places as Mardi Gras (French for "Fat Tuesday", called Shrove Tuesday in parts of the UK) and is related to a carnival or carnaval season.
Here are some comments about it:
Mardi Gras is not just a week-long party for New Orleans bar-goers, millions of people around the country celebrate the raving party.

Mardi Gras is infamous for public nudity, chaotic parties, ingesting copious amounts of alcohol and acts as another St. Patrick's Day for those who aren't actually Irish, but drink like they are.

The Christian-themed holiday serves as one last hooray before Lent and giving up delicacies until Easter. People party hard for the week leading up to Lent and Ash Wednesday. This usually involves a massive parade, numerous mini-celebrations and masquerade balls sporting gold, green and purple, which represent power, faith and justice.

Citizens hold nothing back, including their sense of humility, during the few days included in Carnival season. Women typically strip for meaningless colorful beads, chocolate or plastic coins thrown from floats, and wear even less out at bars. The women have no shame and the men have no boundaries.  http://www.fourthestatenewspaper.com/mobile/off-the-wall/mardi-gras-unexposed-mayhem-1.2781767
Of course, there is nothing truly Christian about Mardis Gras.
According to Wikipedia:
Carnival begins 12 days after Christmas, or Twelfth Night, on January 6 and ends on Mardi Gras, which always falls exactly 47 days before Easter.
The USA city most famous for its Mardi Gras celebrations would be New Orleans. The Washington Post reported the following about it before:
For the past five days, the southern party town has given itself over to excess, good food, lots of drink and maybe a little debauchery. And that's not the weeks leading up to the event with small parades preparing for the celebration. Mardi Gras is a marathon, New Orleanians will tell you, and Fat Tuesday marks the final stretch.

For the non-New Orleanians, a quick primer on Mardi Gras: Before the Catholic holiday of Lent, in which worshipers fast and repent for 40 days, people do their best to make up for the days of restraint with jam-packed days of plenty. Festivals are observed all over the world, such as Carnival in Brazil, but it's never been so associated with a city's identity as it has with New Orleans…

The food is the king cake, a gooey, butter-rich cake with a hidden baby Jesus tucked inside. The Post's Tim Carman looked into the history of the cake and found "The cake's appeal becomes clearer the closer you get to the city limits and, conversely, becomes more comical the farther you travel from the voodoo-sexual-second-line cultural vortex of the Big Easy. http://voices.washingtonpost.com/blog-post/2011/03/mardi_grass_fat_tuesday_the_mu.html
Here is another item about it:
The Salt Lake Tribune – Jan 8, 2008

Although the origins of Carnaval are shrouded in mystery, some believe the fest began as a pagan celebration of spring's arrival sometime during the Middle Ages. The Portuguese brought the celebration to Brazil in the 1500s, but it took on a decidedly local flavor by adopting Indian costumes and African rhythms. The word itself probably derives from the Latin "carne vale," or "goodbye meat," a reference to the Catholic tradition of giving up meat (and other fleshly temptations) during Lent…

Rio's first festivals were called entrudos, with locals dancing through the streets in colorful costumes and throwing mud, flour and suspicious-smelling liquids on one another. In the 19th century, Carnaval meant attending a lavish masked ball or participating in the orderly and rather vapid European-style parade. Rio's poor citizens, bored by the finery but eager to celebrate, began holding their own parades, dancing through the streets to African-based rhythms…

…an event that happens annually in Brazil on the days leading up to Ash Wednesday. In 2008, Carnaval officially begins Friday, Feb. 1, when the mayor gives the keys to the city to King Momo, the portly pleasure-seeker who ushers in the bacchanalia. The next four days are marked by neighborhood parties, lavish masked balls and impromptu fests all over town (http://www.sltrib.com/travel/ci_7883824).
Here is some of what the American Catholic reports about it:
Mardi Gras, literally "Fat Tuesday," has grown in popularity in recent years as a raucous, sometimes hedonistic event…Carnival comes from the Latin words carne vale, meaning "farewell to the flesh." Like many Catholic holidays and seasonal celebrations, it likely has its roots in pre-Christian traditions based on the seasons. (Catholic Roots of Mardi Gras. American Catholic. http://www.americancatholic.org/features/mardigras/)
Essentially, this is a pagan holiday that the Catholics adopted as a compromise to keep members. Participants eat a lot (hence the name "fat Tuesday") before they begin a fast now called Lent–another observance with pagan origins. Parades involving under-clothed women are common. And that is not just in the USA:
In addition to the elaborate two-day samba group parade and the high-dollar costumed balls where the rich spend a lot to wear very little in the most exclusive company, Rio's free, open-to-all street Carnival is bigger than ever.
Of course, Mardi Gras festivities are not biblical, despite their popularity.  A record 2.2 million came to the streets in Rio de Janeiro to celebrate it's opening night this year according to one report (see Carnaval's Popularity is Growing).
Lent, which also is not of biblical origin, is becoming an excuse essentially for loud and wild parties all over the world, which stop the night before it. Which would be tonight.
Mardi Gras tends to be associated with drunkenness, lust, and other practices that the Bible condemns.
It really should not be considered as something that real Christians would participate in.
Three articles of related interest may include:
Is Lent a Christian Holiday? When did it originate? What about Ash Wednesday? If you observe them, do you know why?
Why The Living Church of God Does Not Wear Green on St. Patrick's Day Should non-Catholics observe a Catholic holiday?
Which Is Faithful: The Roman Catholic Church or the Living Church of God? Do you know that both groups shared a lot of the earliest teachings? Do you know which church changed? Do you know which group is most faithful to the teachings of the apostolic church? Which group best represents true Christianity? This documented article answers those questions.
Is There "An Annual Worship Calendar" In the Bible? This paper provides a biblical and historical critique of several articles, including one by WCG which states that this should be a local decision. What do the Holy Days mean? Also you can click here for the calendar of Holy Days.
The Ten Commandments Reflect Love, Breaking them is Evil Some feel that the ten commandments are a burden. Is that what Jesus, Paul, Peter, James, and John taught? 
Do You Practice Mithraism? Many practices and doctrines that mainstream so-called Christian groups have are the same or similar to those of the sun-god Mithras. December 25th was celebrated as his birthday. Do you follow Mithraism combined with the Bible or original Christianity?
Mardi Gras: The Devil's Carnival? Do you know that in Bolivia the carnival/Mardi Gras time is part of a celebration known as the Devil's Carnival?