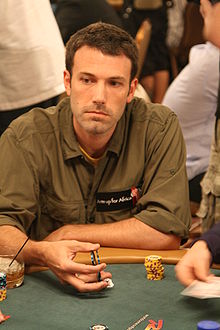 Ben Affleck at 2008 World Series of Poker
Ben Affleck was banned from playing blackjack at a gambling casino because he won too often
(CNN) — It's a bust for actor Ben Affleck at one Las Vegas casino.

The actor was "banned from playing blackjack at the Hard Rock casino in Las Vegas," a source close to Affleck told CNN on Friday.

Affleck was "not booted" from the casino as other reports have indicated, the source said. Rather, the source says, he was asked to leave after casino security told him: "You are too good at the game."  http://www.cnn.com/2014/05/02/showbiz/ben-affleck-casino/
The odds in gambling are stacked in favor of the casinos.  And apparently, if you are smart enough to count cards or no some technique that puts the odds on your side, the casinos do not wish you to play.  The casinos wish you to lose.
That being said, Ben Affleck is apparently not actually banned.  A later report states:
May 3, 2014

Ben Affleck is not banned from playing blackjack at a Las Vegas casino, contrary to reports which suggested Affleck had been asked to leave the establishment after he was discovered counting cards.

According to reports on RadarOnline, Affleck was allegedly caught counting cards at two Vegas casinos and an APB (all-points bulletin) was sent out to all casinos to be weary of the Good Will Hunting actor. Allegedly, the bulletin made casinos aware of Affleck's presence in Vegas and related the incident in which he was apparently caught counting cards. A note on the bulletin stated Affleck "has been observed playing blackjack at multiple Las Vegas Strip properties, and is suspected of moving his wagers with the count. He was reportedly backed off at one off-Strip casino."
http://www.contactmusic.com/article/ben-affleck-welcome-back-las-vegas-casino-card-counting-rumours_4178833?track=cp
Casinos do not like card counters, but also probably do not want bad publicity.
Gamblers, of course, typically lose.
Earlier this year, I reported about gambling losses per adult by nation. Here is a listing, from that post, of the nations whose people lost the most money per adult:
Australia
Singapore
Finland
New Zealand
United States
Italy
Ireland
Norway
Canada
Sweden
Britain
The Australians lost over USD$1000 per adult in 2013, whereas the Brits lost just under $400 per adult. It was interesting to note that the American and Anglo-Saxon nations had six of the eleven top biggest gambling losing nations in the world.
Many governments are looking at extending the legality of gambling. I consider lotteries and similar gambling programs as a tax on the poor. I believe it often demotivates people to improve themselves financially and often gets people to be focused on getting something for nothing.
Some items of possibly related interest include:
Gambling and Sin: Is it a Sin for Christians to Gamble? What does the Bible reveal?
Ending Your FINANCIAL WORRIES How can people help themselves and others financially? Herbert W. Armstrong wrote this as a booklet on this important subject. A video of related interest would be: Dealing With Financial Worries.
Tithing Questions and Some Answers Addresses some non-biblical arguments against tithing. Should people tithe?
Living as a Christian: How and Why? In what ways do Christians live differently than others. What about praying, fasting, tithing, holy days, and the world? There is also a YouTube video related to that also called: Living as a Christian: How and Why?
The Seven Laws of Success Herbert W. Armstrong had seven laws that he felt could help people become successful.
Christian Success Does the Bible teach that Christians are to be successful? Are there at least seven laws of success that Christians should follow? How does the Bible teach we are to become successfully spiritually? Does the Bible really teach that Christians should be successful physically? This video answers these questions and more from the Bible. An outline of some of the scriptures used is here: Christian Success Outline.
Anglo – America in Prophecy & the Lost Tribes of Israel Are the Americans, Canadians, English, Scottish, Welsh, Australians, Anglo-Saxon (non-Dutch) Southern Africans, and New Zealanders descendants of Joseph? Where are the lost ten-tribes of Israel? Who are the lost tribes of Israel? What will happen to Jerusalem and the Jews in Israel? Will God punish the U.S.A., Canada, United Kingdom, and other Anglo-Saxon nations? Why might God allow them to be punished first? Here is a link to the Spanish version of this article: Anglo-América & las Tribus Perdidas de Israel. Information is also in the YouTube sermons titled Where are the Ten Lost Tribes? Why does it matter? and British are the Covenant People. A short YouTube of prophetic interest may be Barack Obama and the State of the Apocalypse.
Will the Anglo-Saxon Nations be Divided and Have People Taken as Slaves? Will the lands of the United States, United Kingdom, Canada, Australia, and New Zealand be divided? What about Jerusalem? What does Bible prophecy teach? Are there non-biblical prophecies that support this idea? Who will divide those lands? Who will end up with the lands and the people? Here is a link to a video titled Will the USA and other Anglo-nations be Divided and Their People Made Slaves? Here is a related item in the Spanish language ¿Serán divididas las naciones anglosajonas?
British are the Covenant People What do 'British' and 'Britain' mean in Hebrew? Are the descendants of the Anglo-Saxons people of the covenant? Does the British royal family connect to the throne of David? What does the Bible teach? What does history show us? Is there any DNA evidence related to British-Israelism? When did Christianity make it to the British Isles? Could Jeremiah have made it to the British Isles? What type of Christians made it to the British Isles? Did the last King of England believe in British Israelism?