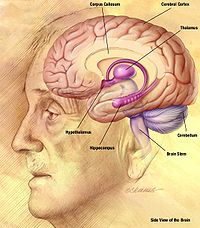 Notice the following:
Sticking to values activates `ethics` part of brain

Sticking to values even in the face of temptations, including money, activates an area of the brain tied with rules-based, ethical thought processes.

Simply told, decision-making over `sacred values` prompts our brains to act in a specific way, says an Emory University neuro-imaging study.

"Our experiment found that the realm of the sacred – whether it`s a strong religious belief, a national identity or a code of ethics – is a distinct cognitive process," says Gregory Berns, director of the Centre for Neuropolicy at Emory University who led the study, the journal Philosophical Transactions of the Royal Society reports.  http://zeenews.india.com/news/health/health-news/sticking-to-values-activates-ethics-part-of-brain_15361.html
Various portions of scripture seem to support this, and also suggest that it is not always easy:
2 My brethren, count it all joy when you fall into various trials, 3 knowing that the testing of your faith produces patience. 4 But let patience have its perfect work, that you may be perfect and complete, lacking nothing. (James 1:2-4)

10 For "He who would love life
And see good days,
Let him refrain his tongue from evil,
And his lips from speaking deceit.
11 Let him turn away from evil and do good;
Let him seek peace and pursue it. (1 Peter 3:10-11)

3 And not only that, but we also glory in tribulations, knowing that tribulation produces perseverance; 4 and perseverance, character; and character, hope. (Romans 5:3-4)
While the Bible mentions that developing character is important for Christians (Romans 5:4), here is some of what Herbert Armstrong taught about it:
So mark well this super-vital truism – that perfect, holy and righteous character is the supreme feat of accomplishment possible for Almighty God the Creator – it is also the means to His ultimate supreme purpose.  His final objective.

But how?…such perfect character must be developed. It requires the free choice and decision of the separate entity in whom it is to be created. But, further, even then it must be instilled by and from the Holy God who, only, has such righteous character to endow.

Perfect, holy and righteous character is the ability in such separate entity to come to discern the true and right way from the false, to make voluntarily a full and unconditional surrender to God and His perfect way – to yield to be conquered by God – to determine even against temptation or self-desire, to live and to do the right. And even then such holy character is the gift of God. It comes by yielding to God to instill His law (God's right way of life) within the entity who so decides and wills.

Actually, this perfect character comes only from God, as instilled within the entity of His creation, upon voluntary acquiescence, even after severe trial and test…

God made us in His image, after His likeness (form and shape), only composed of matter instead of Spirit. But God says, Let this mind be in you, which was also in Christ Jesus (Phil. 2:5). (Armstrong HW.  The Incredible Human Potential, pp. 39-40, 52)
People are supposed to make the right ethical choices.
Of course:
29…God made man upright,
But they have sought out many schemes.  (Ecclesiastes 7:29)
So, many do not value character and ethics.  In modern times, many of these improper schemes include many forms of moral degradation including inappropriate "entertainment."
But since the brain apparently supports the building of character, making the right choices is what all should do.
Some articles of related interest may include:
What is the Meaning of Life? Who does God say is happy? What is your ultimate destiny? Do you really know? Does God actually have a plan for YOU personally?
LCG: Pornography, Who's Tempting Whom? This is some information about the prevalence and dangers of pornography from the Living Church of God.
CG7 on Pornography This is an article excerpt from the Church of God, 7th Day-Denver about pornography.
Abortion, the Bible, and a Woman's Right to Choose Do you know what the Bible teaches on this? Has the Roman Catholic Church allowed abortions? What about the Living Church of God?
LCG: Homosexuals Gaining Ground "Same-sex marriage" is becoming more acceptable to many. What does the Bible teach about homosexuality?
Is American Football Evil? Is the most popular spectator sport in the USA something that Christians should watch? What do the Bible and early writings show?
The Ten Commandments Reflect Love, Breaking them is Evil Some feel that the ten commandments are a burden. Is that what Jesus, Paul, Peter, James, and John taught?
Was the Commandment to Love the Only Command? Some have stated that John's writings teach this, but is that what the Bible really says?
The Ten Commandments and the Early Church Did Jesus and the Early Church keep the ten commandments? What order were they in? Here are quotes from the Bible and early writings.