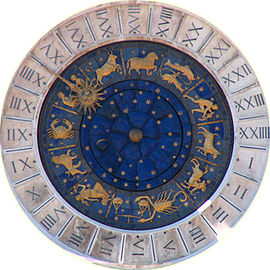 Astrological Signs
Many are fascinated by astrology, but it is not the source of truth or real knowledge of the future.
There was a book written in 1647 by William Lilly titled "Christian Astrology." The book was not related to Christianity and it is commonly believed that the author added the term "Christian" to reduce potential criticism that he was advocating a form of witchcraft.
But throughout the ages, various ones have tried to indicate that it was acceptable for Christians to engage in astrology and the Catholic seer Nostradamus regularly used forms of astrology in his divinations.
In the 21st century, one can find various professors of Christ who practice astrology and teach that it is biblical.
Here is something from Carmen Turner-Schott:
I once worked for a devout Christian who was a little leery of me because she had heard of my interest in astrology. She knew I was notorious for incorporating it into my counseling sessions with teens and families. One day she approached me and said, "I was teaching Sunday school for the first time this weekend and I was shocked when I found out that the three wise men were astrologers." I remember smiling as she asked me if I would look at her natal chart…

Many Christians are opening up their minds to things that they have never dreamed of before. According to a recent study, nearly 30 percent of Catholics stated that they believed in astrology. Among white evangelicals there was 13 percent that professed a belief in astrology…

Many are turning to astrology as a tool because of its accuracy and the comfort that they find from it. They tell me that astrology validates their experiences and even explains why certain painful experiences happened to them. Many Christian clients of mine even tell me that they feel more connected to God and their Christian faith after having an astrological consultation…

I feel that astrology was a tool created by God for us to understand ourselves better and to use as a spiritual tool. I feel that there are many biblical verses that support astrology. As a Christian, I focus on what Jesus taught. Christ himself talked about the importance of astrology when he said in Luke 21:25, "There shall be signs in the sun, moon, and stars."…

The verses in the Bible that condemn astrology can actually be interpreted in many different ways.

(Turner-Schott C. Astrology from a Christian's Perspective Signs in the Sun, Moon and Stars. http://astrology.about.com/od/thehistoryofastrology/a/christianastro.htm viewed 07/10/13)
The verses in the Bible that condemn astrology, which are shown later in this paper, actually do condemn astrology. Since those passages do condemn astrology that is how they should be interpreted.
Other writers have claimed:
The Bible is filled with references to astrology. This is because astrology was widely accepted as truth in Biblical times. Christians who believe that astrology is Satanic would be surprised to learn that the Bible is filled with astrology and even Jesus himself made numerous references to astrology…One of the great astrological stories in the Bible is the story of the star of Bethlehem…"There shall be signs in the sun, the moon, and the stars." – Jesus Christ, Luke 21:25 (Astrology in the Bible. Copyright 2007 Near-Death Experiences & the Afterlife. http://www.near-death.com/experiences/origen13.html viewed 07/10/13).

Throughout the Christian Bible, both Old and New Testaments, the number twelve is a prominent number. The twelve Disciples of Christ, the twelve sons of Jacob (better known as the Twelve Tribes of Israel), the twelve layers of precious stones in the foundation of heaven or the New Jerusalem…Some Astrologers have likened the symbology of the Moon to that of Mary, the Virgin Mother. Others have seen the Moon as Jesus or God. I personally agree that in accordance with the description of what the Moon is to represent, Mary is associated with the Moon. (Starr. Tiara, Christian Astrology…The Signs of the Disciples. © 2001 Astarotology, Inc. http://www.angelfire.com/stars2/astarot/V1I12/disciples.html viewed 07/10/13)
The Bible has references that condemn astrology and endorse astronomy. And Jesus Himself never made a favorable reference to astrology, but did towards astronomy. Yet, others seem to wish to believe otherwise. Furthermore, the view that the moon represents "Mary" (such as in Revelation 12:1) was not the opinion of early church writers, including Catholic ones. This was a later and false development. And just because there were 12 initial apostles and 12/13 tribes of Israel does not in any way prove a connection to the zodiac.
Followers of a universally recognized apostate/heretic who professed Christ named Marcus (see Marcus, the Marcosians, & Mithraism: Developers of the Eucharist? ) seemed to adopt some aspects of astrology. The sun and the zodiac circle were important to the Marcosians:
They maintain, then, that first of all the four elements, fire, water, earth, and air, were produced after the image of the primary Tetrad above, and that then, we add their operations, viz., heat, cold, dryness, and humidity, an exact likeness of the Ogdoad is presented. They next reckon up ten powers in the following manner:— There are seven globular bodies, which they also call heavens; then that globular body which contains these, which also they name the eighth heaven ; and, in addition to these, the sun and moon. These, being ten in number, they declare to be types of the invisible Decad , which proceeded from Logos and Zoe . As to the Duodecad , it is indicated by the zodiacal circle, as it is called; for they affirm that the twelve signs do most manifestly shadow forth the Duodecad , the daughter of Anthropos and Ecclesia…The sun also, who runs through his orbit in twelve months, and then returns to the same point in the circle… Also the circumference of the zodiacal circle itself contains three hundred and sixty degrees (for each of its signs comprises thirty); and thus also they affirm, that by means of this circle an image is preserved of that connection which exists between the twelve and the thirty. Still further, asserting that the earth is divided into twelve zones, and that in each zone it receives power from the heavens, according to the perpendicular [position of the sun above it], bringing forth productions corresponding to that power which sends down its influence upon it, they maintain that this is a most evident type of the Duodecad and its offspring. (Irenaeus. Adversus Haereses, Book I, Chapter 17, Verse 1) .
The eucharistic host resembles a circle: it is likely an astrogical symbol or a sun-deity symbol. Marcus himself had been a disciple of Valentinus, who Polycarp of Smyrna denounced when he visited Rome.
Of course, just because someone claims that Jesus is Lord or that the Bible teaches something does not mean that they are Christian. And the fact that a number of Catholics and Protestants do believe in astrology is a clear indication that they are not truly Christian, but only those who claim to be so. Notice what Jesus taught about those who falsely claim to be His followers:
21 "Not everyone who says to Me, 'Lord, Lord,' shall enter the kingdom of heaven, but he who does the will of My Father in heaven. 22 Many will say to Me in that day, 'Lord, Lord, have we not prophesied in Your name, cast out demons in Your name, and done many wonders in Your name?' 23 And then I will declare to them, 'I never knew you; depart from Me, you who practice lawlessness!' (Matthew 7:21-23)
Those who endorse astrology and claim Christianity are basically endorsing false prophecies in the name of Jesus.
How can we be so sure?
Because the Bible teaches to avoid astrology and trust in God and His word.
Before getting to some of those passages that oppose astrology, I would like to address the main points that the pro-astrology Christian claimants tend to make.
While it is true that the "wise men" in Matthew 2:1-12 saw a sign in the sky, the reality is that the Bible taught that there would be a star to look for in Numbers 24:17. Looking for a particular star or something that the Bible teaches will happen in the sky is the prudent use of astronomy not astrology. Astrology is developing predictions that the Bible does not discuss based upon human interpretations of planetary alignment and normally the date and time of one's birth.
The wise men did not do that, nor did Jesus when He pointed to signs in the heavens to look for just prior to His return.
While astrology is popular in the West, it is also popular in the far East. The Continuing Church of God has information about astrology and its dangers is several articles as well as one video:
The Bible and Astrology Should Christians avoid participating in astrology or did God inspire it? Does the Bible encourage astrology? What does the Bible actually teach? What is astrology? How does astrology differ from astronomy? Should Christians Be Involved In Astrology?
OMENS? DIVINATION? HOROSCOPES? THE ORIGIN OF ASTROLOGY Where did astrology come from? Should you read your horoscope?
Does Astrology Work? Many believe and follow astrology–but does it work?
To better reach the Chinese, the last article was translated by a Continuing Church of God member into Mandarin Chinese. Here is a link: 占星术准确吗?.
Some do not seem to be concerned about people in the far east or other distant lands. But Jesus taught:
14 And this gospel of the kingdom will be preached in all the world as a witness to all the nations, and then the end will come. (Matthew 24:14)

19 Go therefore and make disciples of all the nations, baptizing them in the name of the Father and of the Son and of the Holy Spirit, 20 teaching them to observe all things that I have commanded you; and lo, I am with you always, even to the end of the age." Amen. (Matthew 28:19-20)
In August 1997, I had an article published in The Journal: News of the Churches of God titled Getting the Gospel Out is Not Just a Local Job. The article has been updated a few times since, but is still available in English: Getting the Gospel Out is More than a Local Job.
Well it has also been made available in Mandarin Chinese thanks to the efforts of the same member who translated the astrology article. Here is a link: 宣传福音不只是一个本地作业.
We in the Continuing Church of God are serious about reaching people in all nations and continue to try to provide more biblically accurate information to all who have interest, no matter where they may live.
Some items of possibly related interest may include:
The Bible and Astrology Should Christians avoid participating in astrology or did God inspire it? Does the Bible encourage astrology? What does the Bible actually teach? What is astrology? How does astrology differ from astronomy? Here are links to two videos Astrology, the occult, tattoos, and pornography and Should Christians Be Involved In Astrology?
OMENS? DIVINATION? HOROSCOPES? THE ORIGIN OF ASTROLOGY Where did astrology come from? Should you read your horoscope?
Does Astrology Work? Many believe and follow astrology–but does it work? Here is a link to the article in Mandarin Chinese: 占星术准确吗?
Christians: Ambassadors for the Kingdom of God, Biblical instructions on living as a Christian This is a scripture-filled booklet for those wishing to live as a real Christian. A related sermon is also available: Christians are Ambassadors for the Kingdom of God.
China, Its Biblical Past and Future, Part 1: Genesis and Chinese Characters Where did the Chinese people come from? This article provides information showing that the Chinese peoples must have known about various accounts in the Book of Genesis up until their dispersion after the Tower of Babel. Here is a link to a version of this article in Spanish: ¿Prueban los caracteres chinos la exactitud de la Biblia?
China, Its Biblical Past and Future, Part 2: The Sabbath and Some of God's Witness in China When did Christianity first come to China? And is there early evidence that they observed the seventh day sabbath?
Asia in Prophecy What is Ahead for Asia? Who are the "Kings of the East"? What will happen to nearly all the Chinese, Russians, Indians, and others of Asia? China in prophecy, where? Who has the 200,000,000 man army related to Armageddon? Two YouTube video are Is China THE Threat to the United States of America? and China: A King of the East.
Did Angels Marry Human Women? Many insist this is so and also that this mating caused giants to be born. Did this come from the 'Book of Enoch'? What does Genesis 6:4 really mean? A related video is also available: Did Angels Marry Women and Produce Giants?
Angels, Cherubim, and Seraphim This is information about various types of angelic beings.
Did God Create a Devil? If not, what happened? Herbert W. Armstrong wrote this as a booklet.
Close Encounters of a 'Spirit' Kind discusses some experiences I believe were (demon) 'spirit' related. A video is also available titled: Poltergeists and Lying Wonders.
Read the Bible Christians should read and study the Bible. This article gives some rationale for regular bible reading.
Bible: Superstition or Authority? Should you rely on the Bible? Is it reliable? Herbert W. Armstrong wrote this as a booklet on this important subject.
Did Early Christians Celebrate Birthdays? Did biblical era Jews celebrate birthdays? Who originally celebrated birthdays? When did many that profess Christ begin birthday celebrations?
Why Were You Born? Why did God make you? Herbert W. Armstrong wrote this as a booklet on this important subject. You may also wish to read the article What is Your Destiny? or watch the video, also titled What is Your Destiny?
What is the Meaning of Life? Who does God say is happy? What is your ultimate destiny? Do you really know? Does God actually have a plan for YOU personally? There is also a video titled What is the meaning of your life?
Living as a Christian: How and Why? In what ways do Christians live differently than others. What about praying, fasting, tithing, holy days, and the world? There is also a YouTube video related to that also called: Living as a Christian: How and Why?
The MYSTERY of GOD's PLAN: Why Did God Create Anything? Why did God make you? This free online book helps answers some of the biggest questions that human have, including the biblical meaning of life. Here is a link to three related sermons: Mysteries of God's Plan, Mysteries of Truth, Sin, Rest, Suffering, and God's Plan, and The Mystery of YOU.