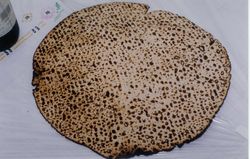 Unleavened Bread

Last night began the last day of unleavened bread, which will end tonight at sunset this year.
Christians are supposed to submit to God and eat unleavened bread each of these days (though the basically Christian UCG does not actually teach this, please see UCG and Its Unleavened Bread Study Paper):
6 And on the fifteenth day of the same month is the Feast of Unleavened Bread to the LORD; seven days you must eat unleavened bread. 7 On the first day you shall have a holy convocation; you shall do no customary work on it. 8 But you shall offer an offering made by fire to the LORD for seven days. The seventh day shall be a holy convocation; you shall do no customary work on it.' "  (Leviticus 23:6-8)
Avoiding leaven, while consuming unleavened bread, shows us that true Christians are not part of the world.
In several places, the New Testament tries to remind Christians not to be separate from the world.  Here is two examples:
15 Do not love the world or the things in the world. If anyone loves the world, the love of the Father is not in him (1 John 2:15).

16…For you are the temple of the living God. As God has said:

"I will dwell in them
And walk among them.
I will be their God,
And they shall be My people."

17 Therefore

"Come out from among them
And be separate, says the Lord.
Do not touch what is unclean,
And I will receive you."  (2 Corinthians 6:16-17)
But just being different than the world is not enough.
Just having the outward appearance of true religion is not enough.  Notice something that the Pharisees were condemned for:
1…Beware of the leaven of the Pharisees, which is hypocrisy (Luke 12:1).

23 Woe to you, scribes and Pharisees, hypocrites! For you pay tithe of mint and anise and cummin, and have neglected the weightier matters of the law: justice and mercy and faith. These you ought to have done, without leaving the others undone. 24 Blind guides, who strain out a gnat and swallow a camel! 25 Woe to you, scribes and Pharisees, hypocrites! For you cleanse the outside of the cup and dish, but inside they are full of extortion and self-indulgence. 26 Blind Pharisee, first cleanse the inside of the cup and dish, that the outside of them may be clean also. 27 Woe to you, scribes and Pharisees, hypocrites! For you are like whitewashed tombs which indeed appear beautiful outwardly, but inside are full of dead men's bones and all uncleanness. 28 Even so you also outwardly appear righteous to men, but inside you are full of hypocrisy and lawlessness (Matthew 23:22-28).
A primarily outward focus of religion puffs one up and can lead to hypocrisy.
Leaven makes bread appear larger than it should be.  People, including believers, need to take heed that we are not like the Pharisees and focus mainly on the outward appearance of true religion.
To take it a step further, even though God indicated that Job was the most righteous person then on the earth (Job 1:8), Job (being human) was himself puffed up with a "spiritual leaven" in a sense as he justified himself and condemned God (cf. Job 32:2; 40:8).  Job needed to learn that God is truly righteous and does not have any injustice–and this is apparently why he had to endure the severe trial that he did.
We are not to be like Job and try to justify ourselves above God.  After severe trials, Job finally learned that he was wrong about that (Job 42:1-6).
Hopefully we can learn from Job's example (cf. 1 Corinthians 10:11) so perhaps some of the trials we will fact in the coming years will not have to be so severe.  And even when we do experience various trials, we need to remember the following:
28 And we know that all things work together for good to those who love God, to those who are the called according to His purpose (Romans 8:28).

2 My brethren, count it all joy when you fall into various trials, 3 knowing that the testing of your faith produces patience. 4 But let patience have its perfect work, that you may be perfect and complete, lacking nothing (James 1:2-4).
As difficult as it seems, we are to strive to follow Jesus' admonition:
48 Therefore you shall be perfect, just as your Father in heaven is perfect (Matt 5:47-48).
That can be hard in the best of times, but more so during times of severe trials.
Since all sin (Romans 3:23) we of ourselves cannot attain to God's high standards alone.  We need to all recognize that we need not only Christ's sacrifice, but that we need Jesus to live His life in ours:
20 I have been crucified with Christ; it is no longer I who live, but Christ lives in me; and the life which I now live in the flesh I live by faith in the Son of God, who loved me and gave Himself for me (Galatians 2:20).
This is part of the lesson Christians are to learn by observing the Days of Unleavened Bread and the rest of the Holy Days that God has given His people.  God has a plan of salvation that we can be part of know, but on His terms–and all not called now will be called later.  But that will also be on His terms.
Why?
Because God is love (1 John 4:16) and He really does know what is best for us (Romans 8:28), despite the fact that it is not always clear to us (cf. 1 Corinthians 13:12).
Only with God's help, with Christ living in us, can we obtain that which we diligently strive for in this age.  And the same will be true for others in the age to come.
What did you learn during these days?
To hopefully learn more, please read the following articles:
Should Christians Keep the Days of Unleavened Bread? Do they have any use or meaning now? What is leaven? This article supplies some biblical answers.
Is There "An Annual Worship Calendar" In the Bible? This paper provides a biblical and historical critique of several articles, including one by WCG which states that this should be a local decision. What do the Holy Days mean? Also you can click here for the calendar of Holy Days.
Is God Unreasonable? Some have suggested that if God requires Sabbath-keeping He is unreasonable. Is that true?
What is the Meaning of Life? Who does God say is happy? What is your ultimate destiny? Do you really know? Does God actually have a plan for YOU personally?
Universal Offer of Salvation: There Are Hundreds of Verses in the Bible Supporting the Doctrine of True Apocatastasis Do you believe what the Bible actually teaches on this? Will all good things be restored? Does God's plan of salvation take rebellion and spiritual blindness into account?