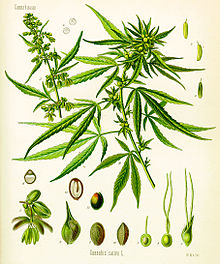 Marijuana, Cannibis sativa
More seem to be promoting marijuana and the related industry.  Here is an article from Fortune:
March 24, 2015

Cannabis-focused media is on the rise as the spread of legalization creates a demand for cannabis industry news.

Last month, a new local magazine premiered in San Francisco filled with stories about pot-friendly politicians and a comic book starring a joint-smoking dinosaur named Budzilla. …

SF Evergreen is part of a marijuana media boom that comes as pot emerges from the black market into legal legitimacy. New pot publications —in print and online — are popping up with regularity while older outlets are beefing up staff.

Cannabis Now, Culture Magazine, Marijuana Venture and Marijuana Business Daily have all opened for business in recent years to cover pot culture along with the financial side of the industry. …

Medical marijuana is already allowed in 23 states while recreational use is permitted in four, plus Washington, D.C. Several more states could legalize pot in 2016 elections. The drug remains illegal on the federal level, both medically and recreationally.

Amid the increasing acceptance, legal marijuana sales are ballooning. Last year, that market grew 74% to $2.7 billion, according to The ArcView Group, a marijuana-focused venture capital firm.  http://fortune.com/2015/03/24/marijuana-media-news/
Marijuana use should not be encouraged.
While marijuana is technically illegal in the USA, the federal government has stopped enforcing many  of its laws against it.  US President Barack Obama was a heavy user of marijuana according to reports that I have seen–and it was not legal anywhere in the USA when he reportedly was a heavy user–and he seems to favor non-enforcement of the laws against it.
Marijuana use is not good for the USA. Those who believe it is good to get high are deceived.
Barack Obama was asked about marijuana in January 2014:
When I asked Obama about another area of shifting public opinion—the legalization of marijuana—he seemed even less eager to evolve with any dispatch and get in front of the issue. "As has been well documented, I smoked pot as a kid, and I view it as a bad habit and a vice, not very different from the cigarettes that I smoked as a young person up through a big chunk of my adult life. I don't think it is more dangerous than alcohol."

Is it less dangerous? I asked.

Obama leaned back and let a moment go by. That's one of his moves. When he is interviewed, particularly for print, he has the habit of slowing himself down, and the result is a spool of cautious lucidity. He speaks in paragraphs and with moments of revision. Sometimes he will stop in the middle of a sentence and say, "Scratch that," or, "I think the grammar was all screwed up in that sentence, so let me start again."

Less dangerous, he said, "in terms of its impact on the individual consumer. It's not something I encourage, and I've told my daughters I think it's a bad idea, a waste of time, not very healthy." What clearly does trouble him is the radically disproportionate arrests and incarcerations for marijuana among minorities. "Middle-class kids don't get locked up for smoking pot, and poor kids do," he said. "And African-American kids and Latino kids are more likely to be poor and less likely to have the resources and the support to avoid unduly harsh penalties." But, he said, "we should not be locking up kids or individual users for long stretches of jail time when some of the folks who are writing those laws have probably done the same thing." Accordingly, he said of the legalization of marijuana in Colorado and Washington that "it's important for it to go forward because it's important for society not to have a situation in which a large portion of people have at one time or another broken the law and only a select few get punished."

As is his habit, he nimbly argued the other side. "Having said all that, those who argue that legalizing marijuana is a panacea and it solves all these social problems I think are probably overstating the case. There is a lot of hair on that policy. And the experiment that's going to be taking place in Colorado and Washington is going to be, I think, a challenge." He noted the slippery-slope arguments that might arise. "I also think that, when it comes to harder drugs, the harm done to the user is profound and the social costs are profound. And you do start getting into some difficult line-drawing issues. If marijuana is fully legalized and at some point folks say, Well, we can come up with a negotiated dose of cocaine that we can show is not any more harmful than vodka, are we open to that? If somebody says, We've got a finely calibrated dose of meth, it isn't going to kill you or rot your teeth, are we O.K. with that?" http://www.newyorker.com/reporting/2014/01/27/140127fa_fact_remnick?currentPage=all
I would add here that light alcohol drinkers live longer than those who always abstain from it, hence I do not consider that marijuana use is less dangerous than alcohol. Of course, heavy alcohol consumption is a problem (see Binge Alcohol Drinking and the Bible and Alcohol: Blessing or Curse?).
While many try marijuana and do not become addicted to other drugs, the fact is that almost all drug addicts began with marijuana.
Furthermore, marijuana is intoxicating.
Inhaling or ingesting marijuana basically makes someone drunk.
The Bible repeatedly condemns drunkeness and activities associated with it:
18 And do not be drunk with wine, in which is dissipation; but be filled with the Spirit (Ephesians 5:18)

21 For the drunkard and the glutton will come to poverty (Proverbs 23:21)

11 But now I have written to you not to keep company with anyone named a brother, who is sexually immoral, or covetous, or an idolater, or a reviler, or a drunkard, or an extortioner — not even to eat with such a person. (1 Corinthians 5:11)

9 Do you not know that the unrighteous will not inherit the kingdom of God? Do not be deceived. Neither fornicators, nor idolaters, nor adulterers, nor homosexuals, nor sodomites, 10 nor thieves, nor covetous, nor drunkards, nor revilers, nor extortioners will inherit the kingdom of God. 11 And such were some of you. But you were washed, but you were sanctified, but you were justified in the name of the Lord Jesus and by the Spirit of our God. (1 Corinthians 6:9-11)

13 Let us walk properly, as in the day, not in revelry and drunkenness, not in lewdness and lust, not in strife and envy. 14 But put on the Lord Jesus Christ, and make no provision for the flesh, to fulfill its lusts. (Romans 13:13-14)
Becoming intoxicated by marijuana is sinful and not something that Christians should do.
Some items of possibly related interest include:
Marijuana: Should a Christian Get High? There is increasing acceptance of the use of marijuana. How should Christians view this? Here is a related video titled How Should a Christian View Marijuana?
Should Christians Smoke? Is smoking a sin? What does the Bible teach? What have COG leaders written? Can smokers change? What about marijuana?
Just What Do You Mean — Repentance? Do you know what repentance is? Have you truly repented? Repented of what? Herbert W. Armstrong wrote this as a booklet on this important subject.
When You Sin: Do You Really Repent? This is an article by Charles F. Hunting. A related sermon is Confess to God and truly repent.
Living as a Christian: How and Why? In what ways do Christians live differently than others. What about praying, fasting, tithing, holy days, and the world? There is also a YouTube video related to that also called: Living as a Christian: How and Why?
Who Was Herbert W. Armstrong? How is He Viewed Today? Includes quotes from the 1973 edition of The Autobiography of Herbert W. Armstrong and explains how he is and should be viewed today.
Overcoming Sin What is sin? How are Christians suppose to overcome it? Here is also a link to a video titled How to Overcome Sin.
How to Prevent Sin This is an article by Herbert W. Armstrong.
Just What Do You Mean Conversion? Many think that they are converted Christians. But are they? Would you like to know more about conversion. Herbert W. Armstrong wrote this as a booklet on this important subject.
Anglo – America in Prophecy & the Lost Tribes of Israel Are the Americans, Canadians, English, Scottish, Welsh, Australians, Anglo-Saxon (non-Dutch) Southern Africans, and New Zealanders descendants of Joseph? Where are the lost ten-tribes of Israel? Who are the lost tribes of Israel? What will happen to Jerusalem and the Jews in Israel? Will God punish the U.S.A., Canada, United Kingdom, and other Anglo-Saxon nations? Why might God allow them to be punished first? Here is a link to the Spanish version of this article: Anglo-América & las Tribus Perdidas de Israel. Information is also in the YouTube sermons titled Where are the Ten Lost Tribes? Why does it matter? and British are the Covenant People. A short YouTube of prophetic interest may be Barack Obama and the State of the Apocalypse.
Will the Anglo-Saxon Nations be Divided and Have People Taken as Slaves? Will the lands of the United States, United Kingdom, Canada, Australia, and New Zealand be divided? What about Jerusalem? What does Bible prophecy teach? Are there non-biblical prophecies that support this idea? Who will divide those lands? Who will end up with the lands and the people? Here is a link to a video titled Will the USA and other Anglo-nations be Divided and Their People Made Slaves? Here is a related item in the Spanish language ¿Serán divididas las naciones anglosajonas?
Barack Obama, Prophecy, and the Destruction of the United States-Second Edition for Second Obama Term This is a 160 page book for people truly interested in prophecies related to Barack Obama and the United States, including learning about many that have already been fulfilled (which the book documents in detail) and those that will be fulfilled in the future. It also has a chapter about a Republican choice. This book is available to order at www.barackobamaprophecy.com. The physical book can also be purchased at Amazon from the following link: Barack Obama, Prophecy, and the Destruction of the United States: Is Barack Obama Fulfilling Biblical, Islamic Catholic, Kenyan, and other America-Related Prophecies? What About Republican Leaders? Second Edition for Second Obama Term.
Barack Obama, Prophecy, and the Destruction of the United States-Second Term-Amazon Kindle edition. This electronic version is available for only US$2.99. And you do not need an actual Kindle device to read it. Why? Amazon will allow you to download it to almost any device: Please click HERE to download one of Amazon s Free Reader Apps. After you go to for your free Kindle reader and then go to Barack Obama, Prophecy, and the Destruction of the United States-Second Term-Amazon Kindle edition.