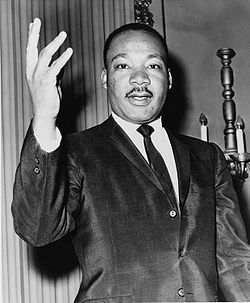 Yesterday many marked the 50th anniversary of Martin Luther King, Jr.'s "I have a dream" speech.  Tens of thousand rallied related to it:
WASHINGTON — Tens of thousands of people have rallied near Washington's Lincoln Memorial, where the Reverend Martin Luther King, Jr. delivered his stirring "I Have a Dream" speech 50 years ago…

A host of speakers paid tribute to the civil rights leader who was assassinated nearly five years after delivering his famous speech.

Congressman John Lewis, a Democrat from Georgia, spoke at the original March on Washington in 1963.  On Saturday, he recalled the hardships that he had endured as an African American fighting for equality.  http://www.voanews.com/content/march-on-washington-anniversary-rally-social-issues/1736416.html
Here is some of what Dr. King said on August 28, 1963:
Now is the time to lift our ion from the quicksands of racial injustice to the solid rock of brotherhood. Now is the time to make justice a reality for all of God's children…
I have a dream that one day on the red hills of Georgia sons of former slaves and the sons of former slave-owners will be able to sit down together at the table of brotherhood…
I have a dream that my four little children will me day live in a nations where they will not be judged by the color of their skin but by the content of their character…
I have a dream today . . . I have a dream that one day every valley shall be exalted, every hill and mountain will be made low. The rough places wild be made plain, and the crooked places will be made straight. And the glory of the Lord shall be revealed, and all flesh shall see it together. This is our hope.
Let me state that "God has a plan."
God sent His Son who taught against racial injustice and who was willing to not only violate certain segregation practices (John 4:7-9), He also praised  those of a race that the religious leaders shunned (Luke 10:30-37; 17:15-19).
God has a plan where former enemies will come together of different ethnicities (Isaiah 19:23-25).
God has a plan where people will be judged, not by outward appearance (1 Samuel 16:7) nor power (Revelation 20:12), but by their character (1 Samuel 16:7; Romans 2:16) and works (Revelation 20:12-13).
God has a plan where:
4 Every valley shall be exalted, and every mountain and hill shall be made low: and the crooked shall be made straight, and the rough places plain:

5 And the glory of the Lord shall be revealed, and all flesh shall see it together: for the mouth of the Lord hath spoken it. (Isaiah 40:4-5, KJV)
God has a plan which will result in people of every nation and race will be saved:
9…I looked, and behold, a great multitude which no one could number, of all nations, tribes, peoples, and tongues, standing before the throne and before the Lamb, clothed with white robes, with palm branches in their hands, 10 and crying out with a loud voice, saying, "Salvation belongs to our God who sits on the throne, and to the Lamb!"  (Revelation 7:9-10)
God has a plan where people of every nation will be able to rule:
9…You were slain, And have redeemed us to God by Your blood
Out of every tribe and tongue and people and nation,
10 And have made us kings and priests to our God;
And we shall reign on the earth.  (Revelation 5:9-10)
God has a plan where "all flesh shall see the salvation of God" (Luke 3:6).
God has a plan.
And His plan will come to pass (Acts 2:21; Proverbs 19:21; Isaiah 46:10).
Some items of possibly related interest may include:
God's Grace is For All Is being Jewish a hindrance to salvation? What about not being a descendant of Israel? Does race matter? What does the Bible really teach?
Do You Practice Mithraism? Many practices and doctrines that mainstream so-called Christian groups have are the same or similar to those of the sun-god Mithras. Dr. Martin Luther King Jr. wrote some information about this.  Do you follow Mithraism combined with the Bible or original Christianity?
What is Your Destiny? Deification? Did the Early Church Teach That Christians Would Become God? What is your ultimate destiny? What does the Bible teach? Is deification only a weird or cultic idea? Are you to rule the universe? Here is a link to the video sermon What is Your Destiny?
What is the Meaning of Life? Who does God say is happy? What is your ultimate destiny? Do you really know? Does God actually have a plan for YOU personally? There is also a video titled What is the meaning of your life?
Hope of Salvation: How the Continuing Church of God differ from most Protestants How the real Church of God differs from mainstream/traditional Protestants, is perhaps the question I am asked most by those without a Church of God background.
Universal Offer of Salvation: There Are Hundreds of Verses in the Bible Supporting the Doctrine of True Apocatastasis Do you believe what the Bible actually teaches on this? Will all good things be restored? Will God call everyone? Will everyone have an opportunity for salvation? Does God's plan of salvation take rebellion and spiritual blindness into account?