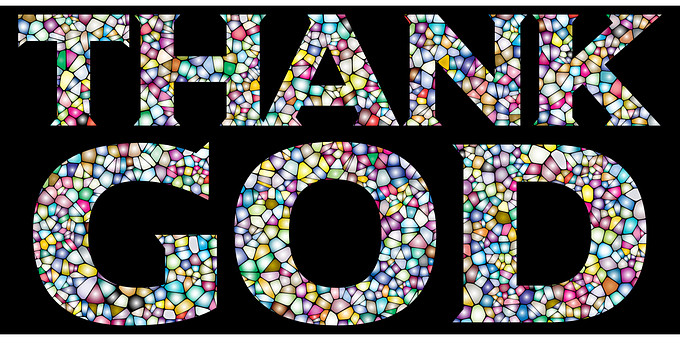 (From Public Domain Pictures)
In his newsletter today, Mike Gendron had the following:
Rejoicing in What God Cannot Do

Our righteous and holy God is worthy to be praised for all He has done, is doing, and will do in carrying out His gracious and merciful plan of redemption. However, there are also things God cannot do. As His adopted children, we can rejoice with hearts of thanksgiving because He cannot go against who He is.

God Cannot Violate His Holy Character and Nature 

This should give every child of God complete and immovable confidence because God always does what is consistent with who He is and all that He has revealed in His Word. He is utterly incapable of unrighteous, unholy or unjust acts. "His work is perfect, for all His ways are just" (Deut. 32:4).

God cannot stop existing. He depends on nothing for His existence. He exists independently of His creation and all of His creation depends entirely on Him for its existence. He is from everlasting to everlasting (Psalm 90:2). "To Him be the glory and the dominion forever and ever" because from Him and through Him and to Him are all things (Rev. 1:6; Rom. 11:36).

God cannot lie. In fact, it is impossible for God to lie (Heb. 6:18; Titus 1:2). God is truth and His Word, which is forever settled in heaven, is truth (John 14:6, 17:17). God cannot be tempted by evil (James 1:13).
We should rejoice because of that.
One song that comes to mind (and is in the old WCG hymnal, as well as CCOG's hymnal with the title Oh Give Thanks and Praise the Eternal!) is based on 1 Chronicles 16:8-13 upon which says:
8 Oh, give thanks to the LORD!
Call upon His name;
Make known His deeds among the peoples!
9 Sing to Him, sing psalms to Him;
Talk of all His wondrous works!
10 Glory in His holy name;
Let the hearts of those rejoice who seek the LORD!
11 Seek the LORD and His strength;
Seek His face evermore!
12 Remember His marvelous works which He has done,
His wonders, and the judgments of His mouth,
13 O seed of Israel His servant,
You children of Jacob, His chosen ones!
Those of us who understand God's plan of salvation, should be thankful for being part of those chosen in this age. This is consistent with the following admonition from the Book of Psalms and one from Saint Paul:
4 Sing praise to the LORD, You saints of His, And give thanks at the remembrance of His holy name (Psalm 30:4).
16 Rejoice always, 17 pray without ceasing, 18 in everything give thanks; for this is the will of God in Christ Jesus for you. (1 Thessalonians 5:16-18)
Anyway, the Bible is full of admonitions to give thanks to God. In the NKJV the term "give thanks" is used 40 times and the term "giving thanks" is used 5 times–and nearly all of these verses are discussing giving thanks to God. The term "thanksgiving" is used 24 times. Here are a few of them:
14 Offer to God thanksgiving (Psalms 50:14).

30 I will praise the name of God with a song, And will magnify Him with thanksgiving. (Psalms 69:30)

2 Let us come before His presence with thanksgiving; Let us shout joyfully to Him with psalms. 3 For the Lord is the great God, And the great King above all gods. (Psalms 95:2-3)

4 Enter into His gates with thanksgiving, And into His courts with praise. Be thankful to Him, and bless His name. 5 For the Lord is good; His mercy is everlasting, And His truth endures to all generations. (Psalms 100:4-5)
The Apostle Paul wrote:
3 I thank my God upon every remembrance of you, 4 always in every prayer of mine making request for you all with joy, 5 for your fellowship in the gospel from the first day until now, 6 being confident of this very thing, that He who has begun a good work in you will complete it until the day of Jesus Christ;  (Philippians 1:3-6)
Give thanks and praise the Eternal!
The Continuing Church of God has this sermon from on its ContinuingCOG YouTube channel:

1:14:34

Are you thankful? Does the Bible teach that you are supposed to be? What did Dibar Apartian write was 'the most common sin'? What does the Bible say about thanks and praise? Is ingratitude warned against? Is unthankfulness prophesied? Can the thankful commit the unpardonable sin? What should you be thankful for? Dr. Thiel addresses these issues and more.
Here is a link to the sermon: Ingratitude and Giving Thanks.
God is live (1 John 4:8,16) and His loving plan will come to pass.
To learn more about it, check out the free online books:The Gospel of the Kingdom of God  and The MYSTERY of GOD's PLAN: Why Did God Create Anything? Why Did God Make You?
Some items of possibly related interest may include:
Giving Thanks Are Christians supposed to give thanks? Why? Is unthankfulness warned against? Here is a link to a related sermon titled: Ingratitude and Giving Thanks.
Christians: Ambassadors for the Kingdom of God, Biblical instructions on living as a Christian This is a scripture-filled booklet for those wishing to live as a real Christian. A related sermon is also available: Christians are Ambassadors for the Kingdom of God.
Living as a Christian: How and Why? In what ways do Christians live differently than others. What about praying, fasting, tithing, holy days, and the world? There are also two YouTube video related to this: Living as a Christian: How and Why? and Living as a Christian: Pure Milk of the Word.
Living as a Christian: Strong Meat Can you handle solid spiritual food? A related sermon is available: Strong Meat: James 1-2 and Strong Meat: James 3-5.
What is the Unpardonable Sin? What is it? Can you repent of it? Do you know what it is and how to avoid it? Here is a link to a related sermon video The Unpardonable Sin and the Prodigal Son.
Praises to Jesus Christ or Biblical Hymns: Which Should Christians Primarily Sing? This biblical article on music is in response to an advertisement critical of WCG's 1974 The Bible Hymnal. It also address early church practices here.
The Bible Hymnal via Amazon. This is the paperback edition of the hymnal used by the Continuing Church of God. It consists of all the songs that were part of the 1974 edition of 'The Bible Hymnal' used by the old Worldwide Church of God, plus ten other hymns that Herbert Armstrong approved that were written by Ross Jutsum. The songs in this book are essentially the Psalms and other passages in the Bible set to music. To access it free online, click: The Bible Hymnal. Amazon sells a hard copy of The Bible Hymnal for $8.99.
The Gospel of the Kingdom of God This free online pdf booklet has answers many questions people have about the Gospel of the Kingdom of God and explains why it is the solution to the issues the world is facing. Here are links to three related sermons: The World's False Gospel, The Gospel of the Kingdom: From the New and Old Testaments, and The Kingdom of God is the Solution.
The MYSTERY of GOD's PLAN: Why Did God Create Anything? Why Did God Make You? This free online book helps answers some of the biggest questions that human have, including the biblical meaning of life. Here is a link to three related sermons: Mysteries of God's Plan, Mysteries of Truth, Sin, Rest, Suffering, and God's Plan, Mystery of Race, and The Mystery of YOU.