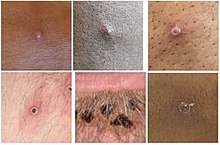 Stages of monkeypox lesion development
(UK government photos)
Notice a report from Mississippi:
What is monkeypox?

August 20, 2022

According to the CDC, monkeypox is a rare disease caused by infection with the monkeypox virus, in the same family as the virus that causes smallpox. Before 2022, most monkeypox cases were traced back to central and western Africa; cases outside of the continent were related to international travel or imported animals. …

How does the virus spread?

Monkeypox can spread through close contact, including contact with rashes, scabs, fluids or respiratory secretions from someone with the disease. Contact also includes touching fabrics or surfaces someone infected has interacted with.

Intimate or sexual contact and even hugging, massaging, kissing or prolonged face-to-face contact can spread the virus.

Monkeypox can spread from a pregnant person to the fetus through the placenta, and bites, scratches, meat or other byproducts from animals can transfer the virus.
Well, that is one report. But it overlooks the fact that this is almost entirely a homosexual male disease outside of Africa.
Now, notice the following:
Monkeypox is a gay disease spread by seminal fluid, not merely skin contact, study finds

August 20, 2022

The know-it-alls in "science" have come to the conclusion that so-called "monkeypox" is not spreading through simple skin-to-skin contact, but is rather a product of homosexual activity.

The main driver of the alleged disease is men who have sex with men, "experts" say. Numerous peer-reviewed studies point to monkeypox transmission being a factor of gay sex. (Related: Even though monkeypox is a gay disease, the globalists are still pushing for innocent children to be "vaccinated" against it.)

"A growing body of evidence supports that sexual transmission, particularly through seminal fluids, is occurring with the current monkeypox outbreak," claims Aniruddha Hazra, medical director of The University of Chicago's Sexual Wellness Clinic. …

"It looks very clear to us that this is an infection that is transmitting sexually the vast majority of the time," wrote Jeffrey Klausner, an infectious disease physician at the University of Southern California (USC), and Lao-Tzu Allan-Blitz, a resident physician in global health at Brigham and Women's Hospital in Boston. https://www.dcclothesline.com/2022/08/20/monkeypox-is-a-gay-disease-spread-by-seminal-fluid-not-merely-skin-contact-study-finds/

NBC News: Monkeypox chiefly transmitted through sex between men, suggests CDC update communications strategy

NBC News poked a hole in the public health narrative that skin-to-skin contact, rather than sex between men, was the chief transmitter of monkeypox in a report on Wednesday, and quoted scientists urging the Centers for Disease Control to update its communications on the infectious disease.

NBC's Benjamin Ryan reported that growing evidence in recent weeks "has suggested that experts may have framed monkeypox's typical transmission route precisely backward."

"Since the outset of the global monkeypox outbreak in May, public health and infectious disease experts have told the public that the virus is largely transmitting through skin-to-skin contact, in particular during sex between men," NBC reported. "Now, however, an expanding cadre of experts has come to believe that sex between men itself — both anal as well as oral intercourse — is likely the main driver of global monkeypox transmission. The skin contact that comes with sex, these experts say, is probably much less of a risk factor."

Accurate information on the highest-risk behavior for transmission is crucial, as it plays into recommendations on isolation, infection risk and other factors. It cited studies finding the virus in semen, with one scientist remarking a "growing body of evidence supports that sexual transmission, particularly through seminal fluids, is occurring with the current MPX outbreak."

Among the other evidence cited for the claim was the disease's prevalence among men aged 18-44 (more than 75 percent of global cases), and the majority of cases occurring in the anorectal or genital areas, suggesting sexual transmission when the virus is first passed along.

"Consequently, scientists told NBC News that the Centers for Disease Control and Prevention and other public health authorities should update their monkeypox communication strategies to more strongly emphasize the centrality of intercourse among gay and bisexual men, who comprise nearly all U.S. cases, to the virus' spread," NBC reported. 08/18/22 https://www.foxnews.com/media/nbc-news-monkeypox-chiefly-transmitted-through-sex-between-men-suggests-cdc-update-communications-strategy
Well, much of the media has wanted to push an inaccurate narrative about Monkeypox.
The current Monkeypox issue is another problem due to people not following biblical instructions.
Since sin affects us all, yes some outside of homosexual men will contract it.
But sexual immorality–in this case mainly sodomy–is the cause of what is now happening with Monkeypox.
Notice the following last days prophecy:
1 This know also, that in the last days perilous times shall come.

2 For men shall be lovers of their own selves, covetous, boasters, proud, blasphemers, disobedient to parents, unthankful, unholy,

3 Without natural affection, trucebreakers, false accusers, incontinent, fierce, despisers of those that are good,

4 Traitors, heady, highminded, lovers of pleasures more than lovers of God;

5 Having a form of godliness, but denying the power thereof: from such turn away. (2 Timothy 3:1-5, KJV)
Sodomites are lovers of their own selves, proud, without natural affection, and lovers of pleasures more than lovers of God. Much of the same is true for those who are involved with prostitution.
The New Testament also teaches:
9 Do you not know that the unrighteous will not inherit the kingdom of God? Do not be deceived. Neither fornicators, nor idolaters, nor adulterers, nor homosexuals, nor sodomites, 10 nor thieves, nor covetous, nor drunkards, nor revilers, nor extortioners will inherit the kingdom of God. (1 Corinthians 6:9-10)

22 Professing to be wise, they became fools, 23 and changed the glory of the incorruptible God into an image made like corruptible man — and birds and four-footed animals and creeping things.

24 Therefore God also gave them up to uncleanness, in the lusts of their hearts, to dishonor their bodies among themselves, 25 who exchanged the truth of God for the lie, and worshiped and served the creature rather than the Creator, who is blessed forever. Amen.

26 For this reason God gave them up to vile passions. For even their women exchanged the natural use for what is against nature. 27 Likewise also the men, leaving the natural use of the woman, burned in their lust for one another, men with men committing what is shameful, and receiving in themselves the penalty of their error which was due.

28 And even as they did not like to retain God in their knowledge, God gave them over to a debased mind, to do those things which are not fitting; 29 being filled with all unrighteousness, sexual immorality, wickedness, covetousness, maliciousness; full of envy, murder, strife, deceit, evil-mindedness; they are whisperers, 30 backbiters, haters of God, violent, proud, boasters, inventors of evil things, disobedient to parents, 31 undiscerning, untrustworthy, unloving, unforgiving, unmerciful; 32 who, knowing the righteous judgment of God, that those who practice such things are deserving of death, not only do the same but also approve of those who practice them. (Romans 1:22-32)
There are consequences to sin.
Notice the following from the prophet Isaiah:
5 Why should you be stricken again?
You will revolt more and more.
The whole head is sick,
And the whole heart faints.
6 From the sole of the foot even to the head,
There is no soundness in it,
But wounds and bruises and putrefying sores;
They have not been closed or bound up,
Or soothed with ointment.  (Isaiah 1:5-6)
Recently, I heard a homosexual man on the radio describe how agonizingly painful his sores from Monkeypox were. His description sounded a but like Isaiah's prophecy.
People need repentance.
Because not much of that is expected, more pestilences are coming.
Jesus predicted them (cf. Matthew 24:4-8) and the ride of the fourth horseman of the Apocalypse (Revelation 6:7-8) will include one more deadly than COVID-19.
More sores are also coming:
10 Then the fifth angel poured out his bowl on the throne of the beast, and his kingdom became full of darkness; and they gnawed their tongues because of the pain. 11 They blasphemed the God of heaven because of their pains and their sores, and did not repent of their deeds. (Revelation 16:10-11)
Most will not repent, even after that.
Yet, the time for personal repentance is now (Acts 17:30).
Some items of possibly related interest may include:
Is God Calling You? This booklet discusses topics including calling, election, and selection. If God is calling you, how will you respond? Here is are links to related sermons: Christian Election: Is God Calling YOU? and Predestination and Your Selection; here is a message in Spanish: Me Está Llamando Dios Hoy? A short animation is also available: Is God Calling You?
Christian Repentance Do you know what repentance is? Is it really necessary for salvation? Two related sermons about this are also available: Real Repentance and Real Christian Repentance.
Cross-dressing and other assaults against your children. What should you do? Is there an agenda to turn your children and/or grandchildren away from biblical morality and towards practices promoted by homosexuals? What does the Bible teach about cross-dressing? What should parents do? If there is an agenda, what has been going on? There are also two YouTube videos related to this, titled Transgender 'Woe to those who call evil good' and Cross dressing and Other Assaults Against Your Children.
The Bible Condemns Homosexuality "Same-sex marriage" for "gays" and lesbians is becoming more acceptable to many. What does the Bible teach about homosexuality? Can homosexuals change? A related video sermon is titled: What Does the Bible Really Teach about Homosexuality?
The Great Tribulation: What Happens First? What events have happened? What are some events that are now happening? And what events need to happen for the Great Tribulation to start? Here is a link to a related sermon video: Counting Down to the Great Tribulation. Here is a video in the Spanish language: Contando los eventos y el inicio de la Gran Tribulación.
When Will the Great Tribulation Begin? 2022, 2023, or 2024? Can the Great Tribulation begin today? What happens before the Great Tribulation in the "beginning of sorrows"? What happens in the Great Tribulation and the Day of the Lord? Is this the time of the Gentiles? When is the earliest that the Great Tribulation can begin? What is the Day of the Lord? Who are the 144,000? Here is a version of the article in the Spanish language: ¿Puede la Gran Tribulación comenzar en el 2020 o 2021? ¿Es el Tiempo de los Gentiles? A related video is: Great Tribulation: 2026 or 2027? Here is a video in the Spanish language: Es El 2021 el año de La Gran Tribulación o el Grande Reseteo Financiero.
Sorrows and the Four Horsemen of the Apocalypse What do each of the four horseman of the Apocalypse represent? Have they began their ride? Did Jesus discuss the any of this? Might their rides coincide with the "beginning of sorrows? Do they start their ride prior to the Great Tribulation?
Fourth Horseman of the Apocalypse What is the pale horse of death and pestilences? What will it bring and when? Here is a link to a related sermon: Fourth Horseman, COVID, and the Rise of the Beast of Revelation. Here is a version of that sermon in Spanish: El Cuarto Caballo, El COVID y El Surgimiento de la Bestia del Apocalipsis. Some shorter related videos may include Amphibian Apocalypse: Threat to Humans? and Zombie Deer Disease is Here! Are the 10 Plagues on Egypt Coming? Here is a version of the article in Spanish: El cuarto jinete de Apocalipsis, el caballo pálido de muerte y pestilencia.