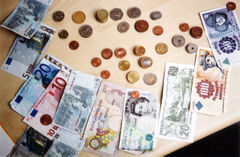 2020 has been a difficult financial year for many around the world. COVID-19 rules have negatively impacted the economy.
The stock markets around the world are jittery. Many around the world are concerned about international matters, including what will happen with the USA because its election.
The USA has the most debt any nation in world history has ever had–and it keeps going up. The per capita debt of those in the UK are among the highest of all time. The Eurozone has struggles between members, plus its own debt issues.
Those in Asia and South America have seen their economic standards of living generally rise, but great apprehension exists. There have been gains and losses in some parts of Africa and the Middle East. Even the oil-exporting nations have been hit.
Instead of focusing on national and international finance (which I tend to post about a lot), this post will mainly consist of quotes from the late Herbert W. Armstrong about personal finance from a biblical perspective. Anyway, here is some of what he wrote:
Ending Your
FINANCIAL WORRIES

by Herbert W. Armstrong
©Copyright 1959

What are YOU most concerned about? Is it the threat of hydrogen bomb WAR that can blast all human life from off this planet? Is it the race to conquer SPACE? MOST are concerned not about these issues but about making ends meet. THINK OF IT! In the industrial nations about 25% of parents are "farming out" their children so that both parents can work! WHY are most families experiencing such desperate financial worry? WHY such worry and striving over MAKING ENDS MEET?

FINANCIAL worries Seem to plague us all! IT JUST DOESN'T MAKE SENSE!

When you stop to think about it, never in the history of this world were any nations so rich as the English-speaking and the western European nations today! Our peoples possess more developed resources and national wealth than any people ever had before.

Yet nearly every one of us is engaged in a constant STRUGGLE to make ends meet. Financial worries seem constantly to bear us down — rob us of real happiness and joy! WHY SHOULD THIS BE?

There is a reason! You CAN BE FREE from financial worry!

What Most People Don't Know

There is something you probably don't know about your income. If there is anything people are jealous of, it is the money they earn. They usually work hard for it. And they want full freedom in deciding for themselves what they do with it.

People say: "What I earn is MINE — I can do what I please with it!"

But is the money you earn really your own? Don't be too sure. Notice these FACTS about your income you probably haven't known!

What you earn is not yours!

The man who says, "What I do with the money I earn with my own labor is nobody's business — I produced it — it belongs to me," is mistaken.

What you earn, by work performed or investments made is not yours — not any of it — that is, not UNTIL …!

And here is what most people don't know about their income!

There are two prior claims on your income. One, of course, is taxes.

Human governments, by virtue of MAN-made laws, are able forcibly to extract from your incomes not one tenth, but an average of over ONE QUARTER, a vast amount of which is mis-spent. Jesus said we are to pay taxes — render unto Caesar that which is Caesar's — be subject to the powers that be. Governments, therefore, have exercised a PRIOR right to one quarter of your income — and in the case of salary or wages, governments take it out BEFORE YOU get your pay.

But the first claim is GOD'S claim. You probably never realized this fact before — but it is a fact. God Almighty the living CREATOR-RULER of the universe claims it all — every dollar — every pound — every franc — every mark. Your Maker who gives you the very air you breathe tells you it all belongs to Him, not to you!

But didn't you earn it? Didn't YOU produce it?

Not exactly! Everything produced — money, and all that money can buy — comes out of the earth. You didn't produce that! God created that. You merely applied certain energy in physical action and in thinking to what God had created and owned. And God created even that energy you expended — He created your thinking processes. He not only created, originally, but He sustains what He created, including all force and energy.

So, after all, it was GOD'S LABOR of creating and sustaining that really produced all. God's claim to its ownership of all you have THOUGHT YOU produced is valid. It is prior to yours.

God Almighty says, in His written Word: "The earth is the Eternal's, and the fulness thereof; the world, and they that dwell therein. For He hath founded it upon the seas, and established it upon the floods" (Psalm 24:1-2). These inspired words are repeated in I Corinthians 10:26.

"Whatsoever is under the whole heaven is MINE," claims God (Job 41:11).

"Behold, the heaven and the heaven of heavens is the ETERNAL'S thy God, the earth also, with all that therein is" (Deut. 10:14). "All the earth is MINE" (Ex. 19:5).

"If I were hungry," says God (Psalm 50:12), "I would not tell thee; for the world is MINE, and the fulness thereof." "For every beast of the forest is MINE, and the cattle upon a thousand hills" (verse 10).

Yes, even the money — even the gold and silver: "The silver is MINE, and the gold is MINE, saith the ETERNAL of hosts" (Hag. 2:8).

DARE any man deny this claim of God? These same words of God are the words by which every man shall be JUDGED at the last. If any man deny God's claim, the decision will be rendered against him, in the judgment! God's claim stands! Admit, then, your income BELONGS TO GOD! It's HIS to do with as HE wills.

How God's Law Regulates It

However, God is a God of love. He knows your need. God is concerned about you. He is not selfish. He has your interest and welfare in mind. Therefore God has made A LAW respecting that portion of HIS WEALTH which your thinking, and your labor has extracted and worked upon.

Get this fixed thoroughly in your mind. Your wages, your salary, your profit, your income BELONGS TO GOD, not to you. Probably you never realized this before. This may seem like a new idea to you. But it is not an idea — it is a fact.

GOD IS THE OWNER OF WHAT YOU WORK ON AND HAVE A PART IN PRODUCING. You could produce nothing apart from God's matter which He created — apart from the use of laws of force and energy which God set in motion and sustains.

Therefore GOD HAS A RIGHT to take, or dispose of what you regard as your income AS HE WILLS. He OWNS it. It is not yours, it is HIS!

So God, the rightful OWNER of your income, has MADE A LAW respecting its disposal and its use. By virtue of being Creator and Sustainer of the earth and all in it, God is supreme RULER and LAWGIVER.

God's LAW respecting what you earn is in fact a DEAL He has made with you. He allows you to work on HIS EARTH, to use a part of the earth or what is in it or on it, and of its forces and energies, and to extract from it food, materials, supplies, metals, wood, oils, coal, or whatever — or to work on or with that which others have extracted from the earth, in manufacturing, distributing, selling, buying, investing — whatever may be your occupation or job or profession — and so, whether you have realized it or not YOU HAVE BEEN WORKING IN PARTNERSHIP WITH GOD.

The farmer or gardener may plant seed, plow, and expend his labor in raising food. But WHO supplied the SOIL? WHO created the living process that makes the seed sprout and grow? Who sends the rain, or provides water for irrigation? Who set the sun in the sky and causes it to shine and warm the earth? Who causes the plant to drink out of the soil the minerals, vitamins, and good elements, and to grow into the vegetable, the grain, or the fruit? Did YOU perform this part of the business of raising the food you eat?

When we sit down and really THINK, we shall see that God supplies about NINE parts of everything man makes or produces, and man's thinking, planning, and working supplies only about ONE part. But God does not take nine tenths of the proceeds, or the income. He doesn't take even eight tenths, or seven, or even three or two tenths. God is GENEROUS. God has reserved for HIS use only one little tiny tenth of what is produced out of His earth through His forces and energies!

God takes only ONE tenth. And after you have been honest in PAYING God's tenth to God's chosen representative, then — AND NOT UNTIL THEN — God has decreed that the other NINE tenths becomes legally YOURS!

THAT'S GOD'S LAW! Not a penny of what you earn, or a penny's worth of the value of what you produce, is YOURS — it ALL belongs to God to do with as HE directs. But God has legally directed that after you have honestly paid Him the one little, small tenth He requires for His use, then the other NINE tenths He gives to YOU. Then, and not until then, you can rightfully claim OWNERSHIP over that nine tenths. Then and thereafter it is YOURS to do with as YOU decide.

When we get our thinking straight — when we get UNDERSTANDING — when we stop to realize HOW MUCH of what we have was provided by GOD — then we realize how LOVING, how GENEROUS, how solicitous for our welfare God is.

How to HAVE MORE

But that's only part of the story.

What does God want with that first TENTH? How does He use it? He requires that small fraction of what is produced out of HIS earth for the purpose of disseminating to the people HIS MESSAGE OF THE WAY OF LIFE that will free them from fears and worries, give them peace of mind and happiness, give them joy and success and LIFE ETERNAL!

Yes, even this tenth which God withholds for His use is expended for HUMAN GOOD! For proclaiming His gospel of peace, and happiness and joy and salvation! For letting people know God will heal them when they are sick — that God will deliver them from every trouble — supply their every need! Give them Eternal Life! (You can click the following for the rest of the article: Ending Your FINANCIAL WORRIES)
I will simply add that God is faithful and that one can live in this age as a tithe payer. No modern currency is going to last over a few decades from now (e.g. Does God Have a 6,000 Year Plan? What Year Does the 6,000 Years End?). Do not put your faith in it.
Remember what Jesus taught:
19 "Do not lay up for yourselves treasures on earth, where moth and rust destroy and where thieves break in and steal; 20 but lay up for yourselves treasures in heaven, where neither moth nor rust destroys and where thieves do not break in and steal. 21 For where your treasure is, there your heart will be also. (Matthew 6:19-21)
The world will pass away, but God's word will not (cf. Matthew 24:35).
Some items of possibly related interest may include:
Tithing Questions and Some Answers Answers questions about tithing and also addresses some non-biblical arguments against tithing. Should people tithe? Here is a link to a related video sermon Tithing Answers from the Bible.
Christians: Ambassadors for the Kingdom of God, Biblical instructions on living as a Christian This is a scripture-filled booklet for those wishing to live as a real Christian. A related sermon is also available: Christians are Ambassadors for the Kingdom of God.
Ending Your FINANCIAL WORRIES How can people help themselves and others financially? Herbert W. Armstrong wrote this as a booklet on this important subject. A video of related interest would be: Dealing With Financial Worries.
Gambling and Sin: Is it a Sin for Christians to Gamble? What does the Bible reveal? A related video is Gambling: A Covetous Sin?
What is Armstrongism? Did Herbert W. Armstrong raise a new faith or promote the original Christian faith? Here is a link to a related video: What is Armstrongism? Are Some Dismissive of Original Christianity?
Spiritual Samaritans: Old and New Who were the Samaritans? Do the represent true Christianity or something else? Here is a link to a related sermon: USA in Prophecy: Samaria.
Herbert W. Armstrong, the Philadelphia Church, & the Mantle Herbert Armstrong claims God had him raise the Philadelphia up. Are there reasons to believe that the Philadelphia mantle in now within the CCOG? Here is a link to a related sermon: Herbert W. Armstrong and the Philadelphia Mantle.
COVID 19 is NOT the End, but could it be TEOTWAWKI? The novel coronavirus called COVID-19 is wreaking havoc around the world. Many states of the USA as well as countries in Europe are on lockdown with shelter in place /shelter in residence requirements. In France, a form is required when you are not at your house. In Spain, drones are being used to warn people who are outside to got back to their homes–does that bring up feelings of 'Big Brother'? Italy, France, and other areas are using police and/or military force to encourage people to stay inside. According to the Bible could this be the end? If not, what has to happen first? Have the second and third of the four horsemen of the Apocalypse started their ride? Could COVID-19 be the fourth horseman? Why or why not? Could we be seeing The End of the World as We Know It (TEOTWAWKI) like the R.E.M.'s 1987 single song discussed? Do Christians need to fear? What did Jesus teach? What did the Psalmist teach? This is a video. Here is a link to a version in the Spanish language: Corona 19 no es el final PERO es el TEOTWAWKI.
COVID-19 Leading to 666? The novel coronavirus of Wuhan, China fame, is now called COVID-19. It has also been called the 'Coronapocalypse.' Does COVID-19 have any prophetic ramifications? What did Jesus teach about pestilences and sorrows in the Olivet prophecy in Matthew 24? Could COVID-19 be the ride of the fourth horseman of the Apocalypse? Why was this type of disease expected according to the O. Here is a link to a version in the Spanish language: ld Testament prophecies in Deuteronomy and Leviticus? What has the US Centers for Disease Control warned about? What has the CDC reported about the flu? Were there lessons about fear and infections in the 2011 movie 'Contagion'? Because of COVID-19, the World Health Organization (WHO), nation of Iran, and certain French locations are telling people not to use cash, but instead electronic forms of payment. The US Federal Reserve is now quarantining money repatriated from Asia to reduce the potential spread of the coronavirus on US currency bills. Is COVID-19 worse than we have been told or could this all be a 'false flag' event to encourage people to move towards a cashless society? If the thousands of deaths associated with COVID-19 are pushing parts of the world towards cashlessness, how much more likely will the ride of the fourth horseman and over a billion human deaths motivate people to move to making electronic payments that can be monitored? The Bible tells of a soon coming society that controls buying and selling to force allegiance to a coming European Beast power, known as 666 (Revelation 13:16-18). Does the 'great tribulation' begin before ride of the fourth horseman or with the opening of the fifth seal of Revelation 6? Do the words of Jesus helps us better understand the sequence of the four horsemen of the Apocalypse and the start of the Great Tribulation? Will the ride of the fourth horseman help lead to the rise of 666? Is that ride v
What is the Meaning of Life? Who does God say is happy? What is your ultimate destiny? Do you really know? Does God actually have a plan for YOU personally? There is also a video titled What is the meaning of your life?
Living as a Christian: How and Why? In what ways do Christians live differently than others. What about praying, fasting, tithing, holy days, and the world? There is also a YouTube video related to that also called: Living as a Christian: How and Why?
The MYSTERY of GOD's PLAN: Why Did God Create Anything? Why Did God Make You? This free online book helps answers some of the biggest questions that human have, including the biblical meaning of life. Here is a link to three related sermons: Mysteries of God's Plan, Mysteries of Truth, Sin, Rest, Suffering, and God's Plan, and The Mystery of YOU.