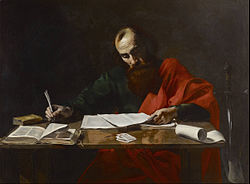 17th Century Representation of the Apostle Paul Writing an Epistle

After sunset on April 13, 2014, those who are able in the Continuing Church of God, as well as the faithful in other groups or who are scattered, will be observing Passover.
Have you prepared?
The Apostle Paul wrote:
5 Examine yourselves as to whether you are in the faith. Test yourselves. Do you not know yourselves, that Jesus Christ is in you? — unless indeed you are disqualified. (2 Corinthians 13:5)
Have you been doing that?
Passover is only a few days from now.
Because in Western lands, it normally takes a long time to try to deleaven our homes and vehicles, hopefully you have started to physically deleaven, but the more important aspect of this is spiritual.  Have you been trying to examine your life and noticed any areas that you need to change?
We are given this annual reminder of the Christ's victory over sin that is ours because of the sacrifice of Jesus. The Bible teaches:
11 But Christ came as High Priest of the good things to come, with the greater and more perfect tabernacle not made with hands, that is, not of this creation. 12 Not with the blood of goats and calves, but with His own blood He entered the Most Holy Place once for all, having obtained eternal redemption. 13 For if the blood of bulls and goats and the ashes of a heifer, sprinkling the unclean, sanctifies for the purifying of the flesh, 14 how much more shall the blood of Christ, who through the eternal Spirit offered Himself without spot to God, cleanse your conscience from dead works to serve the living God? 15 And for this reason He is the Mediator of the new covenant, by means of death, for the redemption of the transgressions under the first covenant, that those who are called may receive the promise of the eternal inheritance. (Hebrews 9:11-15)
By participating in this service, you are expressing your faith in Christ's death on your behalf, following in the examples of the apostles, and renewing your commitment to let Jesus Christ live His life in you. The Bible shows that through Jesus' death we can be holy and blameless in God's sight:
22 in the body of His flesh through death, to present you holy, and blameless, and above reproach in His sight (Colossians 1:22).
The Passover service reminds us of Christ's sacrifice and His plan for us.
Notice also something that the Apostle John wrote:
8 If we say that we have no sin, we deceive ourselves, and the truth is not in us. 9 If we confess our sins, He is faithful and just to forgive us our sins and to cleanse us from all unrighteousness. 10 If we say that we have not sinned, we make Him a liar, and His word is not in us. (1 John 1:8-10)
So please, confess your sins and change.  Passover is almost here this year.
Some items of possibly related interest may include:
Preparing for Passover The Apostle Paul taught that Christians should examine themselves prior to taking Passover. This YouTube video sermon gives suggestions on how to prepare.
When You Sin: Do You Really Repent? This is an article by Charles F. Hunting. A related sermon is Confess to God and truly repent.
Keeping Passover and the Days of Unleavened Bread How should Christians keep Passover, especially if they are by themselves. Why does the Church of God not require lambs for Passover? How does one keep the Days of Unleavened Bread? For a step-by-step video for Christians to keep it, check out CCOG Passover Service.
Passover and the Early Church Did the early Christians observe Passover? What did Jesus and Paul teach? Why did Jesus die for our sins? There is also a detailed YouTube video available titled History of the Christian Passover.
Melito's Homily on the Passover This is one of the earliest Christian writings about the Passover. This also includes what Apollinaris wrote on the Passover as well.
The Passover Plot What was the first Passover plot? Which plots have Islam and the Greco-Roman faiths perpetuated about Passover? A sermon video of related interest is The Passover Plots, Including Easter.
Holy Day Calendar This is a listing of the biblical holy days through 2024, with their Roman calendar dates. They are really hard to observe if you do not know when they occur 🙂 In the Spanish/Español/Castellano language: Calendario de los Días Santos. In Mandarin Chinese: 何日是神的圣日? 这里是一份神的圣日日历从2013年至2024年。.
Is There "An Annual Worship Calendar" In the Bible? This paper provides a biblical and historical critique of several articles, including one by the Tkach WCG which states that this should be a local decision. What do the Holy Days mean? Also you can click here for the calendar of Holy Days.
Should Christians Keep the Days of Unleavened Bread? Do they have any use or meaning now? What is leaven? This article supplies some biblical answers. Here is a YouTube video intended to be viewed for the first day of unleavened bread: Christians and the Days of Unleavened Bread.
The History of Early Christianity Are you aware that what most people believe is not what truly happened to the true Christian church? Do you know where the early church was based? Do you know what were the doctrines of the early church? Is your faith really based upon the truth or compromise?