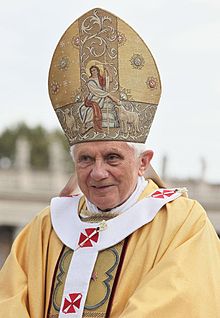 Pope Benedict XVI

Today, after declaring 7 others 'saints,' the Roman Pontiff Benedict XVI, Bishop of Rome Benedict XVI said following:
…let us turn to her who is the Queen of all the Saints, the Virgin Mary, thinking of Lourdes, stricken by a grave overflowing of the Gave, which has also flooded the grotto of the apparitions of Our Lady. Today we would especially like to entrust missionaries to the maternal intercession of the Virgin Mary – priests and laity, who sow the good seed of the Gospel in every part of the world. We also pray for the Synod of Bishops, which, over the course of these weeks, is confronting the challenge of the new evangelization for the transmission of the Christian faith.  http://www.zenit.org/article-35781?l=english
The Bible never refers to Jesus' mother Mary as the 'queen' of anything–the only 'queen of heaven' (an expression that some also try to apply to Mary) that the Bible refers to is condemned (Jeremiah 7:18-20; 44:17-23).  Also, the only 'virgin' 'Lady of the Kingdoms' (other terms sometimes improperly applied to Mary that the Bible tells of (Isaiah 47:1-5) is also condemned (Isaiah 47:5-15).  The Pontiff did not tell people to turn to Jesus in the transcript I read.

In his message today, Benedict specifically said he wants missionaries to be entrusted to Mary's intercession.  The New Testament, in both Catholic and Protestant translations, shows that Jesus makes intercession for Christians:
34 Who is he that shall condemn? Christ Jesus that died, yea that is risen also again; who is at the right hand of God, who also maketh intercession for us. (Romans 8:34, Douay-Rheims)

34 Who is he who condemns? It is Christ who died, and furthermore is also risen, who is even at the right hand of God, who also makes intercession for us. (Romans 8:34, NKJV)
The New Testament never says that Jesus' mother can currently be making any type of intercession or that Christians should trust her for intercession.

Notice also that the Roman Pontiff also referred to apparitions claimed to be Mary in Lourdes (France). Here is some of what my book Fatima Shock! said about that:
In  the  19th    century,  there  was  a  female  apparition in France, known as the Lady of Lourdes.  One of the statements she reportedly stated in 1858 was, "I am the Immaculate Conception!"

Now this is an unusual and biblically contradictory idea as the Bible teaches that all have sinned (Roman 3:23) except Jesus (Hebrews 4:15), as He is the only one who had a biblically immaculate conception, but not the Marian kind.

For non-Catholics, let me explain that what became an extra-biblical Catholic doctrine was that Mary was conceived unlike all other humans and free of what many refer to as "original sin."   Specifically this "dogma" has been explained in Dr. Ludwig Ott's 20th  century book Fundamentals of Catholic Dogma as:

"Mary's freedom of original sin was an unmerited gift of God, and an exception from the law that was vouchsafed to her only."

His book also teaches:

The doctrine of the Immaculate Conception of Mary is not explicitly revealed in scripture… Neither the Greek nor the Latin Fathers explicitly (explicite) teach the Immaculate Conception of Mary.

So where did it come from?…Jumping forward to the 12th   century, a British monk Eadmer  began  to  promote  the  idea  of  an  Immaculate Conception of Mary.    When he did so, "St. Bernard of Clairvaux… (about 1140), warned the faithful that this was an unfounded innovation…"

So was the Catholic saint Bernard  wrong  in  condemning  Monk  Eadmer's  heresy here?   Of course not!  Others, at least as late as the 17th century supported Bernard's position on this. (Fatima Shock! pp. 85-86)

Eastern Signs and Faiths

While "Mary" is known throughout the Middle East and West, she is less known, though revered by some like a goddess, in Eastern religions:

Hindus, Buddhists, Muslims and other pilgrims regularly worship at famous Roman Catholic shrines to the Virgin Mary such as Lourdes in France and Fatima in Portugal…Many venerate her like one of their own goddesses…(Fatima Shock! p. 188)

Archbishop Williams…said…at Lourdes that when Mary appeared to St. Bernadette Soubirous in 1858 "she came at first as an anonymous figure, a beautiful lady, a mysterious thing, not yet identified as the Lord's spotless mother…"  (Fatima Shock! p. 220)
Mary is not one to pray to or to entrust oneself to–including Catholics, Hindus, etc.
Jesus is.  And this is something that the Pontiff knows, but did not seem to mention today.
Since the Pontiff mentioned apparitions, probably the most famous person in more recent times who claimed to see an apparition many times in Fatima, Portugal, was a woman named Lucia.  Notice what she said about Mary and salvation as well as what the Catholic translation of the Bible says about it from my book Fatima Shock!:
What  Lúcia  said  in  an  interview  on  November  17, 2001 is…a concern:

Devotion to the Immaculate Heart of Mary is the means of salvation God has bestowed to help the Church and the world through these difficult times.

God did not do that.

In Akita, Japan, on October 13, 1973, the Lady there similarly falsely stated, "I alone am able to save you from the calamities that approach."

Catholics   and   non-Catholics    should   immediately realize that according to the Holy Bible it is only through Jesus and no other (including Mary) that any can be saved:

10 Be it known to you all, and to all the people of Israel, that by the name of our Lord Jesus Christ of Nazareth, whom you crucified, whom God hath raised from the dead, even by him this man standeth here before you whole. 11 This is the stone which was rejected by you the builders,which is become the head of the corner. 12 Neither is there salvation in any other. For there is no other name under heaven given to men, whereby we must be saved. (Acts 4:10-12 DRB)

There  is  no  "salvation  in  any  other"  (Acts  4:12). Offering an alternative is a false gospel (cf. Galatians 1:8). (Fatima Shock! p. 61)
Yet, there is a great tendency within the Church of Rome to rely on signs, apparitions, and wonders to support teachings that do not square with the Bible.  All who profess Christ, including those who are COG, Catholic, Protestant, or anything else, should understand that Jesus is the center of the plan of salvation and that the Church of Rome intends to promote a further Marian reverence that will likely deceive nearly all (cf. Isaiah 47; Revelation 17-18–and this includes nearly all who profess Christ (cf. Matthew 24:24; 2 Thessalonians 2:9-12).