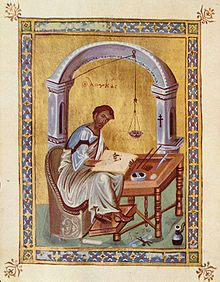 10th Century Representation of Gospel Writer Luke
The Continuing Church of God is pleased to announce its latest sermon which is at its ContinuingCOG channel:
1:09:50
This is the fourth of a multi-part sermon series by Dr. Thiel covering the Gospel account credited to Luke. This sermon covers chapters 10 through 11. Dr.Thiel discusses 'the 70,' doing the work of proclaiming the gospel of the Kingdom as a witness, the opportunity for salvation, the parable of the good Samaritan, prayer, various signs, and letting your light shine.
Here is a link to part one of this sermon series: Luke 1-2: John the Baptist, Mary, and the Census.
Here is a link to part two of this sermon series: Luke 3-6: John the Baptist, Jesus' genealogy, Satan's Influence, and the Sermon on the Mount.
Here is a link to part three of this sermon series: Luke 7-9: Miracles, Purpose of Parables, Kingdom of God, and Women Supporting the Ministry
Here is a link to part four of this sermon series: Luke 10-11: The 70, Doing the Work, the Good Samaritan, Prayer, and Signs
Some items of possibly related interest may include:
Jesus: The Son of God and Saviour Who was Jesus? Why did He come to earth? What message did He bring? Is there evidence outside the Bible that He existed? Here is a YouTube sermon titled Jesus: Son of God and Saviour.
Women and the New Testament Church What roles did women play in the ministry of Jesus and the apostles? Did Jesus and the Apostle Paul violate Jewish traditions regarding their dealings with women? Do women have any biblical limitations on their role in the Church? Were there female prophets? Do women have any special responsibilities in terms of how they dress? What does the New Testament really teach about women? Here is a related sermon titled: New Testament Women.
Mary, the Mother of Jesus and the Apparitions Do you know much about Mary? Are the apparitions real? What happened at Fatima? What might they mean for the rise of the ecumenical religion of Antichrist? Are Protestants moving towards Mary? How do the Eastern/Greek Orthodox view Mary? How might Mary view her adorers? Here is a link to a YouTube video Marian Apparitions May Fulfill Prophecy. Here is a link to a sermon video: Why Learn About Fatima?
What Should I Pray About? An old article by Lynn Torrance on prayer. Here is a link to it in Mandarin Chinese 我应该祷告什么?
Universal Offer of Salvation: There Are Hundreds of Verses in the Bible Supporting the Doctrine of True Apocatastasis Do you believe what the Bible actually teaches on this? Will all good things be restored? Will God call everyone? Will everyone have an opportunity for salvation? Does God's plan of salvation take rebellion and spiritual blindness into account? Related sermon videos include Universal Offer of Salvation I: God is love  and Universal Offer of Salvation II: The Age to Come and the 'Little Flock' and Universal Offer of Salvation III: All Are to Know Jesus, But When? and Universal Offer of Salvation IV: Will the Guilty be Pardoned? and Universal Offer of Salvation V: All Israel Will be Saved? A version of the main article was also translated in the Spanish language: Oferta universal de salvación: Hay cientos de versículos en la Biblia que apoyan la verdadera doctrina de la Apocatastasis.
The Elijah Heresies Does the Bible teach that there will be a future Elijah? Must it be Herbert W. Armstrong?
How To Determine If Someone is a True Prophet of God There are many false prophets. How can Christians determine who is a true prophet? There is also a sermon-length video titled How to determine if someone is a true prophet of God. Here is a related link in Spanish/español: ¿Cómo determinar si alguien es un verdadero profeta de Dios?
ContinuingCOG channel. Dr. Thiel has produced scores of YouTube video sermons for this channel. Note: Since these are sermon-length, they can take a little longer to load than other YouTube videos.