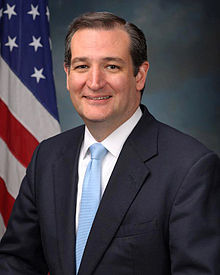 Ted Cruz

Republican Senator Ted Cruz was disturbed about objections for some of his pro-Israel comments:
September 11, 2014

Sen. Ted Cruz, R-Texas, walked offstage at an event Wednesday evening after his remarks in support of Israel drew boos from some members of the audience.

Cruz was speaking at a dinner for In Defense of Christians (IDC), a group that aims to raise awareness of persecuted minority communities in the Middle East, particularly Christians.

According to The Daily Caller, it was Cruz's assertion that "Christians have no greater ally than Israel" which drew the first negative reaction from some in the crowd, who booed and yelled, "stop it!"

As Cruz doubled down on his point – "those who hate Israel hate America," he said – the interruptions grew.

"If you will not stand with Israel and the Jews," Cruz said. "Then I will not stand with you. Good night, and God bless." He left the stage.

"I came to this event [Wednesday] to help shine a light on the tragic persecution and slaughter of Christians by ISIS and Islamic radicals throughout the Middle East. American leaders have been far too silent as to this horrific evil," Cruz said in a statement released after the event. "But bigotry and hatred have no place in this discussion. Anti-Semitism is a corrosive evil, and it reared its ugly head."

He blamed a "vocal and angry minority of attendees" for what he called a "shameful display of bigotry and hatred" and said he had no choice but to leave.

IDC issued its own statement reprimanding "a few politically motivated opportunists" for choosing to cause division in the room.  http://www.cbsnews.com/news/ted-cruz-walks-out-of-christian-event-after-being-booed/
Ted Cruz is considered to be a potential candidate for the USA presidency (see Ted Cruz emerges as a top potential candidate).
Although many Protestants and Catholics are pro-Israel, many who claim to be Christian are antisemitic.
Various notable leaders that Catholic and Protestants respect hated Jews.
Notice some statements from the antisemite John Chrysostom, Orthodox Bishop of Constantinople:
But do not be surprised that I called the Jews pitiable. They really are pitiable and miserable (John Chrysostom. Homily Against the Jews I:II:1. Preached at Antioch, Syria in the Fall of 387 AD. Medieval Sourcebook: Saint John Chrysostom (c.347-407) : Eight Homilies Against the Jews. Fordham University. http://www.fordham.edu/halsall/source/chrysostom-jews6.html ).

So the godlessness of the Jews and the pagans is on a par. But the Jews practice a deceit which is more dangerous (I:VI:4).

Do you see that demons dwell in their souls and that these demons are more dangerous than the ones of old? (I:VI:7).

Since it is against the Jews that I wish to draw up my battle line, let me extend my instruction further. Let me show that, by fasting now, the Jews dishonor the law and trample underfoot God's commands because they are always doing everything contrary to his decrees. When God wished them to fast, they got fat and flabby (VI:IV:2).

Indeed, the fasting of the Jews, which is more disgraceful than any drunkenness, is over and gone (VIII:I:5).
Notice some statements from the antisemite Martin Luther, a Protestant Reformer:
My heart is fuller of these thoughts than my tongue can tell. I have come to the conclusion that the Jews will always curse and blaspheme God as all the prophets have predicted. He who neither reads nor understands this, as yet knows no theology, in my opinion. And so I presume the men of Cologne cannot understand the Scripture, because it is necessary that such things take place to fulfill prophecy. If they are trying to stop the Jews blaspheming, they are working to prove the Bible and God liars ("Martin Luther's to George Spalatin," from Luther's Correspondence and Other Contemporan, Letters, trans. by P. Smith (1913), Vol. 1, pp. 28-29).
Furthermore he wrote:
I had made up my mind to write no more either about the Jews or against them. But since I learned that those miserable and accursed people do not cease to lure to themselves even us, that is, the Christians, I have published this little book, so that I might be found among those who opposed such poisonous activities of the Jews and who warned the Christians to be on their guard against them…They are so blind and stupid that they see neither the words found in Genesis 17 nor the whole of Scripture, which mightily and explicitly condemns this lie…They are real liars and bloodhounds who have not only continually perverted and falsified all of Scripture with their mendacious glosses from the beginning until the present day. Their heart's most ardent sighing and yearning and hoping is set on the day on which they can deal with us Gentiles as they did with the Gentiles in Persia at the time of Esther…The worse a Jew is, the more arrogant he is, solely because he is a Jew — that is, a person descended from Abraham's seed, circumcised, and under the law of Moses. David and other pious Jews were not as conceited as the present-day, incorrigible Jews…I wanted to present this to us Germans so that we might see what rascals the blind Jews are and how powerfully the truth of God in our midst stands with us and against them (Medieval Sourcebook: Martin Luther (1483-1546): On the Jews and Their Lies, 1543)
Martin Luther advised his followers:
…to burn down Jewish schools and synagogues, and to throw pitch and sulphur into the flames; to destroy their homes; to confiscate their ready money in gold and silver; to take from them their sacred books, even the whole Bible; and if that did not help matters, to hunt them of the country like mad dogs (Luther's Works, vol. Xx, pp. 2230-2632 as quoted in Stoddard JL. Rebuilding a Lost Faith, 1922, p.99).

Accordingly, it must and dare not be considered a trifling matter but a most serious one to seek counsel against this and to save our souls from the Jews, that is, from the devil and from eternal death. My advice, as I said earlier, is: First, that their synagogues be burned down, and that all who are able toss in sulphur and pitch (Martin Luther (1483-1546): On the Jews and Their Lies, 1543 as quoted from Luther's Works, Volume 47: The Christian in Society IV, (Philadelphia: Fortress Press, 1971). pp 268­293).
Notice something from a Roman Catholic source:
In the Middle Ages, the Popes and the Councils were successful in destroying the Jewish revolutionary movements which appeared within Christianity in the form of false teaching and which were introduced by those who were Christians in appearance but Jews in secret. The latter then recruited upright and good Christians for the arising heretical movement by persuading the latter in a crafty way.

The secret Jews organised and controlled in secret manner the movements, which were the creative and driving force of wicked false teachings, such as those of the Iconoclasts, the Cathars, the Patarines, the Albigensians, the Hussites, the Alumbrados and others. (Pinay, Maurice. The Plot Against the Church, Part Four Chapter One. Translated from the German and Spanish editions of the same work. 1962)
The above book is still recommended by and for many Catholics (though some others distance themselves from it).
Racial hatred is wrong. People should not be antisemitic.  There are many who are antisemitic.
Speaking in favor of the nation of Israel will likely both gain and cost Ted Cruz votes should he formally announce that he plans to run for his party's nomination for president.
Some items of related interest may include:
Persecutions by Church and State This article documents some that have occurred against those associated with the COGs and some prophesied to occur. Will those with the cross be the persecutors or the persecuted–this article has the shocking answer. There is also a YouTube video sermon you can watch: The Coming Persecution of the Church.
God's Grace is For All Is being Jewish a hindrance to salvation? What about not being a descendant of Israel? What does the Bible really teach? Here is a link to a related sermon titled Race and Grace; Do you view race as God does?
John Chrysostom, Bishop of Constantinople and Antisemite This late fourth/early fifth century Bishop of Constantinople is considered to be a 'saint' and 'doctor' by the Church of Rome, Church of England, and the Eastern Orthodox, but he did not teach Christ's love.
The Similarities and Dissimilarities between Martin Luther and Herbert W. Armstrong This article clearly shows some of the doctrinal differences between in the two. At this time of doctrinal variety and a tendency by many to accept certain aspects of Protestantism, the article should help clarify why the genuine Church of God is NOT Protestant. Do you really know what the Protestant Reformer Martin Luther taught and should you follow his doctrinal example? Here is a related sermon video: Martin Luther and Herbert Armstrong: Reformers with Differences.
Which Is Faithful: The Roman Catholic Church or the Continuing Church of God? Do you know that both groups shared a lot of the earliest teachings? Do you know which church changed? Do you know which group is most faithful to the teachings of the apostolic church? Which group best represents true Christianity? This documented article answers those questions. [Português: Qual é fiel: A igreja católica romana ou a igreja do deus?]
Why Should American Catholics Fear Unity with the Orthodox? Are the current ecumenical meetings a good thing or will they result in disaster? Is doctrinal compromise good? Here is a link to a related video Should you be concerned about the ecumenical movement?
Will the Interfaith Movement Lead to Peace or Sudden Destruction? Is the interfaith movement going to lead to lasting peace or is it warned against?
Some Similarities and Differences Between the Eastern Orthodox Church and the Continuing Church of God Both groups claim to be the original church, but both groups have differing ways to claim it. Both groups have some amazing similarities and some major differences. Do you know what they are?
Anglo – America in Prophecy & the Lost Tribes of Israel Are the Americans, Canadians, English, Scottish, Welsh, Australians, Anglo-Saxon (non-Dutch) Southern Africans, and New Zealanders descendants of Joseph? Where are the lost ten-tribes of Israel? Who are the lost tribes of Israel? What will happen to Jerusalem and the Jews in Israel? Will God punish the U.S.A., Canada, United Kingdom, and other Anglo-Saxon nations? Why might God allow them to be punished first? Here is a link to the Spanish version of this article: Anglo-América & las Tribus Perdidas de Israel. A video of possible interest may be Will Will USA Spying Help the Beast Power?
Can you see the 'Handwriting on the Wall'? Thousands of years ago, King Belshazzar saw a hand appear at a big party he was hosting. The hand wrote Mene, Mene, Tekel, Upharsin. Shortly after the Prophet Daniel explained it, his empire was taken over and King Belshazzar died. Is this applicable today? Are there signs right before our eyes that show that the end is coming to the United States and its Anglo-descended allies. Do abortions, sexual immorality, celebrity pornography, and increased debt mean anything? What does the Bible show?
Hillary Clinton in Prophecy Are there prophecies that Hillary Clinton may fulfill? Are there any prophecies that she has already helped fulfill? Could Hillary Clinton be apocalyptic? Could Hillary Clinton be the final Antichrist?
When Will the Great Tribulation Begin? 2014, 2015, or 2016? Can the Great Tribulation begin today? What happens before the Great Tribulation in the "beginning of sorrows"? What happens in the Great Tribulation and the Day of the Lord? Is this the time of the Gentiles? When is the earliest that the Great Tribulation can begin? What is the Day of the Lord? Who are the 144,000? Here is a version of the article in the Spanish language: ¿Puede comenzar la Gran Tribulación en 2013 o 2014? ¿Es el Tiempo de los Gentiles? You can also see the English language sermon video: The Great Tribulation from the Mount of Olives.
Barack Obama, Prophecy, and the Destruction of the United States-Second Edition for Second Obama Term This is a 160 page book for people truly interested in prophecies related to Barack Obama and the United States, including learning about many that have already been fulfilled (which the book documents in detail) and those that will be fulfilled in the future. It also has a chapter about a Republican choice. This book is available to order at www.barackobamaprophecy.com. The physical book can also be purchased at Amazon from the following link: Barack Obama, Prophecy, and the Destruction of the United States: Is Barack Obama Fulfilling Biblical, Islamic Catholic, Kenyan, and other America-Related Prophecies? What About Republican Leaders? Second Edition for Second Obama Term.
Barack Obama, Prophecy, and the Destruction of the United States-Second Term-Amazon Kindle edition. This electronic version is available for only US$2.99. And you do not need an actual Kindle device to read it. Why? Amazon will allow you to download it to almost any device: Please click HERE to download one of Amazon s Free Reader Apps. After you go to for your free Kindle reader and then go to Barack Obama, Prophecy, and the Destruction of the United States-Second Term-Amazon Kindle edition.