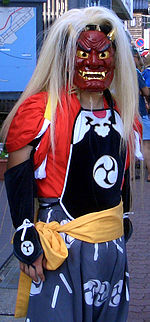 Japanese Demon Portrayal
The movie "The Possession" is a box office hit this weekend in the USA:
3 September 2012
Although I did not see The Possession, nor do I plan to, a reader sent the following article about it:
"Possession" is a horror film inspired by a newspaper account of a family that fights a demon known as a Dibbuk in ancient Yiddish folklore. The spirit resides in a Dibbuk box and is said to possesses people's bodies with the intention of devouring them.

In "Possession," the Dibbuk enters the body of a young woman, leaving her parents to figure out how to stop it. Kyra Sedgwick and Madison Davenport star in the film.  http://entertainment.nbcnews.com/_news/2012/09/02/13621682-supernatural-thriller-possession-leads-box-office?lite
Irrespective of Hollywood portrayals of demonic possession (the Bible does not teach about a "Dibbuk box"), demonic possession is real.
The New Testament has various accounts of demonic possession.  Here two:
1 And when He had come out of the boat, immediately there met Him out of the tombs a man with an unclean spirit, 3 who had his dwelling among the tombs; and no one could bind him, not even with chains, 4 because he had often been bound with shackles and chains. And the chains had been pulled apart by him, and the shackles broken in pieces; neither could anyone tame him. 5 And always, night and day, he was in the mountains and in the tombs, crying out and cutting himself with stones.

6 When he saw Jesus from afar, he ran and worshiped Him. 7 And he cried out with a loud voice and said, "What have I to do with You, Jesus, Son of the Most High God? I implore You by God that You do not torment me."

8 For He said to him, "Come out of the man, unclean spirit!"  9 Then He asked him, "What is your name?"

And he answered, saying, "My name is Legion; for we are many." 10 Also he begged Him earnestly that He would not send them out of the country.

11 Now a large herd of swine was feeding there near the mountains. 12 So all the demons begged Him, saying, "Send us to the swine, that we may enter them." 13 And at once Jesus gave them permission. Then the unclean spirits went out and entered the swine (there were about two thousand); and the herd ran violently down the steep place into the sea, and drowned in the sea.

14 So those who fed the swine fled, and they told it in the city and in the country. And they went out to see what it was that had happened. 15 Then they came to Jesus, and saw the one who had been demon-possessed and had the legion, sitting and clothed and in his right mind. And they were afraid. 16 And those who saw it told them how it happened to him who had been demon-possessed, and about the swine. 17 Then they began to plead with Him to depart from their region. (Mark 5:2-17)

22 Then one was brought to Him who was demon-possessed, blind and mute; and He healed him, so that the blind and mute man both spoke and saw. 23 And all the multitudes were amazed and said, "Could this be the Son of David?"

24 Now when the Pharisees heard it they said, "This fellow does not cast out demons except by Beelzebub, the ruler of the demons."

25 But Jesus knew their thoughts, and said to them: "Every kingdom divided against itself is brought to desolation, and every city or house divided against itself will not stand.  26 If Satan casts out Satan, he is divided against himself. How then will his kingdom stand?  27 And if I cast out demons by Beelzebub, by whom do your sons cast them out? Therefore they shall be your judges.  28 But if I cast out demons by the Spirit of God, surely the kingdom of God has come upon you.  29 Or how can one enter a strong man's house and plunder his goods, unless he first binds the strong man? And then he will plunder his house.  30 He who is not with Me is against Me, and he who does not gather with Me scatters abroad. (Matthew 12:22-30)
Problems involving demons were prophesied in the last days:
1 Now the Spirit expressly says that in latter times some will depart from the faith, giving heed to deceiving spirits and doctrines of demons (1 Timothy 4:1)

1 But know this, that in the last days perilous times will come: 2 For men will be lovers of themselves, lovers of money, boasters, proud, blasphemers, disobedient to parents, unthankful, unholy, 3 unloving, unforgiving, slanderers, without self-control, brutal, despisers of good, 4 traitors, headstrong, haughty, lovers of pleasure rather than lovers of God, 5 having a form of godliness but denying its power. And from such people turn away! (2 Timothy 3:1-5)
People, whether possessed by demons or not, there were those prophesied to be despisers of good in the last days.   One does not need to be demonically-possessed to do wrong.
Notice also:
19 Now the works of the flesh are evident, which are: adultery, fornication, uncleanness, lewdness, 20 idolatry, sorcery, hatred, contentions, jealousies, outbursts of wrath, selfish ambitions, dissensions, heresies, 21 envy, murders, drunkenness, revelries, and the like; of which I tell you beforehand, just as I also told you in time past, that those who practice such things will not inherit the kingdom of God. (Galatians 5:19-21)

2 you once walked according to the course of this world, according to the prince of the power of the air, the spirit who now works in the sons of disobedience, 3 among whom also we all once conducted ourselves in the lusts of our flesh, fulfilling the desires of the flesh and of the mind, and were by nature children of wrath, just as the others. (Ephesians 2:2-3)
Demons and sin are real.  Portrayals in movies (nor that shown at the beginning of this news item as a Japanese costume of a demon), not so much.
Some articles of possibly related interest may include:
Close Encounters of a 'Spirit' Kind discusses some experiences I believe were (demon) 'spirit' related.
Mardi Gras: The Devil's Carnival? Do you know that in Bolivia the carnival/Mardi Gras time is part of a celebration known as the Devil's Carnival? Did Jesus celebrate Carnaval? Where did it come from?
Is Halloween Holy Time for Christians? This article provides some historical and biblical insight on this question.
The Gospel of the Kingdom of God was the Emphasis of Jesus and the Early Church Did you know that? Do you even know what the gospel of the kingdom is all about?
What is the Meaning of Life? Who does God say is happy? What is your ultimate destiny? Do you really know? Does God actually have a plan for YOU personally?
The Ten Commandments Reflect Love, Breaking them is Evil Some feel that the ten commandments are a burden. Is that what Jesus, Paul, Peter, James, and John taught?