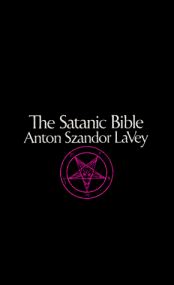 In its latest Tomorrow's World magazine, LCG has the following from Evangelist Richard Ames:
Thirty-five years ago, many considered the television series Bewitched controversial. Today, it seems tame compared to such popular television fare as The Vampire Diaries and True Blood, which glamorize the occult.

Yet, for many, the occult is more than fiction. A CBS News poll in February found that 48 percent of those surveyed believed in the existence of ghosts, with 22 percent reporting that they had personally seen or felt the presence of a ghost. That figure mirrors the results of a 2006 Ipsos Reid poll that found 47 percent of Canadians reporting a belief in ghosts, with 18 percent saying they had been in the presence of a ghost. Similarly, a British research firm found that more than 40 percent of Britons reported belief in ghosts. This is quite a change from the 1950s, when a Gallup poll found that just about one out of ten Britons believed in ghosts ("Four out of ten Britons believe in ghosts," The Sunday Times of London, April 13, 2009)…

Scripture reveals the source of occult deception. "So the great dragon was cast out, that serpent of old, called the Devil and Satan, who deceives the whole world; he was cast to the earth, and his angels were cast out with him" (Revelation 12:9). Satan deceives the whole world, not just a part of this world. And he also has spirit helpers, called demons.

How does Satan deceive the whole world? He does it through the occult, false religion and false education—and through a social system that seeks licentious pleasure rather than God! The prophet Isaiah wrote: "And when they say to you, 'Seek those who are mediums and wizards, who whisper and mutter,' should not a people seek their God? Should they seek the dead on behalf of the living?" (Isaiah 8:19). Whom are people seeking today: mediums, wizards or the true God? Isaiah wrote: "To the law and to the testimony! If they do not speak according to this word, it is because there is no light in them" (Isaiah 8:20).

We need to understand that there is a real spirit world! Notice this warning: "When you come into the land which the Lord your God is giving you, you shall not learn to follow the abominations of those nations. There shall not be found among you anyone who makes his son or his daughter pass through the fire, or one who practices witchcraft, or a soothsayer, or one who interprets omens, or a sorcerer, or one who conjures spells, or a medium, or a spiritist, or one who calls up the dead" (Deuteronomy 18:9–11).

God Almighty condemns sorcery and witchcraft. If you are "playing around" with such darkness, then you need to reject that underworld of evil! Seek the true God of your Bible! God's warning continues: "For all who do these things are an abomination to the Lord, and because of these abominations the Lord your God drives them out from before you. You shall be blameless before the Lord your God. For these nations which you will dispossess listened to soothsayers and diviners; but as for you, the Lord your God has not appointed such for you" (Deuteronomy 18:12–14).
Can anything be more clear concerning the evils of witchcraft and sorcery?…
Astrology and False Prophecy

Satan also deceives mankind through astrology. According to the Encyclopaedia Britannica: "Astrology originated in Mesopotamia, perhaps in the 3rd millennium bc, but attained its full development in the Western world much later, within the orbit of Greek civilization of the Hellenistic period. It spread to India in its older Mesopotamian form. Islamic culture absorbed it as part of the Greek heritage; and in the Middle Ages, when Western Europe was strongly affected by Islamic science, European astrology also felt the influence of the Orient…. Although various Christian councils condemned astrology, the belief in the worldview it implies was not seriously shaken. In the late European Middle Ages, a number of universities, among them Paris, Padua, Bologna, and Florence, had chairs of astrology."

Even though all true Christians have condemned astrology over the years, it has persisted. In our modern time, astrologers admit that the newspaper variety of horoscope advice is mainly entertainment. But when world leaders consult astrologers for guidance, they are seeking the wrong god! Listen to God's warning through the prophet Jeremiah: "Thus says the Lord: 'Do not learn the way of the Gentiles; do not be dismayed at the signs of heaven, for the Gentiles are dismayed at them" (Jeremiah 10:2).

We have already seen that Jesus predicted that signs and wonders would deceive the many. The book of Revelation reveals dramatic events leading up to the Second Coming of Christ. There will be a great false prophet and religious system that will perform miracles, signs and wonders. The Apostle John writes this about the great false prophet. "He performs great signs, so that he even makes fire come down from heaven on the earth in the sight of men" (Revelation 13:13). Millions, if not billions, of people will be deceived by these impressive miracles. "And he [the false prophet] deceives those who dwell on the earth by those signs which he was granted to do in the sight of the beast" (Revelation 13:14).

How can you tell whether someone is truly a minister of God, and not someone controlled by the occult world? Deuteronomy gives us a key. "If there arises among you a prophet or a dreamer of dreams, and he gives you a sign or a wonder, and the sign or the wonder comes to pass, of which he spoke to you, saying, 'Let us go after other gods'; which you have not known; 'and let us serve them,' you shall not listen to the words of that prophet or that dreamer of dreams, for the Lord your God is testing you to know whether you love the Lord your God with all your heart and with all your soul. You shall walk after the Lord your God and fear Him, and keep His commandments and obey His voice, and you shall serve Him and hold fast to Him" (Deuteronomy 13:1–4).

A false minister or prophet may even prophesy accurately concerning some sign or wonder. But God says that if he leads you after other gods—if he leads you away from the God of the Bible and the true Jesus Christ of your Bible—then he is a false prophet. Notice also that God may be testing you, to see if you will be faithful to His word and to His way of life!

Be on Guard!

Satan has deceived the whole world. He has many methods of deception, including witches, wizardry, channeling, sorcery, astrology, spiritism and false religion. You need to be on guard against the dangers of the occult.

The Apostle Peter gave us this instruction: "Be sober, be vigilant; because your adversary the devil walks about like a roaring lion, seeking whom he may devour. Resist him, steadfast in the faith, knowing that the same sufferings are experienced by your brotherhood in the world" (1 Peter 5:8–9).

God promises us protection from evil. Jesus taught us to pray: "And do not lead us into temptation, but deliver us from the evil one" (Matthew 6:13). Paul exhorted Christians: "Put on the whole armor of God, that you may be able to stand against the wiles of the devil. For we do not wrestle against flesh and blood, but against principalities, against powers, against the rulers of the darkness of this age, against spiritual hosts of wickedness in the heavenly places" (Ephesians 6:11–12). You can overcome the wicked one by knowing the word of God—the Bible—and living by it. You can overcome the temptations and deceptions of the occult and false religion. As the Apostle Paul encourages us in Philippians 4:13: "I can do all things through Christ who strengthens me." May God empower you to go forward in faith. May you live not by the dark deceptions of this world, but by the light of truth, God's word.
There are many false prophecies and predictions these days.  Some from demons, some from astrology, and some from imagination.  But many have occult connections.  Many will be deceived from false prophecies claimed to be related to 2012 (including those who will prophecy peace dawning–see End of Mayan Calendar 2012–Might 2012 Mean Something?).
Speaking of occult connections, while birthdays would not seem to related to the occult, occultists tend to view them as highly important.
Back in 1969 Anton Lavey wrote The Satanic Bible. On page 96 (in the 1976 version) it mentions birthdays:
THE highest of all holidays in the Satanic religion is the date of one's own birth. This is in direct contradiction to the holy of holy days of other religions, which deify a particular god who has been created in an anthropomorphic form of their own image, thereby showing that the ego is not really buried.

The Satanist feels: "Why not really be honest and if you are going to create a god in your image, why not create that god as yourself." Every man is a god if he chooses to recognize himself as one. So, the Satanist celebrates his own birthday as the most important holiday of the year. After all, aren't you happier about the fact that you were born than you are about the birth of someone you have never even met? Or for that matter, aside from religious holidays, why pay higher tribute to the birthday of a president or to a date in history than we do to the day we were brought into this greatest of all worlds?

After one's own birthday, the two major Satanic holidays are Walpurgisnacht and Halloween (or All Hallows' Eve). (Lavey A, Gilmore P. The Satanic Bible. Avon, September 1, 1976, p. 96–note it is on page 53 of an online version I found also).
It is interesting that birthdays are considered one of the three the most important holiday to these Satan worshipers (the founding of their "church", called Walpurgisnacht, and Halloween are the other ones of importance to them).
The Bible never encourages the celebration of birthdays or pagan worship practices. Instead, it tends to speak in a negative manner concerning them (cf. Matthew 14:6-11; Jeremiah 10; 20:14-18).
While the Bible does specify holy days, relatively few people observe them–most people seem to prefer those with pagan ties. Hence, it is little wonder to me that Wiccan holidays are being recognized more and more.
Some articles of possibly related interest may include:
Mardi Gras: The Devil's Carnival? Do you know that in Bolivia the carnival/Mardi Gras time is part of a celebration known as the Devil's Carnival? Did Jesus celebrate Carnaval? Where did it come from?
Milvian Bridge Day, Constantine, and St. Jude Milvian Bridge Day and St. Jude's day are observed by some on October 28. Yet, do these two events point to a contradiction?
Is Halloween Holy Time for Christians? This article provides some historical and biblical insight on this question.
Did Early Christians Celebrate Birthdays? Did biblical era Jews celebrate birthdays? Who originally celebrated birthdays? When did many that profess Christ begin birthday celebrations?
Do You Practice Mithraism? Many practices and doctrines that mainstream so-called Christian groups have are the same or similar to those of the sun-god Mithras. Do you follow Mithraism combined with the Bible or original Christianity?
Is God Unreasonable? Some have suggested that if God requires Sabbath-keeping He is unreasonable. Is that true?
Is There "An Annual Worship Calendar" In the Bible? This paper provides a biblical and historical critique of several articles, including one by WCG which states that this should be a local decision. What do the Holy Days mean? Also you can click here for the calendar of Holy Days.
The History of Early Christianity Are you aware that what most people believe is not what truly happened to the true Christian church? Do you know where the early church was based? Do you know what were the doctrines of the early church? Is your faith really based upon the truth or compromise?