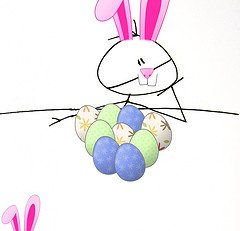 Today begins what many commonly call "Crucifixion Week".  But most have no idea of what really happened on what date (this is documented in the article What Happened in the Crucifixion Week?).
In its latest email, UCG wrote:
What would Jesus do?
Since Easter (with all the pagan symbols that have come with it) was adopted by the Catholic Church centuries after Christ's ascension, should Christians observe this holiday and encourage others to do so?

Would Jesus Christ celebrate Easter?
He certainly could have told us to. So could the apostles, whose teaching and doctrine are preserved for us in the book of Acts and the epistles written by Paul, Peter, James, Jude and John. But nowhere do we find a hint of support for Easter or anything remotely resembling it. What we do find, as pointed out earlier, is clear instruction from Jesus and Paul to keep the Passover and other biblical—and truly Christian—observances.

Holy Scripture does not support this pre-Christian holiday and, in fact, condemns such celebrations. Because Scripture condemns pagan practices and the worship of false gods (Deuteronomy 12:29-32), we know that God the Father and Jesus His Son have no interest in Easter and do not approve of it.
Jesus, in fact, is diametrically opposed to religious rituals that supposedly honor Him but in reality are rooted in the worship of false gods. He makes clear the difference between pleasing God and pleasing men: "Well did Isaiah prophesy of you hypocrites, as it is written: 'This people honors Me with their lips, but their heart is far from Me. And in vain they worship Me, teaching as doctrines the commandments of men . . . All too well you reject the commandment of God, that you may keep your tradition'" (Mark 7:6-9).

Easter is a tradition of men, not a commandment of God. But it's more than that. It is a pagan tradition of men that, like other traditions involved in the worship of false gods, is abhorrent to the true God. Jesus and His apostles would never sanction its observance because it mingles paganism with supposedly Christian symbolism and ritual. It is rooted in ancient pre-Christian fertility rites that have nothing to do with Jesus.
In reality, most of the trappings associated with Easter reveal that the holiday is actually a fraud pawned off on unsuspecting and well-intentioned people. God wants us to worship in spirit and truth (John 4:23-24), not to recycle ancient customs used to worship other gods.

Even the timing of the events used to justify celebrating Jesus' resurrection on a Sunday morning—that He was crucified on the afternoon of Good Friday and resurrected before dawn on Sunday morning—are demonstrably false, as an examination of the Scriptures shows.
For those who want concrete proof that He was indeed the Messiah and Savior of mankind, Jesus made a promise: "An evil and adulterous generation seeks after a sign, and no sign will be given to it except the sign of the prophet Jonah. For as Jonah was three days and three nights in the belly of the great fish, so will the Son of Man be three days and three nights in the heart of the earth" (Matthew 12:39-40).
Try as some might, there is no way to calculate three days and three nights from late Friday afternoon to Sunday morning before daylight. At most, this amounts to barely more than a day and a half. Either Jesus was mistaken, or those who say He was crucified on a Friday and resurrected on a Sunday are mistaken. You can't have it both ways.
The truth is that Easter was a cowardly compromise by those who feared the Roman authorities more than the God of the Bible.
If you did not know this, you may wish to study further and read the following articles:
Did Early Christians Celebrate Easter? If not, when did this happen? What do scholars and the Bible reveal?
What Happened in the Crucifixion Week? How long are three days and three nights? Did Jesus die on "Good Friday"? Was the resurrection on Sunday? Do you really know? Who determined the date of Easter?
Passover and the Early Church Did the early Christians observe Passover? What did Jesus and Paul teach? Why did Jesus die for our sins?