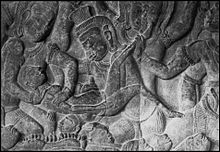 Bas-relief at Angkor Wat, dated circa 1150, depicting a demon performing an abortion by pounding a mallet into a woman's belly.
A link from a Catholic website brought me to the following this afternoon:
For no shortage of churchfolk, the "nightmare" scenario has come to pass: the Vice President-elect of the United States… a Democrat… the first Catholic to hold the post… come January, a heartbeat away from the Oval Office…
…all while getting called out by his pastors  — and, in a handful of locales, barred from the Eucharist.
Oh, and he got reelected to the Senate, to boot. http://whispersintheloggia.blogspot.com/2008/11/first-catholic.html
The election of Joseph Biden as USA vice-president was most likely disturbing to the Vatican (the Vatican was partially responsible for John Kerry not winning last time).
The Catholics of Rome, and rightly so, do not believe that it is good for public officials to profess Catholocism while endorsing abortion rights.
There have been many comments and meetings by those associated with the Vatican to get people not to support Joseph Biden, some of which I have covered at this news page (see Vatican Offical Says No to Biden and Pelosi, But Not to Palin).
However weak it may now seem to be, make no mistake about it, the Vatican has been instrumental in promoting and sometimes eliminating the political careers of many, and most likely will have much more influence in the next decade than it has had in this one.
We in the Living Church of God, while not getting involved in the secular politics of this world, would not consider that one who promotes abortion rights could even be a member of our church.  Perhaps, the Vatican may decide to follow us on this point.
Three articles of possibly related interest may include:
Which Is Faithful: The Roman Catholic Church or the Living Church of God? Do you know that both groups shared a lot of the earliest teachings? Do you know which church changed? Do you know which group is most faithful to the teachings of the apostolic church? Which group best represents true Christianity? This documented article answers those questions.
Abortion, the Bible, and a Woman's Right to Choose Do you know what the Bible teaches on this?
There are Many COGs: Why Support the Living Church of God? This is an article for those who wish to easily sort out the different COGs. It really should be a MUST READ for current and former WCG members or any interested in supporting the faithful church. It also explains a lot of what the COGs are all about.