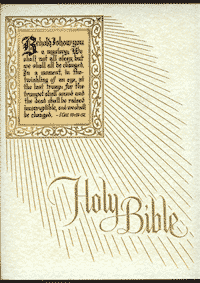 A reader just made me aware of an archeological find earlier this Spring that is providing information about the area where near Abram, who later became Abraham, lived:
A team of British archaeologists from the University of Manchester has discovered what they believe to be a large building complex underground in an area of Iraq near Tell Khaiber. Using a satellite, the team spotted the 87-yard-long building before confirming its presence by way of geographical survey and trial excavations. They now believe this 4,000-year-old building could have had a critical function in Ur, one of the world's earliest cities.
By being one of the world's first and most developed cities, this is consistent with the view that Abram had a certain amount of education and writing ability.  Some biblical critics had questioned that in the past.
Here is some of what the Bible tells about Ur:
27 This is the genealogy of Terah: Terah begot Abram, Nahor, and Haran. Haran begot Lot. 28 And Haran died before his father Terah in his native land, in Ur of the Chaldeans. 29 Then Abram and Nahor took wives: the name of Abram's wife was Sarai, and the name of Nahor's wife, Milcah, the daughter of Haran the father of Milcah and the father of Iscah. 30 But Sarai was barren; she had no child.

31 And Terah took his son Abram and his grandson Lot, the son of Haran, and his daughter-in-law Sarai, his son Abram's wife, and they went out with them from Ur of the Chaldeans to go to the land of Canaan; and they came to Haran and dwelt there.  (Genesis 11:27-31)

1After these things the word of the Lord came to Abram in a vision, saying, "Do not be afraid, Abram. I am your shield, your exceedingly great reward."

2 But Abram said, "Lord God, what will You give me, seeing I go childless, and the heir of my house is Eliezer of Damascus?" 3 Then Abram said, "Look, You have given me no offspring; indeed one born in my house is my heir!"

4 And behold, the word of the Lord came to him, saying, "This one shall not be your heir, but one who will come from your own body shall be your heir." 5 Then He brought him outside and said, "Look now toward heaven, and count the stars if you are able to number them." And He said to him, "So shall your descendants be."

6 And he believed in the Lord, and He accounted it to him for righteousness.

7 Then He said to him, "I am the Lord, who brought you out of Ur of the Chaldeans, to give you this land to inherit it."  (Genesis 15:1-7)
This is interesting as we get closer to the end that archeologists continue to find more evidence of biblical locations, figures, and events.
Of course, for those of us who believe the Bible, no further proof is needed. But for some who have heard statements from pseudo-archaeologists that deny the biblical accounts, it may be helpful for them to realize that as time goes on, more and more archaeological evidence surfaces that supports the Bible.
Some articles of possibly related interest may include:
Read the Bible Christians should read and study the Bible. This article gives some rationale for regular bible reading.
Biblical Archaeology This is a website that has more information on biblical archeological as is sometimes known as the Bib Arch site.
The Old Testament Canon This article shows from Catholic accepted writings, that the Old Testament used by non-Roman Catholics and non-Orthodox churches is the correct version.
Old Testament History This is a link to articles that essentially back up the historical accuracy of the Hebrew scriptures (AKA The Old Testament).