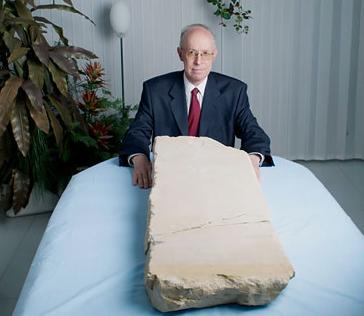 David Jeselsohn With an Ancient Tablet About the Messiah
The following news item was quite interesting:
Tablet Ignites Debate on Messiah and Resurrection
New York Times – July 6, 2008
JERUSALEM — A three-foot-tall tablet with 87 lines of Hebrew that scholars believe dates from the decades just before the birth of Jesus is causing a quiet stir in biblical and archaeological circles, especially because it may speak of a messiah who will rise from the dead after three days.
If such a messianic description really is there, it will contribute to a developing re-evaluation of both popular and scholarly views of Jesus, since it suggests that the story of his death and resurrection was not unique but part of a recognized Jewish tradition at the time.
The tablet, probably found near the Dead Sea in Jordan according to some scholars who have studied it, is a rare example of a stone with ink writings from that era — in essence, a Dead Sea Scroll on stone.
It is written, not engraved, across two neat columns, similar to columns in a Torah. But the stone is broken, and some of the text is faded, meaning that much of what it says is open to debate.
Still, its authenticity has so far faced no challenge, so its role in helping to understand the roots of Christianity in the devastating political crisis faced by the Jews of the time seems likely to increase…
Oddly, the stone is not really a new discovery. It was found about a decade ago and bought from a Jordanian antiquities dealer by an Israeli-Swiss collector who kept it in his Zurich home. When an Israeli scholar examined it closely a few years ago and wrote a paper on it last year, interest began to rise. There is now a spate of scholarly articles on the stone, with several due to be published in the coming months.
"I couldn't make much out of it when I got it," said David Jeselsohn, the owner, who is himself an expert in antiquities. "I didn't realize how significant it was until I showed it to Ada Yardeni, who specializes in Hebrew writing, a few years ago. She was overwhelmed. 'You have got a Dead Sea Scroll on stone,' she told me."
Much of the text, a vision of the apocalypse transmitted by the angel Gabriel, draws on the Old Testament, especially the prophets Daniel, Zechariah and Haggai…
To make his case about the importance of the stone, Mr. Knohl focuses especially on line 80, which begins clearly with the words "L'shloshet yamin," meaning "in three days." The next word of the line was deemed partially illegible by Ms. Yardeni and Mr. Elitzur, but Mr. Knohl, who is an expert on the language of the Bible and Talmud, says the word is "hayeh," or "live" in the imperative. It has an unusual spelling, but it is one in keeping with the era.
Two more hard-to-read words come later, and Mr. Knohl said he believed that he had deciphered them as well, so that the line reads, "In three days you shall live, I, Gabriel, command you."
To whom is the archangel speaking? The next line says "Sar hasarin," or prince of princes. Since the Book of Daniel, one of the primary sources for the Gabriel text, speaks of Gabriel and of "a prince of princes," Mr. Knohl contends that the stone's writings are about the death of a leader of the Jews who will be resurrected in three days.
He says further that such a suffering messiah is very different from the traditional Jewish image of the messiah as a triumphal, powerful descendant of King David. http://www.nytimes.com/2008/07/06/world/middleeast/06stone.html?hp.
Presuming the above tablet is true, this shows that ancient (and modern) Jewish teachers should have realized that the Messiah was to die and be resurrected.
And while most Jews refuse to see the evidence from the Old Testament, some of the ancient Jewish teachers apparently did somewhat understand about this.
An article of possibly related interest could be Jesus is God, But Was Made Man.