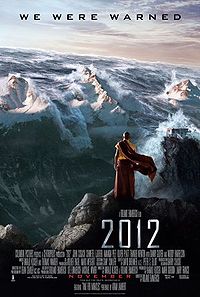 Sony's 2012 movie was #3 at the US box office this weekend (it was number 1 when it opened 3 weekends ago).  It is doing fantastically well in overseas markets like China (Chinese Pleased With China's Portrayal in Sony's 2012 Movie, Indonesia Less So) and Russia:
2012 Smashes Record in Russia
30.11.2009

The movie 2012 by Roland Emmerich has smashed box-office record among foreign feature films in Russia.

Since its premiere on November 12, 2009 the movie has made 870 million rubles, i.e. about 30 million dollars. The films went into general release on 840 screens. Within the first weekend it gathered more than 16 million dollars, which is also an absolute record novosti.err.ee informs.  http://www.russia-ic.com/news/show/9288/
Three people, who are supposed to be Russian, are featured in the movie (and others who are supposed to be Russian are in the movie).
It is my hope that those who watch the 2012 movie (in Russia and elsewhere) will realize that the end of the world is coming (though the focus of the COGwriter page is to view the future in the light of biblical prophecy).
For more about Russia and prophecies concerning it from a biblical perspective (as well as how certain Russian prophecies seem to line up with the Bible), please check out the following:
2012 and the Rise of the Secret Sect This is a link related to a book by Bob Thiel (COGwriter). This also has YouTube videos related to 2012.  The book contains documented prophecies as well as an end time sequence of events that Christians should study and understand.  Including the role of nations such as China and what Islam teach and where such line up with biblical prophecy.
Russia: Its Origins and Prophesied Future Where do the Russians come from? What about those in the Ukraine? What is prophesied for Russia and its allies? What will they do to the Europeans that supported the Beast in the end?