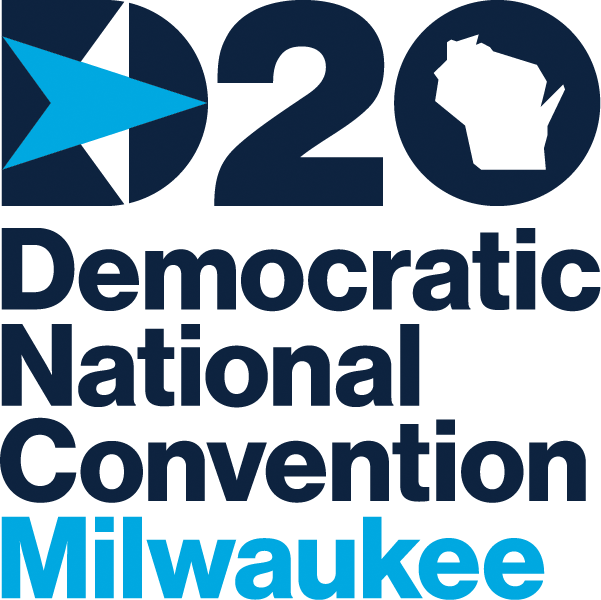 DNC 2020 logo

The Democratic National Convention (DNC) began last night.
CBS reported the following:
Michelle Obama implores Americans to "vote for Joe Biden like our lives depend on it"

August 18, 2020

Former first lady Michelle Obama delivered an impassioned speech at the first night of the Democratic National Convention, urging Americans who may have skipped the 2016 election to support Joe Biden in November. In her pre-recorded address, she spoke frankly about the challenges she sees facing the country, and the steep responsibilities a president faces. …

"If you think things cannot possibly get worse, trust me, they can; and they will if we don't make a change in this election. If we have any hope of ending this chaos, we have got to vote for Joe Biden like our lives depend on it," Obama said. https://www.cbsnews.com/news/michelle-obama-speaks-at-democratic-convention-2020-joe-biden/
For Christians, our lives rely on God, not the result of USA elections.
That being said, Michelle Obama is right that things can get worse.
If Donald Trump is re-elected, certain things will get worse.
However, if Joe Biden is elected, certain things will get worse.
Without national repentance the USA is doomed–and relatively soon.
The Associated Press reported the following about the DNC convention:
Dems put divides aside, rally behind Biden at convention

August 18, 2020

There was no central meeting place or cheering throng during the all-virtual affair Monday night. But it was an opportunity for Democrats — and some Republicans — to rally behind Biden, the party's presidential nominee. …

Bernie Sanders, the progressive Vermont senator who was Biden's last standing rival during the primary, encouraged his loyal supporters to vote for the former vice president in November, arguing the nation can't survive another four years of Trump. …

Monday's speeches were framed by emotional appearances from average Americans touched by the crises that have exploded on Trump's watch.

Philonise and Rodney Floyd led a moment of silence in honor of their brother, George Floyd, the Minnesota man whose death while in police custody sparked a national moment of awakening on racial injustice.

"George should be alive today," Philonise Floyd said matter-of-factly.

Also speaking was Kristin Urquiza, an Arizona woman who lost her father to COVID-19, which has killed more than 170,000 people in the United States.

"My dad was a healthy 65-year-old," she said. "His only preexisting condition was trusting Donald Trump, and for that, he paid with his life." …

But 77 days before votes are counted, history is not on the Democratic challenger's side. Just one incumbent president has been defeated in the last four decades.

Polls also suggest that Biden, a 77-year-old lifelong politician, is on the wrong end of an enthusiasm gap. His supporters consistently say they're motivated more by opposition to Trump, who is 74, than excitement about Biden. Democrats hope to shift that dynamic beginning with the convention. …

The Monday speakers included plenty of Democratic politicians: Rep. Jim Clyburn of South Carolina, who is the highest ranking African American in Congress; New York Gov. Andrew Cuomo; Michigan Gov. Gretchen Whitmer; Alabama Sen. Doug Jones; Nevada Sen. Catherine Cortez Masto and two former presidential contenders: Minnesota Sen. Amy Klobuchar and Sanders. https://apnews.com/de0107b02c0373105b86d5c4d3d9a302
Yes, various Democratic politicians who a year ago tried to explain why Joe Biden was the wrong choice, last night tried to say why they felt he was the right choice to be President of the USA.
Having watched many speakers last night, I absolutely do not agree that the Democrats put division aside. Oh yes, they did rally around Joe Biden. But otherwise, engaged in attacks, race baiting, misleading information, and other tactics intended to get Joe Biden to win the election–the speakers I heard seemed to be pushing division.
They also claimed that Joe Biden and Kamela Harris stood for American values.
Well, abortion and pushing aspects of sexual immorality are not values Americans should have.
Though, sadly, more and more do.
By the way, this is NOT to excuse Donald Trump's immorality.
Remember that whichever ticket is the lessor of two evils, the lessor of two evils is still evil.
ZeroHedge put out the following about last night's convention:
DNC 'Infomercial' Night 1 Post-Mortem: Trump Mocks Michelle Obama's "Snooze" Speech; Even Leftists Puzzled

August 18, 2020

"It was like watching an infomercial," mocks Epoch Times' Roger Simon as ne reflected on last night's first two-hour segment of this week's 'Virtual' Democratic Convention.

Most of the quotes were variations on the theme of the aforementioned Orange Man Bad.

Only the most devoted, those already convinced, would want to watch this for four nights or even one to the end. It was weirdly disembodied, preaching to a choir without applause or even an amen.

The night was 'diverse' for sure, signaling the "wide net" Biden's campaign is hoping to narrate. …

As runner-up, Sanders got his own time slot Monday night. He followed a video montage of more than a dozen other Democratic primary contenders introduced by Minnesota Sen. Amy Klobuchar. They all offered praise of Biden. …

And finally, there was Michelle Obama speech, which, as Summit News' Steve Watson details below, was mocked by President Trump, who noted that it was pre-taped and extremely boring.

"These are all taped speeches. Michelle Obama, her speech was taped," Trump said during a campaign speech at the Minneapolis-St. Paul airport.

"You want to go to a snooze?" Trump quipped, adding "You know when you hear a speech is taped, it's like there's nothing very exciting about it, right?"

The President also noted that taping a speech isn't very impressive, stating "I'll tape my speech, next week … I'll make sure it's perfecto, every word will be perfect." …

Former Democrat presidential candidate Marianne Williamson compared watching the speeches to "binge watching a Marriott commercial" …

However, as painful to watch as it may have been, we don't expect the GOP convention to be much better. Virtual is virtual and, as most online students can tell you, it's a bore and a chore and doesn't add up too much. https://www.zerohedge.com/political/dnc-infomercial-night-1-post-mortem-trump-mocks-michelle-obamas-snooze-speech-even
By the way, I agree that the DNC looked like an infomercial. Because of how both conventions are being handled this year, the RNC one may as well.
Neither Joe Biden nor Donald Trump are what the USA needs.
The USA needs the Kingdom of God.
Related to the 2020 campaign, the Continuing Church of God (CCOG) put out the following video on our Bible News Prophecy YouTube channel:
Various politicians have announced their intentions to run for the office of the President of the United States in 2020. 'Politico' ran an article about the 'sorry state' of various candidates. Some candidates have felt the need to apologize for previous statements in support of biblical marriage and the need to endorse items of the LGBTQ agenda. Many also support abortion and other anti-biblical actions. Are these 'American values'? Should the English language be changed to eliminate male/female and singular pronouns? Does the Bible warn about female leaders? Does the Bible warn about leaders that lead people to err? What about condoning sexual immortality? Do the presidential contenders fit prophecies warned about in 2 Timothy 3:1-5? These are some of the subjects that Dr. Thiel addresses.
Here is a link to the sermonette video: Sorry state of the 2020 presidential campaign.
Some items of possibly related interest may include:
Should a Christian Vote? This article gives some of the Biblical rationale on this subject. Would Jesus vote for president/prime minister? Is voting in the Bible? This is a subject Christians need to understand. A video of related interest is available titled: Should Christians Vote? Another video is Sorry state of the 2020 presidential campaign.
The Gospel of the Kingdom of God This free online pdf booklet has answers many questions people have about the Gospel of the Kingdom of God and explains why it is the solution to the issues the world is facing. Here are links to three related sermons: The World's False Gospel, The Gospel of the Kingdom: From the New and Old Testaments, and The Kingdom of God is the Solution.
Abortion, the Bible, and a Woman's Right to Choose Do you know what the Bible teaches on this? Has the Roman Catholic Church allowed abortions? What about the real Church of God? Some may wish to view the YouTube videos Abortion, the Bible, and US Debt, American Infanticide, and Land of 'Free' Abortions and Debt.
Germany's Assyrian Roots Throughout History Are the Germanic peoples descended from Asshur of the Bible? Have there been real Christians in Germanic history? What about the "Holy Roman Empire"? There is also a You-Tube video sermon on this titled Germany's Biblical Origins.
Germany in Biblical and Catholic Prophecy Does Assyria in the Bible equate to an end time power inhabiting the area of the old Roman Empire? What does prophecy say Germany will do and what does it say will happen to most of the German people? Here is a version of the article in the Spanish language: Alemania en la profecía bíblic. Here are links to two English language sermon videos Germany in Bible Prophecy and The Rise of the Germanic Beast Power of Prophecy.
20 items to prophetically watch in 2020 Much is happening. Dr. Thiel points to 20 items to watch (cf. Mark 13:37) in this article. Here is a link to a related sermon: 20 Prophetic Items to Watch in 2020.
Who is the King of the West? Why is there no Final End-Time King of the West in Bible Prophecy? Is the United States the King of the West? Here is a version in the Spanish language: ¿Quién es el Rey del Occidente? ¿Por qué no hay un Rey del Occidente en la profecía del tiempo del fin? A related sermon is also available: The Bible, the USA, and the King of the West.
When Will the Great Tribulation Begin? 2020, 2021, or 2022? Can the Great Tribulation begin today? What happens before the Great Tribulation in the "beginning of sorrows"? What happens in the Great Tribulation and the Day of the Lord? Is this the time of the Gentiles? When is the earliest that the Great Tribulation can begin? What is the Day of the Lord? Who are the 144,000? Here is a version of the article in the Spanish language: ¿Puede la Gran Tribulación comenzar en el 2020 o 2021? ¿Es el Tiempo de los Gentiles? You can also see the English language sermon videos: The Great Tribulation from the Mount of Olives and Can the Great Tribulation begin before 2020? A shorter and newer video is: Could the Great Tribulation Begin in 2020?
The Times of the Gentiles Has there been more than one time of the Gentiles? Are we in it now or in the time of Anglo-America? What will the final time of the Gentiles be like? A related sermon is available and is titled: The Times of the Gentiles.
Armageddon Who is involved and when will this gathering happen? Here is also a video from Dr. Thiel, from Tel Megiddo in Israel: Armageddon. Other videos include: Armageddon Will it come on Trump's watch?, Iraq, Armageddon, & Prophecy, Freemasonry, Armageddon, and Rome, Is China paving roads to Armageddon?, and Jordan, Petra, and Armageddon.
Anglo – America in Prophecy & the Lost Tribes of Israel Are the Americans, Canadians, English, Scottish, Welsh, Australians, Anglo-Saxon (non-Dutch) Southern Africans, and New Zealanders descendants of Joseph? Where are the lost ten-tribes of Israel? Who are the lost tribes of Israel? What will happen to Jerusalem and the Jews in Israel? Will God punish the U.S.A., Canada, United Kingdom, and other Anglo-Saxon nations? Why might God allow them to be punished first? Here is a link to the Spanish version of this article: Anglo-América & las Tribus Perdidas de Israel. Information is also in the YouTube sermons titled Where are the Ten Lost Tribes? Why does it matter? and British are the Covenant People. A short YouTube of prophetic interest may be: Are Chinese threats against Australia for real?
Will the Anglo-Saxon-Celtic Nations be Divided and Have People Taken as Slaves? Will the lands of the United States, United Kingdom, Canada, Australia, and New Zealand be divided? What about Jerusalem? What does Bible prophecy teach? Are there non-biblical prophecies that support this idea? Who will divide those lands? Who will end up with the lands and the people? Here is a link to a video titled Will the USA and other Anglo-nations be Divided and Their People Made Slaves? Here is a related item in the Spanish language ¿Serán divididas las naciones anglosajonas?
British are the Covenant People What do 'British' and 'Britain' mean in Hebrew? Are the descendants of the Anglo-Saxons people of the covenant? Does the British royal family connect to the throne of David? What does the Bible teach? What does history show us? Is there any DNA evidence related to British-Israelism? When did Christianity make it to the British Isles? Could Jeremiah have made it to the British Isles? What type of Christians made it to the British Isles? Did the last King of England believe in British Israelism?
Canada in Prophecy: What Does Bible Prophecy, Catholic Prophecy, and other Predictions Suggest About the Future of Canada? There are prophecies that suggest involvement with Canada. And many are not positive about its future. A sermon of related interest is also available: Canada in Prophecy.
Australia and New Zealand in Prophecy Do biblical prophecies help explain the wealth blessings for Australia and New Zealand? Might cursings from disobedience come in the 21st century? Here is a link to a related sermon: Australia and New Zealand: Origins and Prophecy.
WTO/TTIP and the Babylonian Beast Will international trade agreements like WTO/TTIP/CETA lead to the fulfillment of end time prophecies concerning the Babylonian Beast power that the Book of Revelation warns against? What does the Bible teach? A related video would be WTO Trade Deal and the Rise of the European Beast Power.
USA in Prophecy: The Strongest Fortresses Can you point to scriptures, like Daniel 11:39, that point to the USA in the 21st century? This article does. Two related sermon are available: Identifying the USA and its Destruction in Prophecy and Do these 7 prophesies point to the end of the USA?
Who is the King of the North? Is there one? Do biblical and Roman Catholic prophecies for the Great Monarch point to the same leader? Should he be followed? Who will be the King of the North discussed in Daniel 11? Is a nuclear attack prophesied to happen to the English-speaking peoples of the United States, Great Britain, Canada, Australia, and New Zealand? When do the 1335 days, 1290 days, and 1260 days (the time, times, and half a time) of Daniel 12 begin? When does the Bible show that economic collapse will affect the United States? In the Spanish language check out ¿Quién es el Rey del Norte? Here is a link to a video titled: The Future King of the North.
Donald Trump in Prophecy Prophecy, Donald Trump? Are there prophecies that Donald Trump may fulfill? Are there any prophecies that he has already helped fulfill? Is a Donald Trump presidency proving to be apocalyptic? Two related videos are available: Donald: 'Trump of God' or Apocalyptic? and Donald Trump's Prophetic Presidency.
Trump Presidency Magic 8 Ball or Bible Prophecy? BBC reported that one might as well use a 'Magic Eight-Ball' to try to predict what will happen in the remaining time of Donald Trump's presidency. What is a 'Magic Eight-Ball'? Dr. Thiel not only explains that, but also briefly goes over 10 biblically-based warnings he wrote would happen if Donald Trump were elected that have already began to come to pass. He also goes over something he wrote back in 2008 that the Trump presidency is also helping lead to fulfillment. Should you trust Bible prophecy or not? Dr. Thiel says that Bible prophecy can be trusted, despite the view of skeptics and others that either overlook or despise the Bible. This is a video.
Donald Trump and America's Apocalypse This 188 page book is for people truly interested in prophecies related to Donald Trump and the United States, including learning about several that have already been fulfilled and those that will be fulfilled in the future. The physical book can be purchased at Amazon for $12.99 from the following link: Donald Trump and America's Apocalypse.
Donald Trump and America's Apocalypse-Kindle Edition This electronic version of the 188 page print edition is available for only US$3.99. And you do not need an actual Kindle device to read it. Why? Amazon will allow you to download it to almost any device: Please click HERE to download one of Amazon s Free Reader Apps. After you go to for your free Kindle reader and then go to Donald Trump and America's Apocalypse-Kindle Edition.