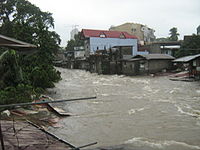 The flooding in Australia seems to be getting more dangerous:
The flood's coming… flee for your lives: 40,000 homes in danger as deadly surge heads towards the centre of Brisbane

By Richard Shears
Last updated at 8:45 PM on 11th January 2011

Tens of thousands of people have been told to flee Australia's third largest city as catastrophic floods loom.

At least 40,000 homes are at risk from the waters expected to hit the centre of Brisbane today and tomorrow.

Read more: http://www.dailymail.co.uk/news/article-1346016/Australia-floods-40-000-homes-danger-deadly-surge-heads-Brisbane.html#ixzz1Algy3tG1
As an Anglo-descended nation, Australia is subject to the same blessings and cursings that the other Anglo-nations are also subject to.
Additionally, Jesus, of course, warned about a time with such issues that Australia is facing:
8 … And there will be…troubles. These are the beginnings of sorrows. (Mark 13:8)
We may be at this prophetic point as all the floods and other problems that have happened in the past year could be considered as "troubles".  Notice something from LCG:
2010—A Deadly Year.

The U.S. Federal Emergency Management Agency reports that "Earthquakes, heat waves, floods, volcanoes, super typhoons, blizzards, landslides and droughts killed at least a quarter million people in 2010—

the deadliest year in more than a generation

. More people were killed worldwide by natural disasters this year than have been killed in terrorism attacks in the past 40 years combined." FEMA head Craig Fugate said, "It just seemed like it was back-to-back and it came in waves" (

www.apnews.myway.com,

December 19, 2010). This year FEMA handled a

record number

of disasters. Many of the disasters of 2010 were natural, while others occurred because of poor construction and building homes in flood plains. Experts anticipate the scale of disasters in 2010 may continue in the years ahead. What many today do not realize is that Jesus Christ

prophesied

that increasing worldwide catastrophes would

precede

His second coming and are referred to as "the beginning of sorrows" (Matthew 24:3-8). In the years just ahead, we will see more deadly disasters. However, the Bible also indicates that when Christ returns, He will bring peace to the earth and end the suffering caused by such catastrophes (Isaiah 35:1-6; Amos 9:13-15). For more information on what lies ahead, review our free booklet,

Fourteen Signs Announcing Christ's Return.
Without national repentance, Australia, and not just the USA, is doomed.
Having been to that island-appearing nation, this seems to be a concept that few in Australia grasp.
Some articles of possibly related interest may include:
Islands and Bible Prophecy What's ahead for islands? What does the Bible prophesy about them?
Can the Great Tribulation Begin in 2010, 2011, or 2012? Can the Great Tribulation begin today? When is the earliest that the Great Tribulation can begin? What is the Day of the Lord? What is "the beginning of sorrows"? Have we begun or are we about ready for "the beginning of sorrows" to begin.
Will the Anglo-Nations be Divided? Will the lands of the United States, United Kingdom, Canada, Australia, and New Zealand be divided? What does Bible prophecy teach? Are there non-biblical prophecies that support this idea? Who will divide those lands? Who will end up with the lands and the people?
Anglo – America in Prophecy & the Lost Tribes of Israel Are the Americans, Canadians, British, Scottish, Welsh, Australians, Anglo-Southern Africans, and New Zealanders descendants of Joseph? Where are the lost ten-tribes of Israel? Who are the lost tribes of Israel? Will God punish the U.S.A., Canada, United Kingdom, and other Anglo nations? Why might God allow them to be punished first?