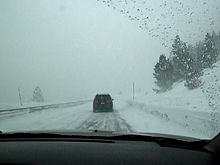 The United States was hit nationally with frigid weather, plus extremely high snow in some areas:
Snowstorms, frigid temps hammer half of the U.S

November 19, 2014

(CNN)— Snowstorms and record low temperatures whacked much of the country this week — and there's more havoc coming Wednesday.About 50% of the country had snow on the ground Tuesday, according to the National Weather Service.

Buffalo, New York, one of the hardest-hit areas, is buried under 6 feet of snow — and counting.

"This storm is basically a knife that went right through the heart of Erie County," said Mark Poloncarz, Erie County executive. "I can't remember and I don't think anyone else can remember this much snow falling in this short a period." …

Another blast of cold air will hammer the Midwest and Northeast on Wednesday while the Southeast could see record lows as temperatures drop into the teens and 20s. …And in Alden, New York, a 46-year-old man was found dead inside a car buried in 12 to 15 feet of snow, authorities said.Some places in the region have seen more than 5 feet of snow, while others could see 7½ feet more after another round of wintry weather hits this week.That's the equivalent of a year's worth of snow that's expected to pound some areas over a three-day period, Poloncarz said.

"It's probably heavier than anything that we have seen in over 40 years, so it's going to take some time to dig out," Buffalo Mayor Byron Brown said. …

All 50 states registered temperatures below freezing Tuesday morning, even traditionally warm ones. Temperatures at Mauna Kea on Hawaii's Big Island dipped to 31 degrees while Florida's Panhandle was in the upper 20s, with freeze warnings in effect. …

Tuesday was the coldest November morning since 1976, according to meteorologist Ryan Maue of WeatherBELL Analytics. The average overnight low for the Lower 48 states was 19.4 degrees Fahrenheit.

That's unusual for this time of year, and is much more reminiscent of a pattern forecasters would expect to see in January or February. http://www.cnn.com/2014/11/19/us/winter-weather/

November 19, 2014

Temperatures in all 50 states plunged to the freezing point or below Tuesday as a ferocious storm dumped piles of snow on upstate New York, trapping residents in their homes and stranding motorists on roadways. …

From Hawaii to the Carolinas, Americans shivered as racing winds and icy roads caused accidents, school closings and delays in municipal operations from the Midwest to the South even where snowfall was low or mercifully absent.

The storm was blamed for at least six deaths in New York, New Hampshire and Michigan.

Jeff Masters, meteorology director at the online site Weather Underground, told The Associated Press that the low temperatures are January-like instead of what's normal for November. Masters said temperatures were 15 to 35 degrees below average over much of the country due to the presence of arctic air. …

In Atlanta, tourists Morten and Annette Larsen from Copenhagen were caught off-guard by the 30-degree weather as they took photos of a monument to the 1996 summer Olympics at Centennial Olympic Park.

"It's as cold here as it is in Denmark right now. We didn't expect that," Larsen said, waving a hand over his denim jacket, buttoned tightly over a hooded sweatshirt.

The Weather Channel reported that low temperatures were expected to spread south and east on Wednesday and that relief would not reach parts of America until the weekend.  http://www.foxnews.com/weather/2014/11/19/early-winter-pummels-much-country-strands-cars/

November 19, 2014

BUFFALO — The first snowstorm of the season … possibly set an all-time U.S. record for snowfall….

The national snowfall record for a 24-hour period is 76 inches, set in Silver Lake, Colo., in 1921. Some Buffalo suburbs approached that amount on Tuesday, the National Weather Service reported. It's possibly the highest 24-hour snow in a populated area.

The cold spread across most of the eastern half of the U.S. on Wednesday morning; record cold was reported in New York City, Washington, D.C., and as far south as Jacksonville, Fla. http://www.usatoday.com/story/weather/2014/11/19/wednesday-weather/19261905/
Back in 2009, in a book, I mentioned the following was about to happen:
Considering all of the natural disasters such as earthquakes, floods, food shortages, and economic problems in the past few years, perhaps this would be a good time to explain that the Bible shows that these problems were expected to occur prior to the great tribulation. Those outside the Bible have sometimes referred to a time such as this as a time of transition or chaos. …

There will be a generation that will experience end-time events, beginning with "sorrows," including the Great Tribulation, heavenly signs, and finally the return of Jesus Christ (Matthew 24:5-34). …

Mark recorded the same account of this time from his perspective:

3 Now as He sat on the Mount of Olives opposite the temple, Peter, James, John, and Andrew asked Him privately, 4 "Tell us, when will these things be? And what will be the sign when all these things will be fulfilled?" 5 And Jesus, answering them, began to say: "Take heed that no one deceives you. 6 For many will come in My name, saying, 'I am He,' and will deceive many. 7 But when you hear of wars and rumors of wars, do not be troubled; for such things must happen, but the end is not yet. 8 For nation will rise against nation, and kingdom against kingdom. And there will be earthquakes in various places, and there will be famines and troubles. These are the beginnings of sorrows. 9 But watch out for yourselves, for they will deliver you up to councils, and you will be beaten in the synagogues. You will be brought before rulers and kings for My sake, for a testimony to them. 10 And the gospel must first be preached to all the nations. 11 But when they arrest you and deliver you up, do not worry beforehand, or premeditate what you will speak. But whatever is given you in that hour, speak that; for it is not you who speak, but the Holy Spirit…" (Mark 13:3–11).

Thus, in both Matthew and Mark it is clear that a time called "the beginning of sorrows" precedes the Great Tribulation.

Notice that in Mark's account he uses the term troubles. Troubles would seem to include economic and political problems, in addition to those specifically mentioned, such as wars, famines, natural disasters, and pestilences. …

| | |
| --- | --- |
| Odd weather patterns result in food shortages and natural disasters. | Matthew 24:7 |
| The world is actually in a berserk transition, as the real age of peace is not yet here. It may be a period of chaos. It is the beginning of sorrows. | Matthew 24:8 |

(Thiel B. 2012 and the Rise of the Secret Sect. Nazarene Books, 2009)
The above was published because it was consistent with Bible prophecy. We have been seeing odd weather patterns.
The problems that the world is now facing should be a wake-up call to repent. The warnings from the Bible are going out, but many prefer to ignore them.
But let's say you do believe the Bible, and you believe that biblical prophecies are in the process of being fulfilled, what should weather issues like berserk weather and earthquakes (e.g. Kansas/Oklahoma hit by 4.8 earthquake) mean to you?
They should help you realize:
Since the Bible's words related to weather are being fulfilled, that other biblical prophecies will be as well.
That just like weather can quickly change, the situation with the economy, international politics, wars, terrors, etc. can also change fairly quickly.  Therefore,  "Watch therefore, and pray always that you may be counted worthy to escape all these things that will come to pass, and to stand before the Son of Man" (Luke 21:36).
That we are getting closer to the return of Jesus Christ and the establishment of the Kingdom of God.  "11 And do this, knowing the time, that now it is high time to awake out of sleep; for now our salvation is nearer than when we first believed. 12 The night is far spent, the day is at hand. Therefore let us cast off the works of darkness, and let us put on the armor of light. 13 Let us walk properly, as in the day, not in revelry and drunkenness, not in lewdness and lust, not in strife and envy. 14 But put on the Lord Jesus Christ, and make no provision for the flesh, to fulfill its lusts." (Romans 13:11-14)
And if you do believe, are you concerned about others than yourself?  Do you believe that God was called you to support His end time work?
Or will you notice weather changes, but not understand the sign of the times?
Jesus said that the Pharisees and Sadducees had that problem:
1 Then the Pharisees and Sadducees came, and testing Him asked that He would show them a sign from heaven. 2 He answered and said to them, "When it is evening you say, 'It will be fair weather, for the sky is red';  3 and in the morning, 'It will be foul weather today, for the sky is red and threatening.' Hypocrites! You know how to discern the face of the sky, but you cannot discern the signs of the times.  4 A wicked and adulterous generation seeks after a sign, and no sign shall be given to it except the sign of the prophet Jonah." And He left them and departed. (Matthew 16:1-4).
Pay attention to what is happening (Mark 13) and do what Jesus would have you do.  If you think that God must give you a more dramatic sign, you are probably not part of the remnant of the Philadelphia portion of the Church of God, but more like the Pharisees and Sadducees of old, which I have long considered to be representative of end time Laodiceans.
Pray and do what God would have you do, if you are truly willing.
Some items of possibly related interest may include:
Weather Blessings and Sorrows Are weather problems a warning? What should be done? What does the Bible teach about weather? What about floods, droughts, heat, earthquakes, tornadoes, and solar storms? Here is a related YouTube video Does God Use Weather? A related item in the Spanish language would be Bendiciones y maldiciones del clima.
Are the Laodiceans the Modern Sadducees and Pharisees? Discusses similarities of the Sadducees and Pharisees to various COGs in this end-time.
The Philadelphia Church Era was predominant circa 1933 A.D. to 1986 A.D. The old Radio Church of God and old Worldwide Church of God, now the remnant of that era is basically the most faithful in the Church of God, like who hold to the beliefs and practices of the Continuing Church of God.
The Laodicean Church Era has been predominant circa 1986 A.D. to present. The Laodiceans are non-Philadelphians who mainly descended from the old WCG or its offshoots.  They do not properly understand the work or biblical prophecies and will face the Great Tribulation if they do not repent.
Should the Church Still Try to Place its Top Priority on Proclaiming the Gospel or Did Herbert W. Armstrong Change that Priority for the Work? Some say the Church should mainly feed the flock now as that is what Herbert W. Armstrong reportedly said. Is that what he said? Is that what the Bible says? What did Paul and Herbert W. Armstrong expect from lower level leaders? A related sermon is available titled Priority of the Philadelphia Work.
The Final Phase of the Work What is the final phase of the work? Who will lead it? Do you have the courage to support it? Here is a related YouTube video titled The Final Phase of the Work. The written article has been translated into Spanish La Fase Final de la Obra.
Leading the Final Phase of the Work Matthew 24:14 teaches "And this gospel of the kingdom will be preached in all the world as a witness to all the nations, and then the end will come " will be fulfilled and RCG is not the group doing this. Who is leading the final phase of the work? What did Herbert Armstrong and the old WCG teach about that and about prophets? Does Bob Thiel meet the criteria that the Bible and the old WCG set? What is the proof? What has the Continuing Church of God been doing?  This is a sermonette length video.
The Gospel of the Kingdom of God was the Emphasis of Jesus and the Early Church Did you know that? Do you even know what the gospel of the kingdom is all about? You can also see a YouTube video sermon The Gospel of the Kingdom.
Just What Do You Mean the Kingdom of God? A booklet that was written by Herbert Armstrong answers questions about the Kingdom.
Just What Do You Mean — Repentance? Do you know what repentance is? Have you truly repented? Repented of what? Herbert W. Armstrong wrote this as a booklet on this important subject.
When You Sin: Do You Really Repent? This is an article by Charles F. Hunting. A related sermon is Confess to God and truly repent.
Do Christians Sin? This is an article by Herbert W. Armstrong.
Real Conversion Many think that they are converted Christians. But are they? Would you like to know more about conversion.
False Conversion Have you really been converted? Herbert W. Armstrong wrote this article on this important subject.
Getting the Gospel Out is More than a Local Job Discusses Biblical rationale for doing an international, and not just a local, work. Here is a link to the article in Mandarin Chinese: 宣传福音不只是一个本地作业.
Four Horsemen of the Apocalypse What do each of the four horseman of the Apocalypse represent? Have they began their ride? Did Jesus discuss the any of this? Might their rides coincide with the "beginning of sorrows? Do they start their ride prior to the Great Tribulation? Did Nostradamus or any other 'private prophets' write predictions that may mislead people so that they may not understand the truth of one or more of the four horseman? There is also a related YouTube video titled The Four Horsemen of the Apocalypse.
Does God Have a 6,000 Year Plan? What Year Does the 6,000 Years End? Was a 6000 year time allowed for humans to rule followed by a literal thousand year reign of Christ on Earth taught by the early Christians? Does God have 7,000 year plan? What year may the six thousand years of human rule end? When will Jesus return? 2021 or 20xx? There is also a video titled The 6000 Year Plan: Is the end of humanity's reign almost up?
When Will the Great Tribulation Begin? 2015, 2016, or 2017? Can the Great Tribulation begin today? What happens before the Great Tribulation in the "beginning of sorrows"? What happens in the Great Tribulation and the Day of the Lord? Is this the time of the Gentiles? When is the earliest that the Great Tribulation can begin? What is the Day of the Lord? Who are the 144,000? Here is a version of the article in the Spanish language: ¿Puede comenzar la Gran Tribulación en 2014 o 2015? ¿Es el Tiempo de los Gentiles? You can also see the English language sermon video: The Great Tribulation from the Mount of Olives.