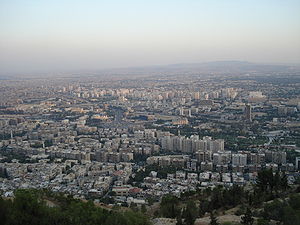 Damascus, Capital of Syria
Syria's capital Damascus is under siege:
August 23, 2012

Parts of Syria's capital were under siege Thursday with Syrian government forces battling rebels in and around Damascus in pitched fighting.

Activists reported a campaign of shelling and house-to-house raids in Daraya, on the southwest edge of Damascus, as well as continuing clashes in the city's Hajar al-Aswad district.

The Britain-based Syrian Observatory for Human Rights said rebel fighters attacked a military checkpoint on the Daraa-Damascus highway, killing or wounding 10 government troops.

The group says at least 41 people were killed in Damascus on Wednesday. Residents said the fighting was the fiercest since the army recently reasserted control of opposition-held neighborhoods there.

The Observatory said clashes also continued Thursday in the northern city of Aleppo, where a number of foreign fighters are reported to have joined the opposition.

Fresh fighting between pro- and anti-Assad gunmen erupted for a fourth day Thursday in the northern Lebanese city of Tripoli, leaving one dead and at least two wounded. The clashes breached a truce agreed to by political leaders less than 24 hours earlier in a bid to halt fighting fueled by tensions in neighboring Syria.

Sunni Muslims have led the revolt against Syria's President Bashar al-Assad, whose minority Alawite sect has mostly stood with him. Sunni-Alawite tensions have been growing in parts of Lebanon as well, like Tripoli, where the two groups live in neighboring districts.  http://www.voanews.com/content/un-warns-of-humanitarian-crisis-as-syria-fighting-intensifies/1494136.html
Both biblical and Islamic prophecy tell of the destruction of at least parts of Syria, such as Damascus.  Here is some of what the Bible teaches:
7 thus says the Lord God: "It shall not stand, Nor shall it come to pass. 8 For the head of Syria is Damascus (Isaiah 7:7-8)

3 Thus says the Lord: "For three transgressions of Damascus, and for four, I will not turn away its punishment, Because they have threshed Gilead with implements of iron. (Amos 1:3)

1 The burden against Damascus. "Behold, Damascus will cease from being a city, And it will be a ruinous heap. (Isaiah 17:1)

23 Against Damascus. "Hamath and Arpad are shamed, For they have heard bad news. They are fainthearted; There is trouble on the sea; It cannot be quiet. 24 Damascus has grown feeble; She turns to flee, And fear has seized her. Anguish and sorrows have taken her like a woman in labor. 25 Why is the city of praise not deserted, the city of My joy? 26 Therefore her young men shall fall in her streets, And all the men of war shall be cut off in that day," says the Lord of hosts. 27 "I will kindle a fire in the wall of Damascus, And it shall consume the palaces of Ben-Hadad."  (Jeremiah 49:23-27)
While this destruction could come as the result of civil war (and that is likely to be a factor), the reality is that the Syrian rebel forces at this instant may not have the military ability to do so.  So, how might some of these prophecies be fulfilled?
Partially because of the internal civil war and this semi-siege on Damascus, Syria's President may decide that attacking Israel, probably in conjunction with support from Iran, is his best option (which could include supporting Iran if it attacks Israel or Israel attacks it).  Attacking Israel, however, will not be his best option (he should repent and probably leave office), though he may do that. The Bible suggests that Syria will support the coming final King of the South (Daniel 11:40-43; Ezekiel 30:1-8) and a change in or from the Assad regime will be necessary for this to happen–and it will come to pass.
More trouble is coming to Damascus as it will be destroyed (Isaiah 17:1).
"And what I say to you, I say to all: Watch!" (Mark 13:37).
Some articles of possibly related interest may include:
Is There A Future King of the South? Some no longer believe there needs to be. Might Egypt, Islam, Iran, Arabs, or Ethiopia be involved? Might this King be called the Mahdi? What does the Bible say?
The Arab and Islamic World In the Bible, History, and Prophecy The Bible discusses the origins of the Arab world and discusses the Middle East in prophecy. What is ahead for the Middle East and those who follow Islam? What about the Imam Mahdi? What lies ahead for Turkey, Iran, and the other non-Arabic Muslims?
Anglo – America in Prophecy & the Lost Tribes of Israel Are the Americans, Canadians, English, Scottish, Welsh, Australians, Anglo (non-Dutch) Southern Africans, and New Zealanders descendants of Joseph? Where are the lost ten-tribes of Israel? Who are the lost tribes of Israel? What will happen to Jerusalem and the Jews in Israel? Will God punish the U.S.A., Canada, United Kingdom, and other Anglo nations? Why might God allow them to be punished first?