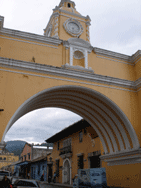 Antigua, Guatemala
Hundreds have died because of the drought and famine in northern Guatemala:
Guatemala in 'public calamity' as drought and famine worsen

China Post – Sept 11, 2009

GUATEMALA CITY — Guatemala's President Alvaro Colom has declared a "public calamity" from drought and famine that have claimed more than 460 lives since the start of the year.

"I have decided to declare a state of public calamity throughout the country," Colom declared in a nationally-broadcast address Tuesday.

"This will allow us to have access to international aid resources and to mobilize resources within our budget with greater ease," the Guatemalan leader said.

The country's health minister said 462 people have died, including 54 children.

Most of the deaths occurred in the impoverished northern section of Guatemala bordering Mexico, where more than half of the 13 million inhabitants in the region subsist below the poverty line.

Key crops like corn and beans have been decimated by the drought, leading to a spike in rates of malnutrition.

Meanwhile, the drought also is being felt in neighboring Mexico, where the country's water commission last month warned of a "critical" water shortage that was likely to reach crisis levels by next year.

Mexico's Cutzamala reservoir which supplies the capital's urban sprawl is at record low levels, as are other public and private sources of water.

The drought, the worst in 70 years, is said to be caused in part by the "El Nino" seasonal warming phenomenon. http://www.chinapost.com.tw/international/americas/2009/09/11/224205/Guatemala-in.htm
I have been to Guatemala twice and never like to hear about famines there (or elsewhere).
Of course, Jesus prophesied that there would be famines:
And there will be famines, pestilences, and earthquakes in various places. 8 All these are the beginning of sorrows (Matthew 24:7b-8).
And lest people in the USA or Canada think that they cannot be affected, I believe that Bible prophecy is clear that famines will later affect the people in those lands.
For more on what is prophesied for the peoples of North, Central, and South America, please carefully study the following articles:
Mexico, Central America, South America, and Brazil in Prophecy What will happen to those of Latin America? Will they have prosperity? Will they suffer in the future?
Anglo – America in Prophecy & the Lost Tribes of Israel Are the Americans, Canadians, British, Scottish, Welsh, Australians, Anglo-Southern Africans, and New Zealanders descendants of Joseph? Where are the lost ten-tribes of Israel? Who are the lost tribes of Israel? Will God punish the U.S.A., Canada, United Kingdom, and other Anglo nations? Why might God allow them to be punished first?
Can the Great Tribulation Begin in 2009, 2010, or 2011? Can the Great Tribulation begin today? What happens before in the "beginning of sorrows"? What happens in the Great Tribulation and the Day of the Lord? When is the earliest that the Great Tribulation can begin? What is the Day of the Lord?
End of Mayan Calendar 2012–Might 2012 Mean Something? Are there Mayan calendar predictions for change in 2012? Changes were centuries ago predicted by the Hopi Native Americans. Do Mayan/Hindu/Hopi/Buddhist/New Age/Nostradamus prophecies have any value here? Why might Satan have inspired this date? Does the Dresden codex show destruction of the earth by flood? Can the great tribulation start before 2012? How might Barack Obama be involved in 2012?