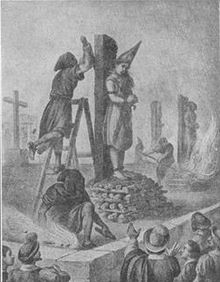 1596 Execution of Francisca de Carabajal for 'Judaizing'

A man who had ties to group known as the Klu Klux Klan was arrested in conjunction with the shooting death of three Jews:
April 14, 2014

Authorities in the central U.S. state of Kansas have identified a longtime white supremacist as the suspect in the killing of three people Sunday outside a Jewish community center and a Jewish retirement center.

Frazier Glenn Cross is due to appear in court Monday on charges of premeditated murder.

Police say 73-year-old Cross used a shotgun to kill a man and a teenage boy in the parking lot of the community center in the Kansas City suburb of Overland Park, Kansas. They say he then drove to the nearby retirement community and killed a woman before being arrested at an elementary school.

Police Chief John Douglass said Sunday authorities were not ready to call the shooting a hate crime.

"It's too early in an investigation to try to label it, we know it's a vicious act of violence and, you know, obviously two Jewish facilities, one might make that assumption but we're going to have to know more about it before we label it," said Douglass.

President Barack Obama said the shooting was "horrific" and "heartbreaking," and expressed his support and that of his wife, Michelle, for the victims' families.

In the 1980s, Cross led a chapter of the white supremacist Ku Klux Klan and another group called the White Patriot Party. He was sentenced to five years in prison for threatening war against Jews, blacks, homosexuals and government officials.

The Southern Poverty Law Center, a prominent U.S. civil rights organization, said it earlier sued Cross for "using intimidation tactics against African Americans." The group said the two parties reached an agreement for his group to stop operating as a paramilitary organization, but that he violated the order and was sentenced to six months in prison for contempt.  http://www.voanews.com/content/gunman-kills-3-at-us-jewish-centers/1892691.html
Well, whether the authorities wish to label it a hate crime or not, it certainly sounds like an act of hate.  This was a terrible event.
When we were in the old Worldwide Church of God in Long Beach (California), we used to attend church services in a room of the Jewish Community Center.  I have long felt that because of COG doctrines that we in the COG would be subject to some of the hate that many have wrongly directed at Jews.
Jesus Himself foretold of persecution for Christians. Many are aware of some of the early persecutions, but few understand what teachings true Christians were persecuted for in the fourth century and beyond–some may seem shocking. At least two major persecutions are prophesied to come–one before (Daniel 7:25a; 11:30-35) and one during the time of the Great Tribulation and Day of the Lord (Daniel 7:25b).
In the painting shown at the beginning of this post is the execution of a woman accused of 'Judaizing.' Francisca Nuñez de Carabajal was tortured and then executed in Mexico as part of the Spanish Inquisition for the 'crime' of keeping practices that certain followers of the Church of Rome considered to be too 'Jewish.'  Of course, if they wanted to be consistent, they would have had to kill Jesus as He had the same practices, as did His apostles, such as Peter.
In the past (for details see Persecutions by Church and State), Christians in the Church of God were persecuted by the Greco-Roman churches because they held to biblical doctrines such as:
Keeping Passover on the 14th
Refusing to eat unclean meat
Willingness to work on Sunday
Keeping the Sabbath
Rejecting non-biblical Roman sacraments
Not participating in carnal warfare
Proclaiming the Kingdom of God
Teaching the millennium
At times, those in the true Church of God have been considered to be secretly Jews by some in Greco-Roman faiths.  Notice what one Catholic book claims:
In the Middle Ages, the Popes and the Councils were successful in destroying the Jewish revolutionary movements which appeared within Christianity in the form of false teaching and which were introduced by those who were Christians in appearance but Jews in secret. The latter then recruited upright and good Christians for the arising heretical movement by persuading the latter in a crafty way.

The secret Jews organised and controlled in secret manner the movements, which were the creative and driving force of wicked false teachings, such as those of the Iconoclasts, the Cathars, the Patarines, the Albigensians, the Hussites, the Alumbrados and others. (Pinay, Maurice. The Plot Against the Church, Part Four Chapter One. Translated from the German and Spanish editions of the same work. 1962)
The above book is still recommended by and for many Catholics (though some others distance themselves from it).  Hence, some of the Greco-Romans have considered some of whom we in the Continuing Church of God include in our tracing of our spiritual ancestors (like some of the Cathars and Albigenses) to have been a secret Jewish group that only professed Christ.
Eastern Orthodox seers and writers have also taken positions against those with original Judeo-Christian practices.  One example would be a 1249 A.D. vision of "Blessed Hieronymus Agathaghelos" which claimed that "the blasphemies of the Sabbatians have stained and soiled for many centuries" (Cited in Tzima Otto, H.  The Great Monarch and WWIII in Orthodox, Roman Catholic, and Scriptural Prophecies. Verenika Press, Rock City (SC), 2000, p. 135).
Dr. Otto herself refers to those with Nazarene/Judeo-Christian beliefs as "Christian traitors"  Ibid, p. 240)–Hieronymus Agathaghelos also predicted a time of there being a public executioner of the Sabbath-keepers (Tzima Otto, 134,135,240).   Persecution is expected.
There is a long history of Greco-Roman church leaders attempting to eliminate those part of, or sympathetic to, the Church of God.
The Albigneses were condemned by various councils–some of them were COG Christians. And one Greco-Roman council, the Council of Albi (sometimes spelled Alby), in 1254 apparently stated:
They savour of Judaism…they observe the Jewish sabbath, but say that the holy Dominical day is no better than any other day; let them be accursed (Quoted in Davis, Tamar. A General History of the Sabbatarian Churches. 1851; Reprinted 1995 by Commonwealth Publishing, Salt Lake City, p. 64).
Notice what a former Roman Catholic priest reported:
It has been reckoned that in the last and most savage persecution under Emperor Diocletian about two thousand Christians perished, worldwide. In the first incident of Pope Innocent's Crusade ten times that number of people were slaughtered. Not all were Albigensians. It comes as a shock to discover that, at a stroke, a pope killed far more Christians than Diocletian (De Rosa, Peter. Vicars of Christ. Poolberg Press, Dublin, 2000, pp. 160-161).
The Greco-Roman churches have a history of persecution, torture, and murder of COG Christians.  And while I am not attempting to suggest that yesterday's shooter had sanction from a high level leader of any of the main branches of those churches, the reality is that within those churches is a history of persecution.
In the future, according to Catholic teachings, COG Christians also will be persecuted for:
Not accepting non-biblical teachings about Mary
Not accepting the Great Monarch (Beast, King of the North)
Teaching that the Kingdom of God will come soon
Not wearing crosses
Teaching after the Great Tribulation begins that Jesus will return within a few years
Christians have been persecuted for holding doctrines that we in the Continuing Church of God hold and are clearly expected to be persecuted in the future for holding Continuing Church of God doctrines. It does not matter that very few of us are actually Jewish (and no, I am not of Jewish ethnicity).
Perhaps I should add that both biblical (Daniel 11:33) and Catholic prophecies (Schmöger Carl E. The Life and Revelations of Anne Catherine Emmerich, Volume 2. Approbation: Bishop of Limbourgh Peter Joseph. TAN Books, reprint 1976, p.292) tell of a time when true Christians who oppose the Beast power will be burnt.  Cruel persecutions are expected.
Those in the true Church of God have always been the side being persecuted and has never been on the side of the persecutors. And this will be true again in the future.  Sadly, the shooter, yesterday, is barely the 'tip of the iceberg' as more persecution is coming.