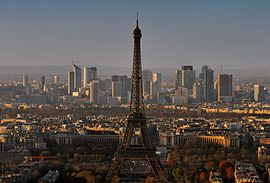 Paris, France

Migrants staged a major protest in France:
France passes law taxing internet giants

11 July 2019

France imposed a 3% additional tax on companies including Google and Facebook on Thursday, despite US opposition.

Both the French Senate and the lower-house National Assembly supported the move.

The bill is dubbed GAFA for targeting four US heavyweights: Google, Apple, Facebook, and Amazon. However, French officials stressed the law will affect around 30 companies, including some from China, Germany, Spain and the UK, not just the US. The bill focuses on companies using consumer data to sell online advertising, have annual global sales of over 750 million euros, and revenue exceeding 25 million euros in France.

US complains, starts probe

Washington has criticized the move, with US Trade Representative Robert Lighthizer expressing concern that Paris was "unfairly" singling out American companies.

On Wednesday, US President Donald Trump ordered an investigation into the move, which could lead to US tariffs or other restrictions. The probe was launched under Section 301 of the US Trade Act of 1974. …

Addressing the French Senate before the Thursday vote, Finance Minister Bruno Le Maire this was "the first time in history" that Washington has invoked Section 301 against France.

"Between allies we can and should solve our disputes not by threats but by other means," Le Maire told senators. https://www.dw.com/en/france-passes-law-taxing-internet-giants/a-49550406

11 July 2019

France has approved a digital services tax despite threats of retaliation by the US, which argues that it unfairly targets American tech giants.

The 3% tax will be levied on sales generated in France by multinational firms like Google and Facebook.

The French government has argued that such firms headquartered outside the country pay little or no tax.

The US administration has ordered an inquiry into the move – which could result in retaliatory tariffs.

The new tax was approved by the French senate on Thursday, a week after it was passed by the lower house, the National Assembly. …

France isolated

Analysis by Dave Lee, BBC North America technology reporter

This "Section 301" investigation, as it is known, has been used before as a way of eventually implementing new tariffs on countries the Trump administration feels is taking the US for a ride.

If France is going to take hundreds of millions of euros from the pockets of American tech giants, the US argument might be, then why shouldn't the US earn more money from what the French do in the US? https://www.bbc.com/news/world-europe-48947922
Here is more on this:
FACE OFF

Donald Trump threatens new trade war with France over Macron's tax raid on Facebook and Google

11 July 2019

DONALD Trump has threatened to start a trade war with France after ordering a probe into Emmanuel Macron's tax raid on US tech firms. …

Launching the probe, US Trade Representative (USTR) Robert Lighthizer said: "The United States is very concerned that the digital services tax which is expected to pass the French Senate tomorrow unfairly targets American companies." …

USTR said in a statement the "services covered are ones where U.S. firms are global leaders."

It added: "The structure of the proposed new tax as well as statements by officials suggest that France is unfairly targeting the tax at certain US-based technology companies."

Lighthizer said Trump "has directed that we investigate the effects of this legislation and determine whether it is discriminatory or unreasonable and burdens or restricts United States commerce."

In April, Trump threatened to expand his trade war with the EU by slapping tariffs on CHEESE.

The President's shock $11bn (£8.5bn) move is said to be in retaliation for huge subsidies supporting European aerospace giant Airbus.

The US Trade Representative released a wide-ranging list of goods, including aircraft, cheese and wine, that could be targeted by the White House.

It added that "the time has come for action" unveiling a 14-page tariffs hit list targeting EU products also including butter, fish, jam, olive oil and suits. https://www.thesun.co.uk/news/9484300/donald-trump-trade-war-france-tax-tech/
So, it looks like the US will take other steps that the French, and probably other Europeans, will not like.
Trade issues were number 8 of 19 items to prophetically watch in 2019.
A reader sent the following from German-Foreign-Policy:
July 11, 2019
The Era of Sanctions Warfare (II)

(Own report) – Berlin and Brussels are weighing countermeasures to the Trump administration's growing number of extraterritorial sanctions. The US government is seeking to globally enforce its unilaterally imposed sanctions to bind other countries, including allies, to its foreign policy course. The sanctions against Iran are the most prominent example. They also made German business with Iran largely impossible. Washington first implemented extraterritorial sanctions in the mid-1990s, but finally reached agreement with the EU not to enforce them against European companies. This was changed during the Obama administration, when it amassed billions in fines from banks in the EU. The Trump administration has expanded the extraterritorial sanctions to include Russia and Cuba. Following the failure of the INSTEX financial vehicle, German government advisors are proposing that legal action be taken in US courts. Now, "asymmetric countermeasures" are also being discussed. …

Foreign policy experts are further pursuing the debate and proposing, alongside efforts to reinforce the strength of the euro, also "asymmetric countermeasures" to the USA's and the initiation of an "international dialog" on sanctions. german-foreign-policy.com will soon report. https://www.german-foreign-policy.com/en/news/detail/7994/
With the above in mind, notice something in my 2017 book, Donald Trump and America's Apocalypse:
Donald Trump's foreign policy statements have unsettled many—in the U.S.A. as well as foreign nations. He seems like he will more unpredictable than Richard Nixon.
There is also something referred to as the "law of unintended consequences." There are consequences for the U.S.A., Europe, and elsewhere that have and will occur because of Donald Trump's statements and actions.
This new French tax would certainly seem to qualify as an "unintended consequence" of Donald Trump's statements and actions.
Europe will take more steps to deal with trade matters.
The Bible shows, that for a time, a European 'Babylon' state will dominate world trade:
2 And he cried mightily with a loud voice, saying, "Babylon the great is fallen, is fallen, and has become a dwelling place of demons, a prison for every foul spirit, and a cage for every unclean and hated bird! 3 For all the nations have drunk of the wine of the wrath of her fornication, the kings of the earth have committed fornication with her, and the merchants of the earth have become rich through the abundance of her luxury." (Revelation 18:2-3).
But it obviously will not last.
But steps to do so, and to push aside USA dominance are taking place now.
Jesus said:
37 And what I say to you, I say to all: Watch!" (Mark 13:37)
Some items of possibly related interest may include:
The 'Lost Tribe' of Reuben: France in Prophecy? What is the origin of this in France? What is prophesied to happen to them? A two-part sermon related to history and prophecy is available online: The 'Lost Tribe' of Reuben and France and Prophecy.
19 items to prophetically watch in 2019 Much is happening. Dr. Thiel points to 19 items to watch (cf. Mark 13:37), plus another, in this article. Here is a link to a related sermon: 19 items to watch in 2019.
Trade Disputes: CCOG Warnings Are Coming to Pass Trade tensions and talks of trade wars have escalated. US President Donald Trump has put Europe, China, Mexico, and other lands on notice that he wants to change how international trade with the USA has been going. Tariffs, retaliatory tariffs, and even more tariffs are being implemented. Is this all just happenstance? Are we yet in a trade war? What will Europe do? Has the Church of God been warning about trade disputes and a coming trade war for decades? What about the Continuing Church of God (CCOG)? What has been warned, what has been happening, and what will happen? Will trade disputes be a factor in World War III (WW3)? Dr. Thiel explains what has been taught and what to expect.
Trade Wars: Are COG warnings coming to pass? Trade issues, tariffs, and talk of trade wars are in the news. Can trade wars lead to World War III like they did to World War II? Are the events going on with the USA, UK, Asia, and Europe consistent with warnings published by the true Church of God (COG) over the past several years and decades? Do Germany and China hope to take advantage of trade frictions involving the Trump Administration and the Trans-Pacific Partnership agreement? What about Mexico and South America? Does the Bible teach that Europe will become a major trading power? Will the final European Babylonian trading power be destroyed? Dr. Thiel addresses these issues and more in this video.
Must the Ten Kings of Revelation 17:12 Rule over Ten Currently Existing Nations? Some claim that these passages refer to a gathering of 10 currently existing nations together, while one group teaches that this is referring to 11 nations getting together. Is that what Revelation 17:12-13 refers to? The ramifications of misunderstanding this are enormous. A related sermon is titled Ten Kings of Revelation and the Great Tribulation.
Ten clues tying Belgium and Luxembourg with the tribe of Asher Who did some in Belgium and Luxembourg descend from?
Ten clues tying Zebulun with the Dutch Who did some in the Netherlands descend from? Here is a link to information about doctrine in the Dutch language Verklaring van geloofspunten van de Continuing Church of God.
Europa, the Beast, and Revelation Where did Europe get its name? What might Europe have to do with the Book of Revelation? What about "the Beast"? Is an emerging European power "the daughter of Babylon"? What is ahead for Europe? Here is a link to a video titled: Can You Prove that the Beast to Come is European?
European Technology and the Beast of Revelation Will the coming European Beast power would use and develop technology that will result in the taking over of the USA and its Anglo-Saxon allies? Is this possible? What does the Bible teach? Here is a related YouTube video: Military Technology and the Beast of Revelation.
Catholic Prophecies: Do They Mirror, Highlight, or Contradict Biblical Prophecies? People of all faiths may be surprised to see what various Roman and Orthodox Catholic prophets have been predicting as many of their predictions will be looked to in the 21st century.
Might German Baron Karl-Theodor zu Guttenberg become the King of the North? Is the former German Defense Minister (who is also the former German Minister for Economics and Technology) one to watch? What do Catholic, Byzantine, and biblical prophecies suggest?
WTO/TTIP and the Babylonian Beast Will international trade agreements like WTO/TTIP/CETA lead to the fulfillment of end time prophecies concerning the Babylonian Beast power that the Book of Revelation warns against? What does the Bible teach? A related video would be WTO Trade Deal and the Rise of the European Beast Power.
Satan's Plan Does Satan have a plan? What is it? Has it already been successful? Will it be successful in the future? Here are links to a two-part sermon series: What are Some of the Parts of Satan's Plan? and Satan's Plan is More Dramatic than Many Realize.
The 'Peace Deal' of Daniel 9:27 This prophecy could give up to 3 1/2 years advance notice of the coming Great Tribulation. Will most ignore or misunderstand its fulfillment? Here is a link to a related sermon video Daniel 9:27 and the Start of the Great Tribulation.
Who is the King of the North? Is there one? Do biblical and Roman Catholic prophecies for the Great Monarch point to the same leader? Should he be followed? Who will be the King of the North discussed in Daniel 11? Is a nuclear attack prophesied to happen to the English-speaking peoples of the United States, Great Britain, Canada, Australia, and New Zealand? When do the 1335 days, 1290 days, and 1260 days (the time, times, and half a time) of Daniel 12 begin? When does the Bible show that economic collapse will affect the United States? Here is a link to a video titled: The Future King of the North.
Can You Prove that the Beast to Come is European? The Book of Revelation tells of a beast power that will rise up. Some think that this must be Russia or could be Islamic, while others say that this power is European. The Book of Daniel tells of the rise of an end time King of the North that some think must be referring to a Russian leader, while others say that this power is European. How can you be sure? This YouTube video has all the scriptural proofs that you should need to prove that this power must be a European one.
Persecutions by Church and State This article documents some that have occurred against those associated with the COGs and some prophesied to occur. Will those with the cross be the persecutors or the persecuted–this article has the shocking answer. There is also a YouTube video sermon you can watch: The Coming Persecution of the Church. Here is information in the Spanish language: Persecuciones de la Iglesia y el Estado.
Dreams, the Bible, the Radio Church of God, and the Continuing Church of God How has God used dreams in the past? Does God still use dreams? Did He use any involving those in the Continuing Church of God? A related sermon is also available: Dreams, COGs, and One Man Rule.
How To Determine If Someone is a True Prophet of God There are many false prophets. How can Christians determine who is a true prophet? There is also a sermon-length video titled How to determine if someone is a true prophet of God. Here is a related link in Spanish/español: ¿Cómo determinar si alguien es un verdadero profeta de Dios?
Terror: Will Paris be Destroyed? This is a new video. The Paris office of Charlie Hebdo were attacked in January 2015 and the City of Paris was hit with multiple terrorist attacks in November 2015. Will Paris be destroyed? Is more terrorism prophesied? Will a successful militaristic leader arise in Europe? What do biblical and Catholic prophecies teach? Could any non-biblical prophecies be devices of Satan that will deceive people about what will happen? Dr. Thiel answers these questions and more through scriptures and other writings.
Donald Trump in Prophecy Prophecy, Donald Trump? Are there prophecies that Donald Trump may fulfill?  Are there any prophecies that he has already helped fulfill?  Is a Donald Trump presidency proving to be apocalyptic?  Two related videos are available: Donald: 'Trump of God' or Apocalyptic? and Donald Trump's Prophetic Presidency.
Trump Presidency Magic 8 Ball or Bible Prophecy? BBC reported that one might as well use a 'Magic Eight-Ball' to try to predict what will happen in the remaining time of Donald Trump's presidency. What is a 'Magic Eight-Ball'? Dr. Thiel not only explains that, but also briefly goes over 10 biblically-based warnings he wrote would happen if Donald Trump were elected that have already began to come to pass. He also goes over something he wrote back in 2008 that the Trump presidency is also helping lead to fulfillment. Should you trust Bible prophecy or not? Dr. Thiel says that Bible prophecy can be trusted, despite the view of skeptics and others that either overlook or despise the Bible. This is a video.
Donald Trump and America's Apocalypse This 188 page book is for people truly interested in prophecies related to Donald Trump and the United States, including learning about several that have already been fulfilled and those that will be fulfilled in the future. The physical book can be purchased at Amazon for $12.99 from the following link: Donald Trump and America's Apocalypse.
Donald Trump and America's Apocalypse-Kindle Edition This electronic version of the 188 page print edition is available for only US$3.99. And you do not need an actual Kindle device to read it. Why? Amazon will allow you to download it to almost any device: Please click HERE to download one of Amazon s Free Reader Apps. After you go to for your free Kindle reader and then go to Donald Trump and America's Apocalypse-Kindle Edition.