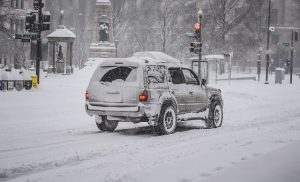 CNN reported the following:
March 2, 2018

A nor'easter has begun hammering the East Coast with a ferocious mix of howling winds, drenching rain, some snow and surging waves.

The storm, with about 80 million people in its path, could knock out power and flood some neighborhoods along the Atlantic coast Friday and Saturday.
As the high tide advances, authorities are warning coastal residents to be ready to evacuate.

Take this storm seriously! This is a LIFE & DEATH situation for those living along the coast, especially those ocean-exposed shorelines," the National Weather Service in Boston tweeted.

Like the nor'easter in January, this storm could undergo bombogenesis — or become a "bomb cyclone" — by dropping at least 24 millibars of atmospheric pressure in 24 hours. Some forecasters predict a sudden pressure plummet Friday evening off the Atlantic coast. https://www.cnn.com/2018/03/02/us/weather-bomb-cyclone/index.html
So, a major snowstorm is expected. We will soon learn how severe it may or may not be.
Europe has been having weather issues of its own:
March 2, 2018

Another night of frigid temperatures and heavy snow brought fresh chaos to parts of Europe, snarling transport networks and leaving at least 21 people dead and hundreds stranded and without power.

Fifteen people in Poland have died this week as a result of the unrelenting cold, a spokesperson for the country's Government Center for Security told CNN Friday.

Six people have also died in Spain, according to the Spanish interior ministry.

Snow and ice continues to cause problems with air passengers facing cancellations and delays.

Geneva Airport suspended all flights for a second consecutive day as snowstorms continued to rage in Switzerland. Flights from Amsterdam's Schiphol Airport are being delayed and canceled. In Ireland, airlines have suspended all flights to and from Dublin Airport until Saturday, and the Shannon, Cork and Kerry airports are closed until then. https://www.cnn.com/2018/03/02/europe/europe-snow-beast-from-the-east-intl/index.html

2 March 2018

Heavy snow is unusual in southern Britain and Ireland, where local authorities typically do not have the snowplows and salt spreaders that are standard equipment where harsh winters are common.

On Thursday, the third consecutive day of snowfall, most schools and many businesses across Britain and Ireland were closed. Even in London, which was not hit as hard as areas to the east and west, many normally packed streets were quiet. The week's snowfall totals are expected to be the heaviest in decades. https://www.smh.com.au/world/europe/lives-lost-as-europe-locked-in-a-siberian-weather-pattern-20180302-p4z2k5.html

2 March 2018

Britain called in the army on Friday after some of the most severe winter storms in recent memory battered the British Isles.

Storm Emma forced many roads and airports to close as it unleashed fresh snow and subzero temperatures onto southern Britain and Ireland.

Many areas were already reeling from fierce Siberian winds known as "The Beast from the East" that had hit both countries earlier in the week. http://www.dw.com/en/ireland-shuts-down-britain-calls-in-army-amid-winter-storm-chaos/a-42795633
Italy, Serbia, and other parts of southern Europe were hit a couple of days ago.
While humans often seem to think otherwise, God is in charge and controls the weather. Notice the following from the old Worldwide Church of God:
The Bible makes plain who is in control of the weather! "Fire and hail, snow and clouds; stormy wind, fulfilling His word" (Ps . 148:8 , RAV).

God intervenes in weather to work out his purposes among nations…

Plagues of disastrous weather are a warning to humanity. Weather for the most part operates according to natural laws. Damaging weather patterns sometimes develop. God simply may not choose to intervene to stop them because of nations' various sins and idolatry.

The Bible reveals God also directly intervenes to cause weather plagues to warn certain nations. "I have smitten you with blasting and mildew . .. yet have ye not returned unto me, saith the Lord" (Amos 4:9). He, in his great purpose, may also allow Satan-the god of this world (II Cor. 4:4)-to have a role in producing calamitous weather, for man's ultimate learning (see Job, chapter 1). (Schroeder D. CHAOTIC WEATHER Return of the dust bowl? Plain Truth. 1984, pp. 19-20)
Scripture is clear that God controls the weather and sometimes provides extreme weather for correction. And that includes snowy weather.
Notice the following:
7 Praise the Lord from the earth, You great sea creatures and all the depths; 8 Fire and hail, snow and clouds; Stormy wind, fulfilling His word; (Psalms 148:7-8)

5 God thunders marvelously with His voice; He does great things which we cannot comprehend. 6 For He says to the snow, 'Fall on the earth';… 9 From the chamber of the south comes the whirlwind, And cold from the scattering winds of the north. 10 By the breath of God ice is given, And the broad waters are frozen. 11 Also with moisture He saturates the thick clouds; He scatters His bright clouds. 12 And they swirl about, being turned by His guidance, That they may do whatever He commands them On the face of the whole earth. 13 He causes it to come, Whether for correction, Or for His land, Or for mercy. (Job 37:5-6, 9-13)

22 "Have you entered the treasury of snow, Or have you seen the treasury of hail, 23 Which I have reserved for the time of trouble, For the day of battle and war? (Job 38:22-23)
The Bible repeatedly warns, especially in the Hebrew scriptures, that various sins will result in destructive weather (see Weather Blessings and Sorrows). Weather is not as random as most seem to want to believe.
Back in 2009, in a book, I mentioned the following was about to happen:
Considering all of the natural disasters such as earthquakes, floods, food shortages, and economic problems in the past few years, perhaps this would be a good time to explain that the Bible shows that these problems were expected to occur prior to the great tribulation. Those outside the Bible have sometimes referred to a time such as this as a time of transition or chaos. …

There will be a generation that will experience end-time events, beginning with "sorrows," including the Great Tribulation, heavenly signs, and finally the return of Jesus Christ (Matthew 24:5-34). …

Mark recorded the same account of this time from his perspective:

3 Now as He sat on the Mount of Olives opposite the temple, Peter, James, John, and Andrew asked Him privately, 4 "Tell us, when will these things be? And what will be the sign when all these things will be fulfilled?" 5 And Jesus, answering them, began to say: "Take heed that no one deceives you. 6 For many will come in My name, saying, 'I am He,' and will deceive many. 7 But when you hear of wars and rumors of wars, do not be troubled; for such things must happen, but the end is not yet. 8 For nation will rise against nation, and kingdom against kingdom. And there will be earthquakes in various places, and there will be famines and troubles. These are the beginnings of sorrows. 9 But watch out for yourselves, for they will deliver you up to councils, and you will be beaten in the synagogues. You will be brought before rulers and kings for My sake, for a testimony to them. 10 And the gospel must first be preached to all the nations. 11 But when they arrest you and deliver you up, do not worry beforehand, or premeditate what you will speak. But whatever is given you in that hour, speak that; for it is not you who speak, but the Holy Spirit…" (Mark 13:3–11).

Thus, in both Matthew and Mark it is clear that a time called "the beginning of sorrows" precedes the Great Tribulation.

Notice that in Mark's account he uses the term troubles. Troubles would seem to include economic and political problems, in addition to those specifically mentioned, such as wars, famines, natural disasters, and pestilences. …

| | |
| --- | --- |
| Odd weather patterns result in food shortages and natural disasters. | Matthew 24:7 |
| The world is actually in a berserk transition, as the real age of peace is not yet here. It may be a period of chaos. It is the beginning of sorrows. | Matthew 24:8 |

(Thiel B. 2012 and the Rise of the Secret Sect. Nazarene Books, 2009)
The above was published because it was consistent with Bible prophecy. We have been seeing odd weather patterns and some have been concerned about related food shortages.
Is the idea that God controls the weather and uses it to affect humans relatively new to Christianity?
No.
Back in the third century, Church of God bishop/pastor Theophilus of Antioch wrote:
He is God alone who made light out of darkness, and brought forth light from His treasures, and formed the chambers of the south wind, and the treasure-houses of the deep, and the bounds of the seas, and the treasuries of snows and hail-storms, collecting the waters in the storehouses of the deep, and the darkness in His treasures, and bringing forth the sweet, and desirable, and pleasant light out of His treasures; who causes the vapours to ascend from the ends of the earth: He makes lightnings for the rain; who sends forth His thunder to terrify, and foretells by the lightning the peal of the thunder (Theophilus of Antioch. To Autolycus, Book I, Chapter 6).
God has long used weather–and early Christians realized this.
So should modern ones.
Actually, weather was mentioned in my most recent sermon: 18 items to prophetically watch in 2018.
Even though these current storms are NOT the 'end of the world,' extreme weather should be a wake-up call to repent.
Weather sorrows and troubles were number 3 of 18 items to prophetically watch in 2018 that I wrote about in December of 2017.
The warnings from the Bible are going out, but many will ignore them.
Will you?
Some items of possibly related interest may include:
Weather Blessings and Sorrows Are weather problems a warning? What should be done? What does the Bible teach about weather? What about floods, droughts, heat, earthquakes, tornadoes, and solar storms? Here is a related YouTube video Does God Use Weather? A related item in the Spanish language would be Bendiciones y maldiciones del clima.
18 items to prophetically watch in 2018 Much is happening. Dr. Thiel points to 18 in this article. Here is a link to a related sermon: 18 items to prophetically watch in 2018.
The Bible, Christians, and the Environment How should Christians view the environment? Does the Bible give any clues? What are some of the effects of air, water, and land pollution? Is environmental pollution a factor in autism and death? Do pollutants seem to double the autism risk? What will Jesus do? A YouTube video is available titled Air Pollution, Autism, and Prophecy.
Are You Being Called by God? Norman Shoaf wrote various points to consider.
Is God Calling You? Alfred E Carrozzo wrote this.
What Did Christ Mean Many Are Called, But Few Are Chosen? This article was by Raymond McNair.
Christian Repentance Do you know what repentance is? Is it really necessary for salvation? A related sermon is also available titled: Real Christian Repentance.
When You Sin: Do You Really Repent? This is an article by Charles F. Hunting. A related sermon is Confess to God and truly repent.
Just What Do You Mean — Repentance? Do you know what repentance is? Have you truly repented? Repented of what? Herbert W. Armstrong wrote this as a booklet on this important subject.
Overcoming Sin What is sin? How are Christians suppose to overcome it? Here is also a link to a video titled How to Overcome Sin.
Anglo – America in Prophecy & the Lost Tribes of Israel Are the Americans, Canadians, English, Scottish, Welsh, Australians, Anglo-Saxon (non-Dutch) Southern Africans, and New Zealanders descendants of Joseph? Where are the lost ten-tribes of Israel? Who are the lost tribes of Israel? What will happen to Jerusalem and the Jews in Israel? Will God punish the U.S.A., Canada, United Kingdom, and other Anglo-Saxon nations? Why might God allow them to be punished first? Here is a link to the Spanish version of this article: Anglo-América & las Tribus Perdidas de Israel. Information is also in the YouTube sermons titled Where are the Ten Lost Tribes? Why does it matter? and British are the Covenant People. A short YouTube of prophetic interest may be: Are Chinese threats against Australia for real?
Will the Anglo-Saxon Nations be Divided and Have People Taken as Slaves? Will the lands of the United States, United Kingdom, Canada, Australia, and New Zealand be divided? What about Jerusalem? What does Bible prophecy teach? Are there non-biblical prophecies that support this idea? Who will divide those lands? Who will end up with the lands and the people? Here is a link to a video titled Will the USA and other Anglo-nations be Divided and Their People Made Slaves? Here is a related item in the Spanish language ¿Serán divididas las naciones anglosajonas?
British are the Covenant People What do 'British' and 'Britain' mean in Hebrew? Are the descendants of the Anglo-Saxons people of the covenant? Does the British royal family connect to the throne of David? What does the Bible teach? What does history show us? Is there any DNA evidence related to British-Israelism? When did Christianity make it to the British Isles? Could Jeremiah have made it to the British Isles? What type of Christians made it to the British Isles? Did the last King of England believe in British Israelism?
When Will the Great Tribulation Begin? 2018, 2019, or 2020? Can the Great Tribulation begin today? What happens before the Great Tribulation in the "beginning of sorrows"? What happens in the Great Tribulation and the Day of the Lord? Is this the time of the Gentiles? When is the earliest that the Great Tribulation can begin? What is the Day of the Lord? Who are the 144,000? Here is a version of the article in the Spanish language: ¿Puede comenzar la Gran Tribulación en 2018 o 2019? ¿Es el Tiempo de los Gentiles? You can also see the English language sermon videos: The Great Tribulation from the Mount of Olives and Can the Great Tribulation begin before 2020? A shorter video is: Can the Great Tribulation begin in 2018?
Can those in the USA/UK see the Handwriting on the Wall? Is everything fine in the USA/UK or is it like the days of Noah? Can we learn from the handwriting that appeared on a wall thousands of years ago? Here is a link to a related YouTube video Can you see the 'Handwriting on the Wall'?
Who is the King of the West? Why is there no Final End-Time King of the West in Bible Prophecy? Is the United States the King of the West? Here is a version in the Spanish language: ¿Quién es el Rey del Occidente? ¿Por qué no hay un Rey del Occidente en la profecía del tiempo del fin?