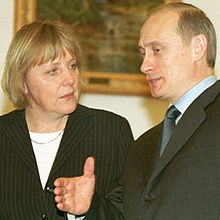 Angela Merkel and Vladimir Putin in Moscow 2002 (Kremlin.ru)

A German news site reported the following:
Germany's new global responsibility

October 26, 2016

Berlin has increased its presence on the international stage, but it is still defining what kind of foreign policy actor it wants to be. How is Germany shaping its diplomatic future?Russian President Vladimir Putin was planning to visit Paris last week. Instead, he came to Berlin – for the first time since Moscow's annexation of Crimea in early 2014. The topic of discussion was the conflict in Ukraine. Germany and France have led international efforts to contain and solve the crisis in the past.

But the Minsk deal, in which Ukraine and Russia agreed to a ceasefire, among other efforts to calm the conflict, seemed to be going nowhere. The summit between Chancellor Angela Merkel, President Francois Hollande, Putin and Ukrainian President Petro Poroshenko was one recent example of Germany's new global role. It is a role shaped through diplomacy – mediating, talking, and, if necessary, threatening. …

"The current German government takes on the global challenges in a much more active way than their predecessors," says Markus Kaim, senior fellow for Security Policy at the German Institute for International and Security Affairs. "Germany is now shaping foreign policy, instead of just executing it."

A new foreign policy role

Kaim sees Germany's new role on the world stage developing as the result of changes on a global scale. Britain's decision to leave the European Union and the rise of the right-wing populist and anti-globalist National Front party in France left a vacuum that demanded new leadership in Europe. At the same time, the United States no longer wanted to play the role of the world police. Americans have grown war-weary. …

Merkel promised to boost defense spending in the coming years … http://www.dw.com/en/germanys-new-global-responsibility/a-36152514
Germany is seeing the decline of the USA and is taking steps to fill the power vacuum so ultimately it can lead Europe and others.
And this is not just a 2016 observation.
Back in December 2014, the German Minister for Foreign Affairs gave a speech reminiscent of one given in support of the rise of the so-called Third Reich under Adolf Hitler:
German Foreign Minister Steinmeier's great power speech to big business

By Johannes Stern
6 December 2014

In his opening speech at the SZ Economic Summit, German Foreign Minister Frank-Walter Steinmeier appealed to business heads to support Germany's rise to be a world power.

The meeting did not take place in the Dusseldorf Parkhotel, but in Berlin's Hotel Adlon. Sitting in the audience was not Fritz Thyssen and Gustav Krupp von Bohlen und Halbach, but Thyssen-Krupp CEO Heinrich Hiesinger and other current heavyweights of German big business. And of course, the Social Democratic Party Foreign Minister Frank-Walter Steinmeier is not Adolf Hitler.

Nevertheless, Steinmeier's appearance recalled Hitler's speech to the Dusseldorf Industry Club on January 26, 1932. Like the soon to become Führer, Steinmeier made a direct appeal to German big business to support Germany's rise to be a world power. He explicitly called on big business to support him and the government in pushing through a militarist foreign policy turn against the will of the people.

Steinmeier's programme strongly recalls the German lust for power, once believed to be a thing of the past. "Germany should 'lead Europe to lead the world', 'Europeanise Russia' and 'multilateralise the US'", Steinmeier demanded, citing an essay that has been featured on an official web site of the Ministry of Foreign Affairs for months. He added, "No small task!"

The implications of these words are unmistakable. Germany's return to an aggressive foreign policy runs along similar channels as followed in the first half of the 20th century. The German elites once again see it as their "task" to dominate Europe in order to become a world power. Today, as before, this programme of German imperialism means conflict with Russia and the United States.

To "Europeanize Russia" means nothing other than to subordinate Russia to a Europe controlled by Germany. To "multilateralise the US" means to contest the role of the United States as the world hegemon. In other words, German foreign policy in the future will develop increasingly in opposition to the two powers against which it has already waged two world wars.

After the crimes of the Nazi regime, the German elites are, at least for now, still trying to present their programme of a third "grab for world power" as if it were being imposed on them from the outside. Every day, "the expectation of German involvement" is encountered from our "partners abroad", Steinmeier protested at the Adlon. He had therefore "asked a large group of international experts to formulate their expectations of German foreign policy".

From the many responses he received to this request, Steinmeier highlighted just one, titled "Germany's destiny: leading Europe in order to lead the world". This comes from the pen of the Indian-born Professor Kishore Mahbubani of the National University of Singapore, located in an authoritarian, one-party state.

The text, together with other calls for a more aggressive German foreign policy, can be found on the web site "Review 2014" of the German Foreign Ministry. Of Mahbubani's key demands, Steinmeier said tersely, "And do you know who said that? Not a Frenchman, not an American, but an Indian professor wrote that for us."

Steinmeier's speech was remarkable not only for its call for German leadership in the world. It also expressed an openly imperialist programme…

When Steinmeier had finished, there was thunderous applause in the ballroom of Hotel Adlon.  http://www.wsws.org/en/articles/2014/12/06/stei-d06.html
This speech is a call for a fourth reich. Another attempt for Germany to try to rule the world.  The Bible reveals that, for a time, this will succeed with a leader known as the final Beast.
Is a 'fourth reich' in the process of forming?  Some in Germany and elsewhere seem to think so.  Notice the following in 2015 from the German publication Der Spiegel:
March 23, 2015

'The Fourth Reich': What Some Europeans See When They Look at Germany

People have even begun talking about the "Fourth Reich," a reference to the Third Reich of Adolf Hitler. That may sound absurd given that today's Germany is a successful democracy without a trace of national-socialism — and that no one would actually associate Merkel with Nazism. But further reflection on the word "Reich," or empire, may not be entirely out of place. The term refers to a dominion, with a central power exerting control over many different peoples. According to this definition, would it be wrong to speak of a German Reich in the economic realm?  …

A heavy accusation has been levelled at Germany — by some in Greece, in Spain and in France but also by some in Great Britain and in the United States. The euro crisis, a certain breed of politicians, journalists and economists argue, has allowed Germany to dominate Southern Europe and to suffocate it in order to impose its principles even as its export policy has meant that the country has profited from that same currency crisis more than any other country. Germany's image in some countries has become one of an egotistical economic occupier flanked by smaller Northern European countries from the same mold. …

'The Blood of Our People'

The fear of German hegemony in Europe is likely nowhere so great as it is in France, which was at least partially occupied by its neighbor three times during an 80-year period. In recent years, "Germanophobia" has increased dramatically across the political spectrum, from Front National to the leftist wing of the governing Socialists. That has partially served to distract attention from political leaders' own failures to implement reform, but they are nonetheless sentiments that deserve to be taken seriously.

The leftist French intellectual Emmanuel Todd warns that Germany is "increasingly pursuing politics of power and of hidden expansion." Europe, he says, is being ruled by a Germany which, in its past, has constantly fluctuated between reason and megalomania. Since reunification, Todd says, Germany has brought a huge area of Eastern Europe under its control, a region once under the influence of the Soviets, to use it for its own economic aims.

In Athens, in a building belonging to the Ministry of Culture, Nikos Xydakis, deputy culture minister for the Syriza government, echoes the sentiment.

"It is as though my country were experiencing the consequences of war," he says. European savings policies have ruined Greece, he says: "We have lost a quarter of our gross domestic product and a quarter of our population is unemployed." Furthermore, he said, Greece didn't ask for emergency loans, they were forced upon the country together with the cost-cutting program. "Now we are paying with the blood of our people."

Germany, he says, has become too powerful in Europe. The country, he concedes, is a leader both politically and economically. "But those wanting to be a leader have to behave like one too." Germany, he says, should be more generous and stop viewing weaker countries in Europe as its inferiors. …

Since the turn of the millennium, Germany's trade surplus has almost quadrupled and now stands at €217 billion ($236.4 billion). With France alone, the surplus was €30 billion in 2014. Even if exports to euro-zone member states dropped as a result of the crisis, no other country in the world has a trade surplus as large as Germany's. Why is that? Is it because of aggressive trade policy?  …

Germany seeks to be an economic power, but not a military one. Its nationalism is based on economic output and export statistics, not on a desire to become a geo-political power. The same dilemma can be seen in the role Germany has played in the Ukraine crisis.  http://www.spiegel.de/international/germany/german-power-in-the-age-of-the-euro-crisis-a-1024714.html
Many in Europe are concerned that Germany is simply too big of an economic power.  However, without the economic might of Germany, the European Union would probably fall apart.
While it is true that many in Germany do not want their country to be a military power, the biblical reality is that it will. Notice the following prophecy concerning the end-time descendants of ancient Assyria:
5 "Woe to Assyria, the rod of My anger And the staff in whose hand is My indignation. 6 I will send him against an ungodly nation, And against the people of My wrath I will give him charge, To seize the spoil, to take the prey, And to tread them down like the mire of the streets. 7 Yet he does not mean so, Nor does his heart think so; But it is in his heart to destroy, And cut off not a few nations. 8 For he says, 'Are not my princes altogether kings? 9 Is not Calno like Carchemish? Is not Hamath like Arpad? Is not Samaria like Damascus? 10 As my hand has found the kingdoms of the idols, Whose carved images excelled those of Jerusalem and Samaria, 11 As I have done to Samaria and her idols, Shall I not do also to Jerusalem and her idols?'" (Isaiah 10:5-11)
In the above passages, we learn that God will use Assyria to punish Jerusalem and Samaria. The 'Assyrians' in Isaiah 10 are Europeans, like the Germans (for details, check out the articles Germany's Assyrian Roots Throughout History and Germany in Biblical Prophecy).
Interestingly in 2013, Global Research published a report consistent with Germany and Isaiah 10:5-11:
Germany is making intensive preparations to conduct new wars to secure resources. This was the unmistakable message of a lead article in Germany's business newspaper Handelsblatt, "Expedition Resources: Germany's new course."

The very same business circles that financed Hitler are again banging the war drums. The article cites an interview with Dierk Paskert, the manager of the Resource Alliance founded in 2011. Members of the alliance include Volkswagen, ThyssenKrupp, Bayer and BASF—firms that either directly supported Nazi war plans, or whose predecessors did.…Paskert makes clear that the German bourgeoisie is willing to use military force to secure such resources against its rivals…

The return of aggressive German imperialism initiates a new stage of inter-imperialist conflict, raising the threat of a Third World War…

The Handelsblatt bluntly states that the German army will be rebuilt "in order to be used all over the world." The vast majority of the German population is vehemently opposed to militarism. The fact that the Handelsblatt can so publicly formulate the goals of the German bourgeoisie is above all a devastating indictment of the Green Party, the Social Democratic Party and the Left Party. (Stern J. The Return of German Imperialism. Global Research, 21 February 2013 http://www.globalresearch.ca/the-return-of-german-imperialism/5323719)
Notice that the above states that the vast majority of Germans do not want to be militaristic, but that voices are calling for that anyway–just like Isaiah 10:7 prophecies.  Notice that some suspect that this could lead to WWIII.
What about Russia?
This morning I came across the photograph at the beginning of this post. It suggests, to me at least, that Russia's Vladimir Putin and Germany's Angela Merkel have worked with each other for a long time. The fact that they are still meeting together shows that they both seem to feel that there are matters that they can work on together.
It seems to be the belief of both Merkel and Putin that the USA is in decline. They both seem to feel that they are not currently a real threat to each other, but that they can work together to put an end to American hegemony. Now, this is NOT something that Angela Merkel has directly stated, but she has sometimes taken steps consistent with that.
As many readers are aware, it has long been my view that Russia will cooperate, for a time, with the final King of the North. I suspect that because of this cooperation, the European Beast leader may be inclined to give parts of the USA (like Alaska) and perhaps parts of Canada to Russia.
This was also the view of the old Radio Church of God:
Germany, those living in Germany, even the German government, may not yet know that they are going to join in a treaty with the Russians to destroy the United States and bring it to its knees-it is not in his "heart" to think so, but on the other hand it IS in his "heart" to destroy-the very characteristic of the Assyrian, the modern German, is a harsh, cruel, iron, dedication to militarism and destruction! (Hill DJ, God's Destiny for Germany. Plain Truth, March 1962, pp. 28-29)
So, the idea that Russia is expected to cooperate with the final Beast power is not a new one. We keep seeing meetings between the Germans and Russians. I do not believe that there is never anything hostile about the USA brought up in those meetings.
That does not bode well for the USA.
Some items of possibly related interest may include:
World War III: Steps in Progress Are there surprising actions going on now that are leading to WWIII? Might a nuclear attack be expected? Does the Bible promise protection to all or only some Christians? How can you be part of those that will be protected? A related video would be Is World War III About to Begin? Can You Escape?
Is Russia the King of the North? Some claim it is. But what does the Bible teach? Here is a link to a video, also titled Is Russia the King of the North?
Russia and Ukraine: Their Origins and Prophesied Future Russia in prophecy. Where do the Russians come from? What about those in the Ukraine? What is prophesied for Russia and its allies? What will they do to the Europeans that supported the Beast in the end? There is also a video sermon available: Russia in the Bible and in Prophecy and a video sermonette available: Ukraine in Prophecy?
The Eurasian Union, the Kings of the East, and Bible Prophecy Is there a Eurasian union that will be formed? Is one being formed right now? Are any leaders working on that in the 21st century? Does the Bible teach that there will be a Eurasian union? If some type of Eurasian union is formed, who might it benefit and who will it destroy? A related video would be Is The Eurasian Union Rising?
Is There an Islamic Antichrist? Is Joel Richardson correct that the final Antichrist will be Islamic and not European? Find out.
Two Horned Beast of Revelation and 666 Who is 666? This article explains how the COG views this, and compares this to Ellen White.
Europa, the Beast, and Revelation Where did Europe get its name? What might Europe have to do with the Book of Revelation? What about "the Beast"? Is an emerging European power "the daughter of Babylon"? What is ahead for Europe? Here is a link to a video titled: Can You Prove that the Beast to Come is European?
Who is the King of the North? Is there one? Do biblical and Roman Catholic prophecies for the Great Monarch point to the same leader? Should he be followed? Who will be the King of the North discussed in Daniel 11? Is a nuclear attack prophesied to happen to the English-speaking peoples of the United States, Great Britain, Canada, Australia, and New Zealand? When do the 1335 days, 1290 days, and 1260 days (the time, times, and half a time) of Daniel 12 begin? When does the Bible show that economic collapse will affect the United States? Here is a link to a video titled: The Future King of the North.
Anglo – America in Prophecy & the Lost Tribes of Israel Are the Americans, Canadians, English, Scottish, Welsh, Australians, Anglo-Saxon (non-Dutch) Southern Africans, and New Zealanders descendants of Joseph? Where are the lost ten-tribes of Israel? Who are the lost tribes of Israel? What will happen to Jerusalem and the Jews in Israel? Will God punish the U.S.A., Canada, United Kingdom, and other Anglo-Saxon nations? Why might God allow them to be punished first? Here is a link to the Spanish version of this article: Anglo-América & las Tribus Perdidas de Israel. Information is also in the YouTube sermons titled Where are the Ten Lost Tribes? Why does it matter? and British are the Covenant People. A short YouTube of prophetic interest may be Barack Obama and the State of the Apocalypse.
Will the Anglo-Saxon Nations be Divided and Have People Taken as Slaves? Will the lands of the United States, United Kingdom, Canada, Australia, and New Zealand be divided? What about Jerusalem? What does Bible prophecy teach? Are there non-biblical prophecies that support this idea? Who will divide those lands? Who will end up with the lands and the people? Here is a link to a video titled Will the USA and other Anglo-nations be Divided and Their People Made Slaves? Here is a related item in the Spanish language ¿Serán divididas las naciones anglosajonas?
Might German Baron Karl-Theodor zu Guttenberg become the King of the North? Is the former German Defense Minister (who is also the former German Minister for Economics and Technology) one to watch? What do Catholic, Byzantine, and biblical prophecies suggest? A video of related interest would be: Karl-Theodor zu Guttenberg and Europe's Future.
Germany's Assyrian Roots Throughout History Are the Germanic peoples descended from Asshur of the Bible? Have there been real Christians in Germanic history? What about the "Holy Roman Empire"? There is also a You-Tube video sermon on this titled Germany's Biblical Origins.
Germany in Biblical Prophecy Does Assyria in the Bible equate to an end time power inhabiting the area of the old Roman Empire? What does prophecy say Germany will do and what does it say will happen to most of the German people? Here are links to two sermon videos Germany in Bible Prophecy and The Rise of the Germanic Beast Power of Prophecy.
Persecutions by Church and S
Can those in the USA/UK see the Handwriting on the Wall? Is everything fine in the USA/UK or is it like the days of Noah? Can we learn from the handwriting that appeared on a wall thousands of years ago? Here is a link to a related YouTube video Can you see the 'Handwriting on the Wall'?
The Snowden Leaks are Leading to the Destruction of the USA Can what happened with the leaks of what the NSA has done help the USA to be taken over? What does the Bible teach that seems to be related to this? Here is a related YouTube video titled Are the Snowden NSA leaks leading to the destruction of the USA?
Will the UK Lose Gibraltar and the Falkland Islands? Spain wants Gibraltar and Argentina wants the Falklands (also known as the Malvinas). Does the Bible give clues as to what will happen with these 'sea gates'? A related video would be Will the UK Lose Gibraltar and the Falkland Islands? A version in Spanish ¿Perderá el Reino Unido a Gibraltar y las Islas Falkland (Malvinas)? Here is a version in Mandarin Chinese 英国将失去直布罗陀和福克兰群岛.
Canada in Prophecy: What Does Bible Prophecy, Catholic Prophecy, and other Predictions Suggest About the Future of Canada? There are prophecies that suggest involvement with Canada. And many are not positive about its future.
Protestant and Church of God views of the United States in Bible Prophecy Is the USA mentioned in Bible prophecy? Some Protestants say yes, while others say no. What does the Bible really teach? Learn the truth about this. There is also a video available: Is The United States Mentioned In Bible Prophecy?
Dangerous Protestant Prophetic Errors What are some errors that various Protestants hold to that will tend to prevent them from knowing when the Great Tribulation will begin? A related video is titled Ten Dangerous Protestant Prophetic Errors.
Is the USA now an Evil Empire? Dr. Thiel gives many reasons to consider. A related video is also available: Is the USA an Evil Empire?
USA in Prophecy: The Strongest Fortresses Can you point to scriptures, like Daniel 11:39, that point to the USA in the 21st century? This article does.
Hillary Clinton, Prophecy, and the Destruction of the United States This is a 200 page book for people truly interested in prophecies related to Hillary Clinton and the United States, including learning about many that have already been fulfilled and those that will be fulfilled in the future. It also discusses Republicans. The physical book can be purchased at Amazon from the following link: Hillary Clinton, Prophecy, and the Destruction of the United States, 2nd edition: Is Hillary Clinton Fulfilling Biblical, Islamic Catholic, Hopi, and other America-Related Prophecies? What About Donald Trump? $11.99.
Hillary Clinton, Prophecy, and the Destruction of the United States-Amazon 2nd Kindle edition This electronic version of the 200 page print edition is available for only US$3.99. And you do not need an actual Kindle device to read it. Why? Amazon will allow you to download it to almost any device: Please click HERE to download one of Amazon s Free Reader Apps. After you go to for your free Kindle reader and then go to Hillary Clinton, Prophecy, and the Destruction of the United States-Amazon 2nd Kindle edition.
Barack Obama, Prophecy, and the Destruction of the United States-Second Edition for Second Obama Term This is a 160 page book for people truly interested in prophecies related to Barack Obama and the United States, including learning about many that have already been fulfilled (which the book documents in detail) and those that will be fulfilled in the future. It also has a chapter about a Republican choice. This book is available to order at www.barackobamaprophecy.com. The physical book can also be purchased at Amazon from the following link: Barack Obama, Prophecy, and the Destruction of the United States: Is Barack Obama Fulfilling Biblical, Islamic Catholic, Kenyan, and other America-Related Prophecies? What About Republican Leaders? Second Edition for Second Obama Term.
Barack Obama, Prophecy, and the Destruction of the United States-Second Term-Amazon Kindle edition. This electronic version is available for only US$2.99. And you do not need an actual Kindle device to read it. Why? Amazon will allow you to download it to almost any device: Please click HERE to download one of Amazon s Free Reader Apps. After you go to for your free Kindle reader and then go to Barack Obama, Prophecy, and the Destruction of the United States-Second Term-Amazon Kindle edition.