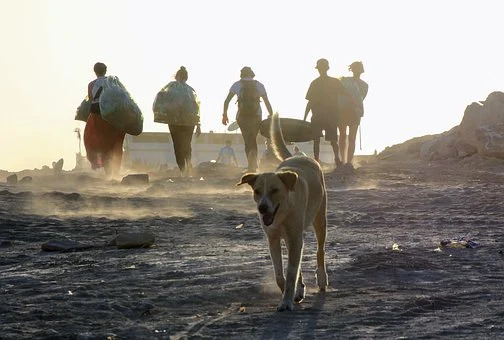 (Pixabay photo)

COVID-19 policies have negatively impacted supply chains, including those related to the food supply. Increased global hunger is a concern:
August 19, 2020

"If our global and local response to COVID19 perpetuates the status quo we will likely end up with a hunger pandemic among those already suffering from food insecurity. Women are already experiencing this," Tonya Rawe CARE Director, Global Food and Nutrition Security Advocacy said. "We will lose the chance to build back a sustainable, inclusive and equitable food system. We will lose our chance to invest in women. We can't lose this chance to get things right, for today and for tomorrow."

Women and girls are affected by the COVID19 pandemic especially as it relates to food insecurity. Women carry the economic burden of buying food for the family, while also doing more than 75% of the unpaid work, such as cleaning and child care. https://reliefweb.int/report/world/policy-report-left-out-and-left-behind-ignoring-women-will-prevent-us-solving-hunger

COVID-19 makes the global hunger crisis even worse

The COVID-19 pandemic is exposing the existing flaws in food systems, …

This is happening against a backdrop of the ever-worsening global hunger crisis. As Care notes, at the start of 2020, 690 million people were undernourished or chronically hungry, and U.N. agencies estimate that figure could increase by over 130 million because of COVID-19. Severe food insecurity or a food crisis could nearly double to affect 270 million people by the end of this year. 08/18/20 https://www.triplepundit.com/story/2020/covid-global-hunger-crisis/121221
Notice also something related to hunger and North Korea:
Heavy rain, widespread flooding and crop damages have left the country short of food supplies, leading the Stalinist regime to demand more wealthy North Koreans give up their dogs, which are considered "decadent" luxury and "a 'tainted' trend by bourgeois ideology," according to South Korean news outlet Chosun Ilbo.

"Authorities have identified households with pet dogs and are forcing them to give them up or forcefully confiscating them and putting them down," a source told the newspaper.

The pets are rounded up, with some of them being sent to zoos and others being sold directly to the restaurant trade. https://summit.news/2020/08/18/kim-jong-un-orders-north-koreans-to-hand-over-pet-dogs-so-they-can-be-eaten/
Of course, dogs are biblically unclean animals and should not be eaten by humans (see The New Testament Church, History, and Unclean Meats)–Unclean meat consumption is believed to be a major factor in the development of many viruses, including COVID-19. North Korea, like the rest of the world, needs to repent and not eat them. All need to strive to live according to the ways of the coming Kingdom of God.
Do not think that hunger will be limited to Asia and Africa.
The Bible teaches that debt and hunger can be curses that happen to the disobedient:
15 "But it shall come to pass, if you do not obey the voice of the Lord your God, to observe carefully all His commandments and His statutes which I command you today, that all these curses will come upon you and overtake you: (Deuteronomy 28:15)
COVID-19 policies have been a factor in the increasing debt in the USA. One day massive hunger will hit too!
Consider, further, that the Bible teaches the following:
12 … Those who lead you cause you to err, And destroy the way of your paths." (Isaiah 3:12)

16 For the leaders of this people cause them to err, And those who are led by them are destroyed (Isaiah 9:16).
43 The alien who is among you shall rise higher and higher above you, and you shall come down lower and lower. 44 He shall lend to you, but you shall not lend to him; he shall be the head, and you shall be the tail. 45 Moreover all these curses shall come upon you and pursue and overtake you, until you are destroyed because you did not obey the voice of the LORD your God, to keep His commandments and His statutes which He commanded you…47 "Because you did not serve the LORD your God with joy and gladness of heart, for the abundance of everything, 48 therefore you shall serve your enemies, whom the LORD will send against you, in hunger, in thirst, in nakedness, and in need of everything; and He will put a yoke of iron on your neck until He has destroyed you. 49 The LORD will bring a nation against you from afar, from the end of the earth, as swift as the eagle flies, a nation whose language you will not understand, 50 a nation of fierce countenance, which does not respect the elderly nor show favor to the young. 51 And they shall eat the increase of your livestock and the produce of your land, until you are destroyed; they shall not leave you grain or new wine or oil, or the increase of your cattle or the offspring of your flocks, until they have destroyed you. 52 They shall besiege you at all your gates until your high and fortified walls, in which you trust, come down throughout all your land; and they shall besiege you at all your gates throughout all your land which the LORD your God has given you (Deuteronomy 28:42-45,47-52)
3 For the vision is yet for an appointed time; But at the end it will speak, and it will not lie. Though it tarries, wait for it; Because it will surely come, It will not tarry…5 Indeed, because he transgresses by wine, He is a proud man… 6 "Will not all these take up a proverb against him, And a taunting riddle against him, and say, 'Woe to him who increases What is not his–how long? And to him who loads himself with many pledges'? 7 Will not your creditors rise up suddenly? Will they not awaken who oppress you? And you will become their booty. 8 Because you have plundered many nations, All the remnant of the people shall plunder you (Habakkuk 2:3,5,6-8).
Habakkuk's prophecy will be fulfilled at the time of the end (cf. "The message was true, but the appointed time was long…in the latter days, for the vision refers to many days yet to come," Daniel 10:1,14). Daniel 8:19, 11:27,29,35 uses the same Hebrew term for "appointed time" as Habakkuk 2:3, while Daniel 10, using a different term, ties the latter days to the time in Daniel 8:19. Habakkuk 2 was not fulfilled in its entirety anciently. Also, it makes little sense that Habakkuk would be directed towards the modern nation of Israel as it does not have enemy creditors. It must be a nation or group of nations with some prominence at the appointed time of the end. The nation with the greatest debt of all time is the United States of America, and on a per capita basis may be the United Kingdom of Great Britain and Northern Ireland. Earlier this year, the USA even voted to NOT have a debt ceiling for another year (USA has now decided against an official debt limit). This helps show, that despite posturing, sequestration, budget committees, government shut-downs, etc. that the USA is intent on increasing its total debt–this is unsustainable and cannot continue in perpetuity. The debt is much more dangerous than the predominant view that politicians in the USA publicly state.
Jesus said famines would be part of the beginning of sorrows:
7 For nation will rise against nation, and kingdom against kingdom. And there will be famines, pestilences, and earthquakes in various places. 8 All these are the beginning of sorrows. (Matthew 24:7-8)
I also suspect that agricultural practices, such as the heavy reliance on genetically-modified crops, is helping set the stage for some of this in countries like the USA (see also GMOs and Bible Prophecy; there is a related YouTube video GMO Risks and the Bible).
Notice that the ride of the third horseman of the Apocalypse results in scarcity and famine. Revelation 6:5-6 indicates that there will be food, but that it will be quite expensive (food-price inflation).
5 When He opened the third seal, I heard the third living creature say, "Come and see." So I looked, and behold, a black horse, and he who sat on it had a pair of scales in his hand. 6 And I heard a voice in the midst of the four living creatures saying, "A quart of wheat for a denarius, and three quarts of barley for a denarius; and do not harm the oil and the wine." (Revelation 6:5-6)
Consider also that food inflation is associated with the ride of the third horse, the black horse. And while that is commonly called the black horse of famine, the word famine is not in Revelation 6:5-6. That does NOT mean that there will not be any famines–for there will be–but food inflation will be considered as caused by government overprinting of money, crop matters, trade issues, etc. and most will NOT attribute it to the ride of the third horseman or the opening of the third seal.
But yes, some will thus die as they will not be able to afford it, while others will survive but struggle. Here is something from 1973 from the old Worldwide Church of God:
The black horseman's future ride will reduce the proud faces of white America, Europe, and the British Commonwealth into the blackened skin of starvation … (Alexander G. The Four Horsemen of the Apocalypse. Ambassador College Press, Pasadena (CA), 1973, p. 31)
We may be getting very close to the ride of the black horseman. We are certainly forty-seven years closer.
Yes, the USA and its British-descended allies also are at risk.
Several items of possibly related interest may include:
The Gospel of the Kingdom of God This free online pdf booklet has answers many questions people have about the Gospel of the Kingdom of God and explains why it is the solution to the issues the world is facing. Here are links to three related sermons: The World's False Gospel, The Gospel of the Kingdom: From the New and Old Testaments, and The Kingdom of God is the Solution.
The New Testament Church, History, and Unclean Meats Are foods considered to have been unclean in the Old Testament considered to be food in the New Testament? This article discusses this from the perspective of the New Testament. It also has a list of clean and unclean animals. It also answers the question, is pork healthy or is pork dangerous? There is also a sermon-length video on this: Christians and Unclean Meats; a short video is also available: Did Jesus declare all animal flesh food?
Korea in Prophecy, Any Witness? Where did the Korean people come from? Does God have a plan for the Koreans? Is Korea mentioned in any prophecies? Will Koreans be among the first in the Kingdom of God? Here is a machine-translated link to that article in Korean: 한국의 언어로 : 한국 예언, 모든 증인에?. Here is a link to a magazine with that article in Mandarin Chinese: 在预言中的韩国:有任何证人吗? A prophetic video is also available: Syria, North Korea, and Prophecy.
Four Horsemen of the Apocalypse What do each of the four horseman of the Apocalypse represent? Have they began their ride? Did Jesus discuss the any of this? Might their rides coincide with the "beginning of sorrows? Do they start their ride prior to the Great Tribulation? Did Nostradamus or any other 'private prophets' write predictions that may mislead people so that they may not understand the truth of one or more of the four horseman? There is also a related YouTube video titled Sorrows and the Four Horsemen of the Apocalypse.
Anglo – America in Prophecy & the Lost Tribes of Israel Are the Americans, Canadians, English, Scottish, Welsh, Australians, Anglo-Saxon (non-Dutch) Southern Africans, and New Zealanders descendants of Joseph? Where are the lost ten-tribes of Israel? Who are the lost tribes of Israel? What will happen to Jerusalem and the Jews in Israel? Will God punish the U.S.A., Canada, United Kingdom, and other Anglo-Saxon nations? Why might God allow them to be punished first? Here is a link to the Spanish version of this article: Anglo-América & las Tribus Perdidas de Israel. Information is also in the YouTube sermons titled Where are the Ten Lost Tribes? Why does it matter? and British are the Covenant People. A short YouTube of prophetic interest may be: Are Chinese threats against Australia for real?
Will the Anglo-Saxon-Celtic Nations be Divided and Have People Taken as Slaves? Will the lands of the United States, United Kingdom, Canada, Australia, and New Zealand be divided? What about Jerusalem? What does Bible prophecy teach? Are there non-biblical prophecies that support this idea? Who will divide those lands? Who will end up with the lands and the people? Here is a link to a video titled Will the USA and other Anglo-nations be Divided and Their People Made Slaves? Here is a related item in the Spanish language ¿Serán divididas las naciones anglosajonas?
British are the Covenant People What do 'British' and 'Britain' mean in Hebrew? Are the descendants of the Anglo-Saxons people of the covenant? Does the British royal family connect to the throne of David? What does the Bible teach? What does history show us? Is there any DNA evidence related to British-Israelism? When did Christianity make it to the British Isles? Could Jeremiah have made it to the British Isles? What type of Christians made it to the British Isles? Did the last King of England believe in British Israelism?
Canada in Prophecy: What Does Bible Prophecy, Catholic Prophecy, and other Predictions Suggest About the Future of Canada? There are prophecies that suggest involvement with Canada. And many are not positive about its future. A sermon of related interest is also available: Canada in Prophecy.
Australia and New Zealand in Prophecy Do biblical prophecies help explain the wealth blessings for Australia and New Zealand? Might cursings from disobedience come in the 21st century? Here is a link to a related sermon: Australia and New Zealand: Origins and Prophecy.
Does God Have a 6,000 Year Plan? What Year Does the 6,000 Years End? Was a 6000 year time allowed for humans to rule followed by a literal thousand year reign of Christ on Earth taught by the early Christians? Does God have 7,000 year plan? What year may the six thousand years of human rule end? When will Jesus return? 2027 or 20xx? There is also a video titled 6000 Years: When will God's Kingdom Come? Here is a link to the article in Spanish: ¿Tiene Dios un plan de 6,000 años?
The Great Tribulation: What Happens First? What events have happened? What are some events that are now happening? And what events need to happen for the Great Tribulation to start? Here is a link to a related sermon video: Counting Down to the Great Tribulation.
When Will the Great Tribulation Begin? 2020, 2021, or 2022? Can the Great Tribulation begin today? What happens before the Great Tribulation in the "beginning of sorrows"? What happens in the Great Tribulation and the Day of the Lord? Is this the time of the Gentiles? When is the earliest that the Great Tribulation can begin? What is the Day of the Lord? Who are the 144,000? Here is a version of the article in the Spanish language: ¿Puede la Gran Tribulación comenzar en el 2020 o 2021? ¿Es el Tiempo de los Gentiles? You can also see the English language sermon videos: The Great Tribulation from the Mount of Olives and Can the Great Tribulation begin before 2020? A shorter and newer video is: Could the Great Tribulation Begin in 2020? Here is a link to the Spanish version of that video: ¿Podría la Gran Tribulación comenzar en 2020?
The Times of the Gentiles Has there been more than one time of the Gentiles? Are we in it now or in the time of Anglo-America? What will the final time of the Gentiles be like? A related sermon is available and is titled: The Times of the Gentiles.
Armageddon Who is involved and when will this gathering happen? Here is also a video from Dr. Thiel, from Tel Megiddo in Israel: Armageddon. Other videos include: Armageddon Will it come on Trump's watch?, Iraq, Armageddon, & Prophecy, Freemasonry, Armageddon, and Rome, Is China paving roads to Armageddon?, and Jordan, Petra, and Armageddon.
Christian Repentance Do you know what repentance is? Is it really necessary for salvation? A related sermon is also available titled: Real Christian Repentance.
COVID 19 is NOT the End, but could it be TEOTWAWKI? The novel coronavirus called COVID-19 is wreaking havoc around the world. Many states of the USA as well as countries in Europe are on lockdown with shelter in place /shelter in residence requirements. In France, a form is required when you are not at your house. In Spain, drones are being used to warn people who are outside to got back to their homes–does that bring up feelings of 'Big Brother'? Italy, France, and other areas are using police and/or military force to encourage people to stay inside. According to the Bible could this be the end? If not, what has to happen first? Have the second and third of the four horsemen of the Apocalypse started their ride? Could COVID-19 be the fourth horseman? Why or why not? Could we be seeing The End of the World as We Know It (TEOTWAWKI) like the R.E.M.'s 1987 single song discussed? Do Christians need to fear? What did Jesus teach? What did the Psalmist teach? This is a video. Here is a link to a version in the Spanish language: Corona 19 no es el final PERO es el TEOTWAWKI.