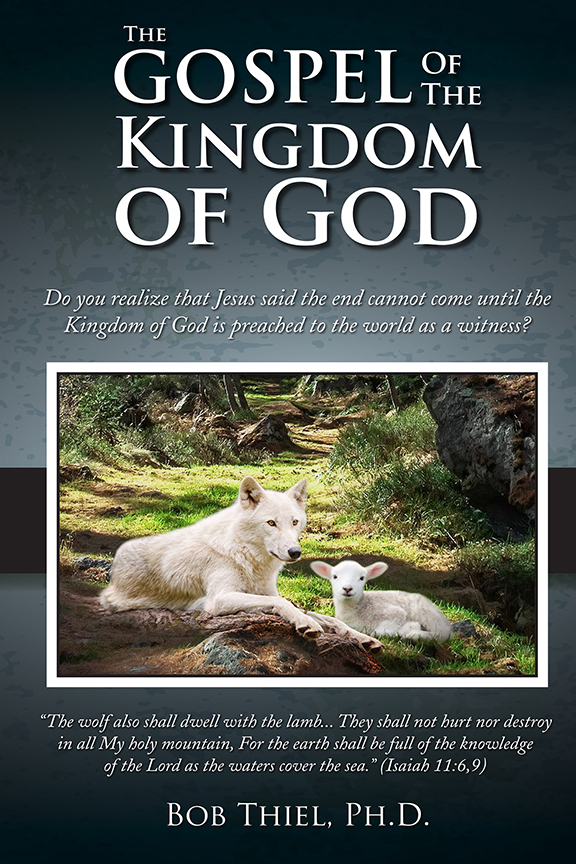 Many, particularly in the USA, are glued to the results of today's election.
There is massive division in the USA.
No matter what the official results to this election are, this world is coming to an end.
Yet, a better world is coming.
Christians are to believe that:
14 … Jesus came into Galilee, preaching the gospel of the kingdom of God, 15 And saying, The time is fulfilled, and the kingdom of God is at hand: repent ye, and believe the gospel. (Mark 1:14-15, KJV)
Notice the following from the old Worldwide Church of God written by the late evangelist Raymond McNair:
The Coming Millennium – Utopia at Last

Jesus Christ is about to return to usher in, on earth, His 1,000-year reign of peace, happiness and prosperity. What does the Bible say about that glorious time? … the word gospel means "good news" …

God's Kingdom set up on earth

Jesus Christ will return to set up God's Kingdom at the last moment before carnal man, under Satan's sway, finally destroys himself (Matt. 24:21-22). If the Creator-Ruler of the universe didn't intervene, not a single human being would be left alive on this earth.


The book of Revelation shows us what will happen when Christ returns to rule this world: "And I saw an angel come down from heaven, having the key of the bottomless pit and a great chain in his hand. And he laid hold on the dragon, that old serpent, which is the Devil, and Satan, and bound him a thousand years, And cast him into the bottomless pit, and shut him up, and set a seal upon him, that he should deceive the nations no more, till the thousand years [the Millennium] should be fulfilled" (Rev. 20:1-3).


One of Christ's first acts at His Second Coming will be to bind Satan so that the devil can no longer deceive the world (Rev. 12:9).


Then what will happen?


"And I saw thrones, and they [the saints] sat upon them, and judgment was given unto them… and they lived and reigned with Christ a thousand years [the Millennium]. But the rest of the dead lived not again until the thousand years were finished. This is the first resurrection [the resurrection of the saints, who will rule with Jesus Christ during the Millennium]. Blessed and holy is he that hath part in the first resurrection: on such the second death hath no power, but they shall be priests of God and of Christ, and shall reign [on the earth] with him a thousand years" (Rev. 20:4-6).


Jesus promised that the saints — those who allow themselves to be ruled by God's law, who overcome and who endure to the end — would be given power over the nations (Rev. 2:26-27, 3:21) and that they would reign with Him on the earth (Rev. 5:10, Dan. 7:27, 2:44).
Jesus will then be "Lord of lords, and King of kings" (Rev. 17:14). Zechariah prophesied that "the Lord shall be king over all the earth: in that day shall there be one Lord, and his name one" (Zech. 14:9). Jesus' headquarters will be in Jerusalem (Jer. 3:17), from which He and

His saints will rule the world.

At last — utopia!

God's Kingdom — God's Family — will rule this earth in true peace, prosperity and happiness. Let us notice some of the many scriptures that describe the coming wonderful world tomorrow.


With Satan bound — put in an abyss and restrained, for 1,000 years, from deceiving the nations — what will happen?


"He [Satan] who smote the people in wrath with a continual stroke, he that ruled the nations in anger, is persecuted, and none hindereth. The whole earth is at rest, and is quiet: they break forth into singing" (Isa. 14:6-7). Yes, the nations will break forth into singing when Satan is bound. The earth will finally know peace — no more strife or war.


God will then open, for the first time, the minds of all people to His truth (Isa. 25:7). God will begin to offer His Holy Spirit and salvation to mankind as a whole. Man's very nature — his carnal, selfish orientation toward getting instead of giving — will be changed to God's way of giving, serving, sharing, of having concern for others equal to or greater than concern for self (Jer. 31:31-34).


At last, God's law will be written in the hearts and minds of all mankind, and crime, war, sickness and violence will vanish. Man will learn that obedience to God's law pays big dividends.


Mankind will actually begin to seek God — will want to learn of and live by God's way:


"And it shall come to pass in the last days, that the mountain of the Lord's house shall be established in the top of the mountains … and all nations shall flow unto it. And many people shall go and say, Come ye, and let us go up to the mountain of the Lord, to the house of the God of Jacob; and he will teach us of his ways, and we will walk in his paths: for out of Zion shall go forth the law [of God], and the word of the Lord from Jerusalem.


"And he shall judge among the nations, and shall rebuke many people: and they shall beat their swords into plowshares, and their spears into pruninghooks: nation shall not lift up sword against nation; neither shall they learn war any more" (Isa. 2:2-4).


The prophet Micah adds this interesting detail: "But they shall sit every man under his vine and under his fig tree; and none shall make them afraid: for the mouth of the Lord of hosts hath spoken it" (Mic. 4:4).


Today people live in constant fear of violence and crime from fellowman; nations live in dread of the nuclear mushroom cloud. But in the wonderful world tomorrow, "None shall make them afraid"!


Man will not only be at peace with his fellowman, but with nature itself. God will change the animals' nature also:


"The wolf also shall dwell with the lamb, and the leopard shall lie down with the kid; and the calf and the young lion and the fatling together; and a little child shall lead them. And the cow and the bear shall feed [together]; their young ones shall lie down together: and the lion shall eat straw like the ox. And the sucking child shall play on the hole of the asp, and the weaned child shall put his hand on the cockatrice den.


"They shall not hurt nor destroy in all my holy mountain: for the earth shall be full of the knowledge of the Lord, as the waters cover the sea" (Isa. 11:6-9).


What a wonderful, utopian age is about to dawn on this planet!

A world of abundance

Revolutions will take place in agriculture and construction. Man will no longer be occupied with war and trying to harm his fellowman. Under the direction of Christ and the immortal rulers, man will be able to devote his energies to food production and rebuilding — properly — civilization. God will even change the weather and landscapes to promote man's physical prosperity (Isa. 30:23-25).


Isaiah 35 gives further details about the Messiah's reign:

"The wilderness and the solitary place shall be glad for them; and the desert shall rejoice, and blossom as the rose. It shall blossom abundantly, and rejoice even with joy and singing… Then the eyes of the blind shall be opened, and the ears of the deaf shall be unstopped. Then shall the lame man leap as an hart, and the tongue of the dumb sing: for in the wilderness shall waters break out, and streams in the desert. And the parched ground shall become a pool, and the thirsty land springs of water… And an highway shall be there, and a way… of holiness" (verses 1-2, 5-8).


No more will thousands starve to death daily, while millions of others suffer malnutrition because of lack of food (Amos 9:13-15).


What a time of prosperity! Man will have abundant reason to rejoice (Jer. 31:12-13, 30:19).


During the Millennium, God's people will show the nations of this earth how to build and how to restore, unlike today, when so many are bent on tearing down and destroying (Isa. 61:4).

Right religion and education

Under the training of Christ and God's immortal, spirit-born children, man will finally learn and practice God's way — the way to every abundant blessing. Religion and education will be inextricably intertwined (Isa. 30:20-21).


The immortal saints will be able to suddenly appear and rebuke anyone who goes the wrong way.


True religion will be enforced. Mankind will begin to keep all God's laws, which will include observing His Sabbaths and Holy Days (lsa. 66:23-24, Zech. 14:16-19). Individuals who rebel against Christ's rule will be dealt with swiftly and surely.


When man begins keeping God's Holy Days, including the Feast of Tabernacles, he will learn that God's festivals reveal God's great master plan.


In addition, there will be no more confusion of tongues — the whole earth will be united with one language (Zeph. 3:9).


And during the Millennium Jesus Christ — God Himself — will dwell on earth, at Jerusalem, with mankind (Isa. 33:17-20, Joel 3:20-21). Jerusalem will truly become the "City of Peace" during the Millennium.

The whole world will rejoice

This earth cannot know true, lasting peace (lsa. 59:8) until the "Prince of Peace" (Isa. 9:6-7) returns to this planet and establishes His world-ruling government.


We are commanded to rejoice during our Feast of Tabernacles celebrations because this great Feast of Ingathering pictures the soon-coming Kingdom of God, when Christ will do just that.  …


When God restores His law and His way of life — His divine government — to this war-weary earth, then we shall have unprecedented peace, happiness, abundant health and worldwide prosperity. This wonderful world tomorrow — the 1,000-year rule of the Kingdom of God — will be a time of supreme rejoicing for all nations.


What a world that will be! (Good News, September 1982)

God's Word has much more to say about what God's Kingdom will be like. If you would like to know more, please read our free booklet, The Gospel of the Kingdom of God.
Now, notice something else put out by the old Worldwide Church of God:
You CAN Be Positive in Today's World

Sure, there's a better world coming In the future, but how can you stay positive in this evil age? The Bible tells!

Terrorism! Murder! Financial crises! War! Family breakups! Weather upsets! Famine! Pollution!


Every day, terrifying tragedies jump out at us in startling headlines from the front pages of our newspapers.


Just hearing the morning news is enough to make anyone start the day gloomy and pessimistic. Thinking only of today's difficult times and the even more traumatic times to come can lead us into discouragement and despondency. While Jesus Christ tells us to watch world events (Luke 21:36), He also expects us to think and act in a positive manner. We should not become overwhelmed or dismayed by what we see happening or what we know is prophesied to strike the earth.


Paul, in Colossians 3:15, says, "And let the peace of God rule in your hearts, to which also you were called in one body; and be thankful."


God's peace should reign supreme in our minds. We as God's people are called to peace. Those whom God has called and chosen to be in His Family have the assurance that nothing can force them to fall prey to Satan.


Consider John 6:37 and 39: "All that the Father gives Me will come to Me, and the one who comes to Me I will by no means cast out…. This is the will of the Father who sent Me, that of all He has given Me I should lose nothing, but should raise it up at the last day."


Most people are in bondage to the uncertainty, fear, worry and anxiety of the times in which we live. The Christian is different. He has tranquility and peace of mind. Romans 8:15 explains, "For you did not receive the spirit of bondage again to fear, but you received the Spirit of adoption [sonship] by which we cry out, 'Abba, Father.'"

Formula for a right attitude

But does God simply tell us to have peace of mind, without telling us how? No indeed. In Philippians 4:8, God gives us a formula that, if followed, will guarantee that we stay in a positive frame of mind: "Finally, brethren, whatsoever things are true, whatsoever things are honest, whatsoever things are just, whatsoever things are pure, whatsoever things are lovely, whatsoever things are of good report; if there be any virtue, and if there be any praise, think on these things" (Authorized Version).


In other words, God wants us to focus our minds not on the negative side of this life, but on the positive.
Let's examine this verse phrase by phrase, noting some examples in each area where Paul said we should direct our thoughts.

Focus on truth

"Finally, brethren, whatsoever things are true…"


God's promises are true and sure. In Psalms 119:160 we read that God's Word is true in its entirety. God has revealed the purpose of life, that He is reproducing Himself and desires that every human being enter His Family (Romans 8:14-17).


In spite of the appalling conditions now prevalent in this world, God will soon restore health and well-being to humanity and make the earth a sparkling, magnificent gem (Isaiah 35). That is what is true!


It's also true that humanity's greatest enemy — death — will be abolished, and that all our loved ones will see God (I Corinthians 15:26).


One of Jesus Christ's names, in fact, is True: "Then I saw heaven opened, and, behold, a white horse. And He who sat on him was called Faithful and True" (Revelation 19:11).


When we read the Bible we can know absolutely that whatever God has promised, He will do, because He speaks truth and cannot lie (Numbers 23:19). This should be a great comfort to us. There is never any need to doubt what God says.


"Whatsoever things are honest [or honorable]…"


Dishonesty is everywhere. People write checks knowing that they will bounce. Advertising is notorious for its exaggerated claims and outright falsehoods. Theft has reached into every person's pocket.


But occasionally, when a little honesty comes to light — taxi driver returns a watch left by a passenger, for instance, or a dry cleaning worker hands in money found in a pocket — we see a little light in the darkness. Think what the world tomorrow will be like when similar examples will be the norm, not rare exceptions.


Now let's turn to the other meaning of this phrase — "honorable." What can you think of that is honorable?
Hebrews 13:4 tells us that the marriage union is honorable. If you are married, think of the ways you can honor your spouse and your marriage by giving of yourself.


The Bible tells us that anyone who fears God should be honored (Psalm 15:4).


The elderly couple who have reared fine children or led lives of service to others are worthy of honor (Proverbs 16:31). So is the young man or woman who shows character and clings to high values. Even the child who strives diligently to master long division is worthy of honor.


"Whatsoever things are just…"


In the Bible, the word just means far more than fair or equitable. It also refers to righteousness. God's commandments are just (Romans 7:12), and are an excellent subject for meditation. David said that God's law is perfect, sure, right and pure (Psalm 19:7-8), and that meditation on it made him wiser than his teachers. God's laws and statutes are excellent subjects to think on, for God's commandments reveal just what a righteous and just God He is.


In God's Kingdom, Jesus Christ will rule justly. We can look forward to disputes being settled justly, whether among nations or individuals, for God can read the thoughts and intents of the heart.


Notice the attitude of the world's coming ruler , Jesus Christ: "His delight is in the fear of the Lord, and He shall not judge by the sight of His eyes, nor decide by the hearing of His ears; but with righteousness He shall judge the poor, and decide with equity for the meek of the earth" (Isaiah 11:3-4).


Under God's rule, humanity will receive the benefits of its labor. No human or government will take away that which rightfully belongs to any individual. Imagine how wonderful the world will be when everyone can rest assured that his problem will be resolved justly.


"Whatsoever things are pure…"


Purity means clarity or freedom from anything that weakens or pollutes. And what is the most important thing of all for anyone to keep pure? Character.


Developing pure character — the courage and conviction to find out what is right and the will and ability to do what is right, despite temptations to compromise — is the very purpose for which man was put on the earth.


Pure love and friendship are hard to find in this era of me-first attitudes. But we can learn to love with purity, without reservation or deceit.


I Peter 1:22 states, "Since you have purified your souls in obeying the truth through the Spirit in sincere love of the brethren, love one another fervently with a pure heart."


I Timothy 1:5 reads, "Now the purpose of the commandment is love from a pure heart." Keeping God's commandments leads to being able to love with pure motives.


"Whatsoever things are lovely…"


God's creation is the quintessence of loveliness. The majesty of the Rocky Mountains of North America, the Alps of Europe and New Zealand, the fjords of Scandinavia, lift the spirit. Think of the spectacularly or subtly beautiful places you have seen, either in person or in pictures.


Many of humanity's highest works and achievements can also be called truly beautiful. Learn to admire and enjoy beauty and loveliness in art, literature, poetry, dress, ornament and music. Enjoy what is lovely now, anticipating the time when God will make the earth a lovely place to live, a place where beauty will be perfected.


"Whatsoever things are of good report…"


Remember what God said about His Son Jesus when John baptized Jesus in the Jordan River? "And suddenly a voice came from heaven, saying, 'This is My beloved Son, in whom I am well pleased'" (Matthew 3:17). Words of praise and appreciation from a parent or respected person are like music to a son's or a daughter's ears.


Rejoice when others succeed, not when they fail. And don't forget that there's potential for success in all people. God likes to hear good reports of His people. He has planned for everyone to receive a good report at Jesus' return if they accept His way.
What else is of good report? The work of God is growing all over the world. The true Gospel of God's Kingdom is reaching more people now than ever before, adding hope and happiness to these people's lives every day. That's definitely a good report.


How encouraging to think of what God is accomplishing!


"If there be any virtue, and if there be any praise…"


How often do we count our blessings? Do we praise God for what we have? We may not have perfect health, but we can be encouraged by the strength and hope that others, with even more serious problems, show. Remember the man who complained that he had no shoes?

He changed his attitude when he saw a man who had no feet.


God is to be praised for all He has done for us. Read the Psalms, for instance. They are full of words of praise for the great God who made heaven and earth.

As a person thinks…

Philippians 4:8 ends with the admonition, "Think on these things."


Thought leads to action. Dwelling upon sinful pleasures leads to sin, but a positive approach to life leads to success.


David had a positive approach toward his battle with Goliath. He understood what Proverbs 23:7 explains: "For as he thinks in his heart, so is he." David knew that he could beat the Philistine giant because he had faith God was on his side. He didn't let negative thoughts about Goliath's size and power deter him.


In his match with Goliath, David was battling for his physical life. We are in a similar battle, but our eternal life is at stake.


Satan would like to have us feel it is useless to go on. He would like us to think only on the hopelessness of this world. If he can get us into a negative frame of mind, he can destroy us!


But God is on our side with a full arsenal of spiritual weapons!


As Christians we are to be lights to the world (Matthew 5:14-16). We must stand positive about the future and the ultimate destiny of humankind. (Adair C. Good News, March 1985)
As far as some information on the good news of the coming Kingdom of God, the Continuing Church of God put out the following sermon on its ContinuingCOG channel:
Is utopia possible? Will humans bring it about? Are we about to go from a time of chaos to a time of humanitarian peace? Will climate change policies result in equity? Will gender fluidity and reproductive rights lead to peace? What about the World Council of Churches, the Vatican, the ecumenical/interfaith movement? Was the United Nation's the last real hope for human peace? Should we expect the 'great reset' to be the answer? What about a possible European utopia? Is a time of peace going to come? What about the Kingdom of God? Will it be a millennium of peace? Is it really real? Can a church-state combination bring in a time of abundance, peace, and prosperity? Will the kingdom of God be based on law and God's governance? Who will teach people in the millennium? Will the nations of this world be angry when Jesus returns? Can you count on the coming millennium utopia from God? Dr. Thiel addresses these issues and more.
Here is a link to our sermon: Utopia: From Humans or God?
No matter what views you have on politics and elections, a better world is coming.
Remember, Jesus said;
25 "Therefore I say to you, do not worry about your life, what you will eat or what you will drink; nor about your body, what you will put on. Is not life more than food and the body more than clothing? 26 Look at the birds of the air, for they neither sow nor reap nor gather into barns; yet your heavenly Father feeds them. Are you not of more value than they? 27 Which of you by worrying can add one cubit to his stature?

28 "So why do you worry about clothing? Consider the lilies of the field, how they grow: they neither toil nor spin; 29 and yet I say to you that even Solomon in all his glory was not arrayed like one of these. 30 Now if God so clothes the grass of the field, which today is, and tomorrow is thrown into the oven, will He not much more clothe you, O you of little faith?

31 "Therefore do not worry, saying, 'What shall we eat?' or 'What shall we drink?' or 'What shall we wear?' 32 For after all these things the Gentiles seek. For your heavenly Father knows that you need all these things. 33 But seek first the kingdom of God and His righteousness, and all these things shall be added to you. 34 Therefore do not worry about tomorrow, for tomorrow will worry about its own things. Sufficient for the day is its own trouble. (Matthew 6:25-34)
Yes, put your focus on the coming Kingdom of God.
Some additional items of possibly related interest may include:
The Gospel of the Kingdom of God This free online pdf booklet has answers many questions people have about the Gospel of the Kingdom of God and explains why it is the solution to the issues the world is facing. Here are links to four related sermons:  The Fantastic Gospel of the Kingdom of God!, The World's False Gospel, The Gospel of the Kingdom: From the New and Old Testaments, and The Kingdom of God is the Solution.
Did The Early Church Teach Millenarianism? Was the millennium (sometimes called chiliasm) taught by early Christians? Who condemned it? Will Jesus literally reign for 1000 years on the earth? Is this time near? Three related sermons are available Let's Talk About the Earthly Millennium, Millennial Utopia, and The Millennium.
Does God Have a 6,000 Year Plan? What Year Does the 6,000 Years End? Was a 6000 year time allowed for humans to rule followed by a literal thousand year reign of Christ on Earth taught by the early Christians? Does God have 7,000 year plan? What year may the six thousand years of human rule end? When will Jesus return? 2031 or ? There is also a video titled 6000 Years: When will God's Kingdom Come? Here is a link to the article in Spanish: ¿Tiene Dios un plan de 6,000 años?
Should a Christian Vote? This article gives some of the Biblical rationale on this subject. Would Jesus vote for president/prime minister? Is voting in the Bible? This is a subject Christians need to understand. A video of related interest is available titled: Should Christians Vote? Another video is Biden, Trump, and the Bible.
Should the Church Still Try to Place its Top Priority on Proclaiming the Gospel or Did Herbert W. Armstrong Change that Priority for the Work? Some say the Church should mainly feed the flock now as that is what Herbert W. Armstrong reportedly said. Is that what he said? Is that what the Bible says? What did Paul and Herbert W. Armstrong expect from lower level leaders? Two related sermons are available The Work per HWA and the Bible and Priority of the Philadelphia Work.