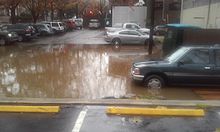 'El Niño' flooding in Atlanta (PonchoKitty)

Weather for last year and this week are making the news:
January 20, 2016

The globally averaged temperature over land and ocean surfaces for 2015 was the highest among all years since record keeping began in 1880. During the final month, the December combined global land and ocean average surface temperature was the highest on record for any month in the 136-year record. …

It's official: 2015 'smashed' 2014's global temperature record. It wasn't even closeJanuary 20, 2016

2015's sharp spike in temperatures was aided by a strong El Nino weather pattern late in the year that caused ocean waters in the central Pacific to heat up. But the unusual warming started early and steadily gained strength in a year in which ten of 12 months set all-time records, scientists said.

The new figures, based on separate sets of records kept by NASA and the National Oceanic and Atmospheric Administration, could fuel debate over climate change in an election year in which the two main political parties remain divided over what to do about global warming and, indeed, whether it exists. https://www.washingtonpost.com/news/energy-environment/wp/2016/01/20/its-official-2015-smashed-2014s-global-temperature-record-it-wasnt-even-close/
January 20, 2016
A heavy snowfall continues to hit Moscow and other areas in Russia, grounding flights and causing havoc on the roads. Russian forecasters Tuesday raised the level of danger due to weather to "orange," the second-highest alert level, due to heavy winds and snow. Two other regions of Russia, Oryol and Kursk, are at "red," the highest level of danger. http://www.voanews.com/media/video/russian-regions-on-alert-for-dangerous-weather/3154006.html
January 20, 2016
The big storm system will move up the mid-Atlantic coastline Friday into Saturday, threatening New Hampshire with snow and wind. However, the latest weather models meteorologists use to see how the storm might track are pushing the storm farther away from us.

This nor'easter will develop in the southeastern U.S. in the next 48 hours and then track into the Mid-Atlantic states by Friday evening. Communities in the Appalachians and to the west of Washington, D.C., are forecast to get the brunt of this storm, with up to two feet of snow. http://www.wmur.com/weather/stormwatch/latest-models-weekend-noreaster-tracking-slightly-farther-south/37526254
While humans often seem to think otherwise, God is in charge and controls the weather.
7 Praise the Lord from the earth,
You great sea creatures and all the depths;
8 Fire and hail, snow and clouds;
Stormy wind, fulfilling His word; (Psalms 148:7-8, NKJV throughout unless otherwise indicated)

26 "Behold, God is great, and we do not know Him; Nor can the number of His years be discovered. 27 For He draws up drops of water, Which distill as rain from the mist, 28 Which the clouds drop down And pour abundantly on man. 29 Indeed, can anyone understand the spreading of clouds, The thunder from His canopy? 30 Look, He scatters His light upon it, And covers the depths of the sea. 31 For by these He judges the peoples; He gives food in abundance. 32 He covers His hands with lightning, And commands it to strike. 33 His thunder declares it, The cattle also, concerning the rising storm. (Job 36:26-33)

25 For He commands and raises the stormy wind,Which lifts up the waves of the sea. 26 They mount up to the heavens, They go down again to the depths;Their soul melts because of trouble. 27 They reel to and fro, and stagger like a drunken man, And are at their wits' end. 28 Then they cry out to the Lord in their trouble, And He brings them out of their distresses. 29 He calms the storm,So that its waves are still. 30 Then they are glad because they are quiet; So He guides them to their desired haven. 31 Oh, that men would give thanks to the Lord for His goodness, And for His wonderful works to the children of men! 32 Let them exalt Him also in the assembly of the people, And praise Him in the company of the elders. 33 He turns rivers into a wilderness, And the watersprings into dry ground; 34 A fruitful land into barrenness, For the wickedness of those who dwell in it. 35 He turns a wilderness into pools of water, And dry land into watersprings. 36 There He makes the hungry dwell, That they may establish a city for a dwelling place, 37 And sow fields and plant vineyards, That they may yield a fruitful harvest. 38 He also blesses them, and they multiply greatly; And He does not let their cattle decrease. (Psalms 107:25-38)

17 He casts out His hail like morsels;
Who can stand before His cold?
18 He sends out His word and melts them;
He causes His wind to blow, and the waters flow.  (Psalms 147:17-18)

3 He sends it forth under the whole heaven, His lightning to the ends of the earth. 4 After it a voice roars; He thunders with His majestic voice, And He does not restrain them when His voice is heard. 5 God thunders marvelously with His voice; He does great things which we cannot comprehend. 6 For He says to the snow, 'Fall on the earth'; Likewise to the gentle rain and the heavy rain of His strength. 7 He seals the hand of every man, That all men may know His work. 8 The beasts go into dens, And remain in their lairs. 9 From the chamber of the south comes the whirlwind, And cold from the scattering winds of the north. 10 By the breath of God ice is given, And the broad waters are frozen. 11 Also with moisture He saturates the thick clouds; He scatters His bright clouds. 12 And they swirl about, being turned by His guidance, That they may do whatever He commands them On the face of the whole earth. 13 He causes it to come, Whether for correction, Or for His land, Or for mercy. (Job 37:3-13)
God controls the weather. As the Book of Job records above, cold and snowy weather is sometimes used by God for correction. The following shows that God sometimes uses hail and snow for punishment:
22 "Have you entered the treasury of snow, Or have you seen the treasury of hail, 23 Which I have reserved for the time of trouble, For the day of battle and war?  (Job 38:22-23)
Weather is not as random as most seem to want to believe.
As regular readers of this page are aware, I have repeatedly warned of weather problems coming. Back in 2009, in my book, 2012 and the Rise of the Secret Sect, I wrote that the following was about to happen:
| | |
| --- | --- |
| Odd weather patterns result in food shortages and natural disasters. | Matthew 24:7 |
| | |
| --- | --- |
| The world is actually in a berserk transition, as the real age of peace is not yet here. It may be a period of chaos. It is the beginning of sorrows. | Matthew 24:8 |
Record smashing heat and odd weather problems should serve as a wake-up call.
In the Americas, the phenomena known as El Niño is being blamed. But that begs the question as to what causes the El Niño phenomena.
Weather problems, including flooding and tornadoes, were prophesied to come as the result of sin:
13 Therefore thus says the Lord God: "I will cause a stormy wind to break forth in My fury; and there shall be a flooding rain in My anger, and great hailstones in fury to consume it. 14 So I will break down the wall you have plastered with untempered mortar, and bring it down to the ground, so that its foundation will be uncovered; it will fall, and you shall be consumed in the midst of it. Then you shall know that I am the Lord. (Ezekiel 13:13-14)

3 The Lord is slow to anger and great in power,
And will not at all acquit the wicked.

The Lord has His way
In the whirlwind and in the storm,
And the clouds are the dust of His feet. (Nahum 1:3)
What about record heat?
It will get much worse later:
8 Then the fourth angel poured out his bowl on the sun, and power was given to him to scorch men with fire. 9 And men were scorched with great heat, and they blasphemed the name of God who has power over these plagues; and they did not repent and give Him glory. (Revelation 16:8-9)
The Bible is clear that God controls the weather and various calamities, but wants people to heed His prophets:
6… If there is calamity in a city, will not the Lord have done it?

7 Surely the Lord God does nothing, Unless He reveals His secret to His servants the prophets. (Amos 3:6-7)
The Bible tells of weather-related blessings for obedience and weather-related curses for disobedience. Weather is not as random as many people seem to want to believe.
The Bible shows:
30 God…commands all men everywhere to repent (Acts 17:30)
And weather-problems are one way that God uses to urge people to repent (cf. Haggai 2:17; Amos 4:7-12).
Most will ignore weather changes and simply believe that weather changes all the time and the changes do not have to do with God or disobeying His laws.
Yet, the Bible shows that weird, severe, and odd weather patterns are part of the warning messages that God gives.
Are you paying attention to those messages?
Some items of interest may include the following:
Weather Blessings and Sorrows Are weather problems a warning? What should be done? What does the Bible teach about weather? What about floods, droughts, heat, earthquakes, tornadoes, and solar storms? Here is a related YouTube video Does God Use Weather? A related item in the Spanish language would be Bendiciones y maldiciones del clima.
Just What Do You Mean — Repentance? Do you know what repentance is? Have you truly repented? Repented of what? Herbert W. Armstrong wrote this as a booklet on this important subject.
When You Sin: Do You Really Repent? This is an article by Charles F. Hunting. A related sermon is Confess to God and truly repent.
Do Christians Sin? This is an article by Herbert W. Armstrong.
The Bible, Christians, and the Environment How should Christians view the environment? Does the Bible give any clues? What are some of the effects of air, water, and land pollution? Is environmental pollution a factor in autism and death? Do pollutants seem to double the autism risk? What will Jesus do? A YouTube video is available titled Air Pollution, Autism, and Prophecy.
Cross-dressing and other assaults against your children. What should you do? Is there an agenda to turn your children and/or grandchildren away from biblical morality and towards practices promoted by homosexuals? What does the Bible teach about cross-dressing? What should parents do? If there is an agenda, what has been going on? There are also two YouTube videos related to this, titled Transgender 'Woe to those who call evil good' and Cross dressing and Other Assaults Against Your Children.
The Bible Condemns Homosexuality "Same-sex marriage" for "gays" and lesbians is becoming more acceptable to many. What does the Bible teach about homosexuality? Can homosexuals change? A related video sermon is titled: What Does the Bible Really Teach about Homosexuality?
Pornography: A scourge on society Is pornography harmless fun? Does the Bible teach anything about it? What are the views of some involved with it? Here is a link to a YouTube video Pornography: Harmless Fun or a Scourge on Society?
Russia and Ukraine: Their Origins and Prophesied Future Russia in prophecy. Where do the Russians come from? What about those in the Ukraine? What is prophesied for Russia and its allies? What will they do to the Europeans that supported the Beast in the end? There is also a video sermon available: Russia in the Bible and in Prophecy and a video sermonette available: Ukraine in Prophecy?
Is Russia the King of the North? Some claim it is. But what does the Bible teach? Here is a link to a video, also titled Is Russia the King of the North?
Ezekiel 38: For Russia & Iran in Our Day? Is Ezekiel 38 about to be fulfilled? A related video is available titled Ezekiel 38: For Russia, Ukraine, & Iran Now? Another could be Russia, Iran, Syria, & the Bible (Code).
Does God Have a 6,000 Year Plan? What Year Does the 6,000 Years End? Was a 6000 year time allowed for humans to rule followed by a literal thousand year reign of Christ on Earth taught by the early Christians? Does God have 7,000 year plan? What year may the six thousand years of human rule end? When will Jesus return? 2023 or 20xx? There is also a video titled The 6000 Year Plan: Is the end of humanity's reign almost up? Here is a link to the article in Spanish: ¿Tiene Dios un plan de 6,000 años?
When Will the Great Tribulation Begin? 2016, 2017, or 2018? Can the Great Tribulation begin today? What happens before the Great Tribulation in the "beginning of sorrows"? What happens in the Great Tribulation and the Day of the Lord? Is this the time of the Gentiles? When is the earliest that the Great Tribulation can begin? What is the Day of the Lord? Who are the 144,000? Here is a version of the article in the Spanish language: ¿Puede comenzar la Gran Tribulación en 2016 o 2017? ¿Es el Tiempo de los Gentiles? You can also see the English language sermon video: The Great Tribulation from the Mount of Olives. A shorter video is: Can the Great Tribulation Start in 2016?
Anglo – America in Prophecy & the Lost Tribes of Israel Are the Americans, Canadians, English, Scottish, Welsh, Australians, Anglo-Saxon (non-Dutch) Southern Africans, and New Zealanders descendants of Joseph? Where are the lost ten-tribes of Israel? Who are the lost tribes of Israel? What will happen to Jerusalem and the Jews in Israel? Will God punish the U.S.A., Canada, United Kingdom, and other Anglo-Saxon nations? Why might God allow them to be punished first? Here is a link to the Spanish version of this article: Anglo-América & las Tribus Perdidas de Israel. Information is also in the YouTube sermons titled Where are the Ten Lost Tribes? Why does it matter? and British are the Covenant People. A short YouTube of prophetic interest may be Barack Obama and the State of the Apocalypse.
Will the Anglo-Saxon Nations be Divided and Have People Taken as Slaves? Will the lands of the United States, United Kingdom, Canada, Australia, and New Zealand be divided? What about Jerusalem? What does Bible prophecy teach? Are there non-biblical prophecies that support this idea? Who will divide those lands? Who will end up with the lands and the people? Here is a link to a video titled Will the USA and other Anglo-nations be Divided and Their People Made Slaves? Here is a related item in the Spanish language ¿Serán divididas las naciones anglosajonas?