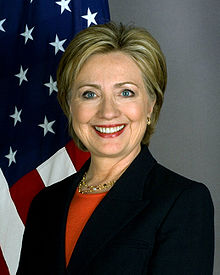 Hillary Rodham Clinton
US Secretary of State Hillary Clinton made some comments about Syria and Iran today:
28 September 2012

Iran has left no doubt that it will do whatever it takes to protect the government of Syrian President Bashar Assad, Tehran's staunch ally, US Secretary of State Hillary Clinton said on Friday.

Clinton also said the United States was offering the Syrian opposition an additional $45 million in non-lethal and humanitarian aid – $30 million for humanitarian assistance and $15 million for non-lethal help, such as radios and training…

"Let's be very frank here – the regime's most important lifeline is Iran. Last week a senior Iranian official publicly acknowledged that members of the Iranian (Islamic) Revolutionary Guard Corps are operating inside Syria," she told a group of foreign ministers at a meeting in New York.

"There is no longer any doubt that Tehran will do whatever it takes to protect its proxy and crony in Damascus," Clinton said.  http://www.jpost.com/MiddleEast/Article.aspx?id=286490
The USA is signally that it believes that conflict involving Syria must also involve Iran.  The Bible shows that Syria's capital Damascus will be destroyed (Isaiah 17:1).  Iran's defense will not prevent that.
Iran and Israel have been in the news as well with the drum beats of war:
28 September 2012

Netanyahu has repeatedly been at odds with world powers over Iran's nuclear program. He has argued that time is running out to stop Iran from becoming a nuclear power and that the threat of force must be seriously considered.

While the international community has pushed for diplomacy as a way to dislodge Iran, Netanyahu has prodded world powers to set a red line on Iran. Obama has vowed to prevent Iran from becoming a nuclear power but has rejected Netanyahu's demands for setting an ultimatum past which the U.S. would attack. Iran says its nuclear program is for peaceful purposes.  http://www.foxnews.com/world/2012/09/28/netanyahu-bomb-steals-show-in-his-un-speech/#ixzz27nGesf2f

28 September 2012

TEHRAN — Israel's threats of military action against Iran over its nuclear programme only serve to boost the defiance of the Islamic republic, the head of the Revolutionary Guards said on Friday.

"The enemies want to stop us continuing our path… but these threats only reinforce our determination to continue in the same direction," General Mohammad Ali Jafari said in a speech to thousands of members of the country's Basij militia, according to the Guards' Sepahnews website.  http://www.google.com/hostednews/afp/article/ALeqM5jU9lRDQxw78RA59EKXODysBDx8uA?docId=CNG.769e34f82b9f0da5582576802e07d10b.4e1

28 September 2012

WASHINGTON – The White House stressed Friday that the US and Israel are "in full agreement" on preventing Iran from acquiring a nuclear weapon, following a phone conversation between US President Barack Obama and Prime Minister Binyamin Netanyahu.  http://www.jpost.com/International/Article.aspx?id=286503

28 September 2012

UNITED NATIONS: Iran and Israel stepped up their nuclear tensions on Friday with Iran's foreign minister calling for UN Security Council action over the killings of nuclear scientists he blames on Israel…Iran sent a diplomat to the UN assembly to warn that it would "retaliate with full force" against any attack and to demand that the international community "exert pressure on this regime to end all this irresponsible behavior."  http://timesofindia.indiatimes.com/world/middle-east/Iran-Israel-step-up-nuclear-showdown-at-UN/articleshow/16593278.cms
Since Iran is basically east, and not south, of Jerusalem, Iran will not be the final King of the South (Daniel 11:40) of biblical prophecy. Hence, since Iran is currently is one the most important Islamic military power in the world and Syria's strongest ally, its influence will somehow need to be eliminated or somehow neutralized (though I suspect it will likely still support the King of the South unless it is felt that too many Arab powers were involved in its neutralization). Trade sanctions, combined with a possible attack by Israel and/or the USA and/or internal unrest in Iran (and possibly all of those) will likely result in a change in Iran (and Syria). And according to Hillary Clinton's current as well as earlier comments, such military attacks seem highly viable.
The situation in the Middle East is volatile and the USA may find that there will be a higher cost to engaging Syria and Iran militarily than it still thinks likely.  But, irrespective of whatever Iran may put forth, it will not prevent Syria's capital from becoming a "ruinous heap" (Isaiah 17:1)
Some articles of possibly related interest may include:
Is There A Future King of the South? Some no longer believe there needs to be. Might Egypt, Islam, Iran, Arabs, or Ethiopia be involved? Might this King be called the Mahdi? What does the Bible say?
The Arab and Islamic World In the Bible, History, and Prophecy The Bible discusses the origins of the Arab world and discusses the Middle East in prophecy. What is ahead for the Middle East and those who follow Islam? What about the Imam Mahdi? What lies ahead for Turkey, Iran, and the other non-Arabic Muslims?
Arabic Nazarenes May Have Kept Original Christian Practices Were their faithful Arabs who held to original Christianity?
Barack Obama, Prophecy, and the Destruction of the United States This is a 160 page book for people truly interested in prophecies related to Barack Obama and the United States, including learning about many that have already been fulfilled (which the book documents in detail) and those that will be fulfilled in the future. It also has a chapter about Mitt Romney. This book is available to order at www.barackobamaprophecy.com. The physical book can also be purchased at Amazon from the following link:  Barack Obama, Prophecy, and the Destruction of the United States: Is Barack Obama Fulfilling Biblical, Islamic, Catholic, Kenyan, and other America-Related Prophecies? What About Mitt Romney?
Barack Obama, Prophecy, and the Destruction of the United States–Amazon Kindle edition. This electronic version is available for only US$2.99. And you do not need an actual Kindle device to read it. Why? Amazon will allow you to download it to almost any device: Please click HERE to download one of Amazon's Free Reader Apps.  After you go to for your free Kindle reader and then go to Barack Obama, Prophecy, and the Destruction of the United States–Amazon Kindle edition.)