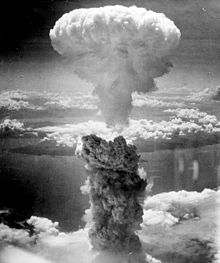 Nagasaki Nuclear Bomb (1945)
Tomorrow will mark the 77th anniversary of the dropping of a nuclear/atomic bomb on Hiroshima by the United States. This killed about 140,000 people. On August 9, 1945, Nagasaki was hit by a second nuclear/atomic bomb that killed about 70,000.
There truly was massive devastation in both Nagasaki and Hiroshima.
While the goal of many of the Japanese has been to wipe out weapons of mass destruction, Japan stated a few years ago that it has modified its interpretation of its Constitution (see Japan changes to allow it to increase, as well as be more open, about its military developments) and may some day make nuclear weapons of its own.
Bible prophecy warns that more wars and destruction are coming (Daniel 11:39-44; Revelation 13:4) and that there will be false declarations (1 Thessalonians 5:3) and hopes for peace (Romans 3:10-18).
Furthermore regarding future destruction, notice the following:
33 I will scatter you among the nations and draw out a sword after you; your land shall be desolate and your cities waste (Leviticus 26:33).
And while God did allow the Assyrians to scatter the children of Israel back in Old Testament times, they did not then destroy their cities. Thus, the "cities becoming waste" prophecy is still waiting to be fulfilled. This is expected to impact the descendants of Ephraim and Manasseh (the Anglo-nations). Nuclear and other high-tech weapons (as well as emp, electromagnetic pulse, bombs) are modern ways to make land desolate and cities waste.
Notice something that Jesus stated:
15 "Therefore when you see the 'abomination of desolation,' spoken of by Daniel the prophet, standing in the holy place" (whoever reads, let him understand), 16 "then let those who are in Judea flee to the mountains. 17 Let him who is on the housetop not go down to take anything out of his house. 18 And let him who is in the field not go back to get his clothes. 19 But woe to those who are pregnant and to those who are nursing babies in those days! 20 And pray that your flight may not be in winter or on the Sabbath. 21 For then there will be great tribulation, such as has not been since the beginning of the world until this time, no, nor ever shall be. 22 And unless those days were shortened, no flesh would be saved; but for the elect's sake those days will be shortened. (Matthew 24:15-22)
Yes, what is coming will be worse than what happened to Japan.
In 1948, the late Radio Church of God Pastor General Herbert W. Armstrong taught about what may happen at the beginning of the great tribulation and before Christ returns (the agreement he refers to at first may not be a public one):
There will be an agreement by which the police of the state will ENFORCE Catholicism upon all citizens inside its jurisdiction. The description of this new superstate is found in Revelation 17, a union of ten nations in Europe. It is pictured as the "BEAST"–which even footnotes in the Catholic Douay Bible admit is THE ROMAN EMPIRE…Thus once this EMPIRE is revived in Europe…the new-born…military power will without warning DESTROY AMERICAN AND BRITISH CITIES OVERNIGHT WITH ATOMIC BOMBS, conquering our peoples, taking our survivors to Europe as THEIR SLAVES! (Armstrong HW. Now it Can Be Told. The Plain Truth magazine. December 1948, p. 6)
Let me point out that I believed it will be a CHANGED version of Catholicism that will be enforced.
Anyway, while there may actually be even more modern weapons used than atomic bombs, later Herbert Armstrong specifically taught he felt that this attack would occur 30 days after the abomination of desolation taught about in Daniel 11:31 is fulfilled, which is probably around Daniel 11:39:
The indication is the armies of the "beast" of Revelation 17, entering Jerusalem…What is this abomination? This refers to Daniel 11:31 and Matthew 24:15…From this time (Daniel 12:11) to Christ's coming will be 1290 days. Now, verse 12, "Blessed is he that waiteth, and comes to the 1335 days." Never before have we understood these periods of 1260, 1290. and 1335 days. But it seems evident, now, a blessing is pronounced on us–GOD"S CHURCH–who wait and endure until the 1335 days–approximately 1335 days prior to Christ's coming…We shall then be warned, and readied to be taken to a place of refuge and safety from the Great Tribulation. Forty-five days later "the beast's armies" will surround Jerusalem. Thirty days later the Great Tribulation will probably start with a nuclear attack on London and Britain–and possibly the same day or immediately after, on the United States and Canadian cities. The GREAT TRIBULATION, we shall fully then realize, is the time of "Jacob's Trouble," spoken of in Jeremiah 30:7. And Jacob's name was named on Joseph's sons, Ephraim and Manasseh (Gen. 48:16). At that time a third of the people in our nations will die, or shall have died, by famine and disease epidemics; another third will dies of the war–our cities being destroyed (Ezek. 6:6), and the remaining third will be carried to the land of our enemies as slaves (Ezek. 5:12). (Armstrong HW. The Time We Are In, Now. Pastor General's Report-Vol 1, No. 15, November 20, 1979, Page 2)
Do any other verses in the Bible support the idea of something like a nuclear war?
Yes.
Consider the following:
23 'The whole land is brimstone, salt, and burning; it is not sown, nor does it bear, nor does any grass grow there, like the overthrow of Sodom and Gomorrah, Admah, and Zeboiim, which the Lord overthrew in His anger and His wrath.' 24 All nations would say, 'Why has the Lord done so to this land? What does the heat of this great anger mean?' 25 Then people would say: 'Because they have forsaken the covenant of the Lord God of their fathers, which He made with them when He brought them out of the land of Egypt; 26 for they went and served other gods and worshiped them, gods that they did not know and that He had not given to them. 27 Then the anger of the Lord was aroused against this land, to bring on it every curse that is written in this book. 28 And the Lord uprooted them from their land in anger, in wrath, and in great indignation, and cast them into another land, as it is this day.' 29 "The secret things belong to the Lord our God, but those things which are revealed belong to us and to our children forever, that we may do all the words of this law. (Deuteronomy 29:23-29).
The whole land being "brimstone, salt, and burning" is consistent with a nuclear type of attack.
19 Through the wrath of the LORD of hosts
The land is burned up,
And the people shall be as fuel for the fire; No man shall spare his brother.
20 And he shall snatch on the right hand
And be hungry;
He shall devour on the left hand
And not be satisfied; Every man shall eat the flesh of his own arm. 21 Manasseh shall devour Ephraim, and Ephraim Manasseh; Together they shall be against Judah (Isaiah 9:19-21).
Nuclear and certain other modern attacks tend to burn land up.
Jesus said that the time was coming when "there will be great tribulation, such as has not been since the beginning of the world until this time, no, nor ever shall be. And unless those days were shortened, no flesh would be saved; but for the elect's sake those days will be shortened' (Matthew 24:21-22). That is consistent with a nuclear war and probably something worse.
However, the good news of the Kingdom of God is that Jesus will return and put a stop to the type of nuclear devastation that happened in Nagasaki 74 years ago and the devastation that will happen during the Great Tribulation:
29 "Immediately after the tribulation of those days the sun will be darkened, and the moon will not give its light; the stars will fall from heaven, and the powers of the heavens will be shaken. 30 Then the sign of the Son of Man will appear in heaven, and then all the tribes of the earth will mourn, and they will see the Son of Man coming on the clouds of heaven with power and great glory. (Matthew 24:29-30)

6…And His name will be called
Wonderful, Counselor, Mighty God,
Everlasting Father, Prince of Peace.
7 Of the increase of His government and peace
There will be no end,
Upon the throne of David and over His kingdom,
To order it and establish it with judgment and justice
From that time forward, even forever.
The zeal of the Lord of hosts will perform this. (Isaiah 9:6-7)

1 Now I saw a new heaven and a new earth, for the first heaven and the first earth had passed away. Also there was no more sea. 2 Then I, John, saw the holy city, New Jerusalem, coming down out of heaven from God, prepared as a bride adorned for her husband. 3 And I heard a loud voice from heaven saying, "Behold, the tabernacle of God is with men, and He will dwell with them, and they shall be His people. God Himself will be with them and be their God. 4 And God will wipe away every tear from their eyes; there shall be no more death, nor sorrow, nor crying. There shall be no more pain, for the former things have passed away." (Revelation 21:1-4)
Nagasaki and Hiroshima are reminders to the world about how devastating modern warfare can be and that humankind needs a better way. Real peace is coming (check out the free online booklet: The Gospel of the Kingdom of God). And that peace will also include those in Japan.
Some items of possibly related interest may include:
Japan, Its Biblical Past and Future, Part 1: Any Witness? Where did the Japanese people come from? Have they had any witness?
Japan, Its Biblical Past and Future, Part 2: Prophecy Japan in prophecy. What is prophesied for Japan? Will God save the Japanese?
The Great Tribulation: What Happens First? What events have happened? What are some events that are now happening? And what events need to happen for the Great Tribulation to start? Here is a link to a related sermon video: Counting Down to the Great Tribulation. Here is a video in the Spanish language: Contando los eventos y el inicio de la Gran Tribulación.
When Will the Great Tribulation Begin? 2021, 2022, or 2023? Can the Great Tribulation begin today? What happens before the Great Tribulation in the "beginning of sorrows"? What happens in the Great Tribulation and the Day of the Lord? Is this the time of the Gentiles? When is the earliest that the Great Tribulation can begin? What is the Day of the Lord? Who are the 144,000? Here is a version of the article in the Spanish language: ¿Puede la Gran Tribulación comenzar en el 2020 o 2021? ¿Es el Tiempo de los Gentiles? A related video is: 2021: The Great Tribulation or the Great Reset? Here is a video in the Spanish language: Es El 2021 el año de La Gran Tribulación o el Grande Reseteo Financiero.
The Times of the Gentiles Has there been more than one time of the Gentiles? Are we in it now or in the time of Anglo-America? What will the final time of the Gentiles be like? A related sermon is available and is titled: The Times of the Gentiles.
Armageddon Who is involved and when will this gathering happen? Here is also a video from Dr. Thiel, from Tel Megiddo in Israel: Armageddon. Other videos include: Armageddon Will it come on Trump's watch?, Iraq, Armageddon, & Prophecy, Freemasonry, Armageddon, and Rome, Is China paving roads to Armageddon?, and Jordan, Petra, and Armageddon.
Proof Jesus is the Messiah This free book has over 200 Hebrew prophecies were fulfilled by Jesus. Plus, His arrival was consistent with specific prophecies and even Jewish interpretations of prophecy. Here are links to seven related sermons: Proof Jesus is the Messiah, Prophecies of Jesus' birth, timing, and death, Jesus' prophesied divinity, 200+ OT prophecies Jesus filled; Plus prophecies He made, Why Don't Jews Accept Jesus?, Daniel 9, Jews, and Jesus, and Facts and Atheists' Delusions About Jesus. Plus the links to two sermonettes: Luke's census: Any historical evidence? and Muslims believe Jesus is the Messiah, but … These videos cover nearly all of the book, plus have some information not in the book.
Will the Anglo-Saxon-Celtic Nations be Divided and Have People Taken as Slaves? Will the lands of the United States, United Kingdom, Canada, Australia, and New Zealand be divided? What about Jerusalem? What does Bible prophecy teach? Are there non-biblical prophecies that support this idea? Who will divide those lands? Who will end up with the lands and the people? Here is a link to a video titled Will the USA and other Anglo-nations be Divided and Their People Made Slaves? Here is a related item in the Spanish language ¿Serán divididas las naciones anglosajonas?
British are the Covenant People What do 'British' and 'Britain' mean in Hebrew? Are the descendants of the Anglo-Saxons people of the covenant? Does the British royal family connect to the throne of David? What does the Bible teach? What does history show us? Is there any DNA evidence related to British-Israelism? When did Christianity make it to the British Isles? Could Jeremiah have made it to the British Isles? What type of Christians made it to the British Isles? Did the last King of England believe in British Israelism?
Canada in Prophecy: What Does Bible Prophecy, Catholic Prophecy, and other Predictions Suggest About the Future of Canada? There are prophecies that suggest involvement with Canada. And many are not positive about its future. A sermon of related interest is also available: Canada in Prophecy.
Australia and New Zealand in Prophecy Do biblical prophecies help explain the wealth blessings for Australia and New Zealand? Might cursings from disobedience come in the 21st century? Here is a link to a related sermon: Australia and New Zealand: Origins and Prophecy.
SIXTH COMMANDMENT: Anger, Murder, Abortion, Sports, Self-Control, & Kindness Is there more to the 6th commandment than not murdering? What about abortion, hate, and violent sports? What is the attitude real Christians should have? Here is a link to a related sermon: : Murder, anger, kindness, and love.
The Gospel of the Kingdom of God This free online pdf booklet has answers many questions people have about the Gospel of the Kingdom of God and explains why it is the solution to the issues the world is facing. Here are links to four related sermons:  The Fantastic Gospel of the Kingdom of God!, The World's False Gospel, The Gospel of the Kingdom: From the New and Old Testaments, and The Kingdom of God is the Solution.