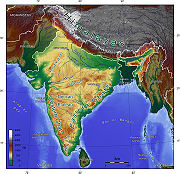 India
The following disturbing item was in the news today:
78 Die in Mumbai Shootings, Officials Say
MUMBAI, India (Nov. 26) – Teams of heavily armed gunmen stormed luxury hotels, a popular tourist attraction and a crowded train station in at least seven attacks in India's financial capital, killing at least 78 people and wounding at least 200, officials said Thursday.
The gunmen were specifically targeting Britons and Americans and a top police official said the gunmen are holding hostages at two luxury hotels, the Taj Mahal and Oberoi hotels.
A media report said a little-known group, the Deccan Mujahideen, has claimed responsibility for the attacks. The Press Trust of India news agency said Thursday the group sent emails to several media outlets.
The gunmen also attacked police headquarters in south Mumbai, the area where most of the attacks, which began late Wednesday and continued into Thursday morning, took place…
Alex Chamberlain said a gunman, a young man of 22 or 23, ushered 30 or 40 people from the restaurant into a stairway and ordered everyone to put up their hands.
"They were talking about British and Americans specifically. There was an Italian guy, who, you know, they said: 'Where are you from?" and he said he's from Italy and they said 'fine' and they left him alone. And I thought: 'Fine, they're going to shoot me if they ask me anything — and thank God they didn't," he said. http://news.aol.com/article/78-die-in-mumbai-shootings-reports-say/261363?icid=200100397x1214030726x1200873531
The "time of Jacob's trouble" is soon, but the end is not yet.
Several articles of possibly-related prophetic interest may include:
Anglo – America in Prophecy & the Lost Tribes of Israel Are the Americans, Canadians, British, Scottish, Welsh, Australians, Anglo-Southern Africans, and New Zealanders descendants of Joseph? Where are the lost ten-tribes of Israel? Who are the lost tribes of Israel? Will God punish the U.S.A., Canada, United Kingdom, and other Anglo nations? Why might God allow them to be punished first?
Prophecies of Barack Obama? Are there biblical and non-biblical prophecies about Barack Obama. Did Nostradamus predict Barack Obama dealing with the Antichrist?
India, Its Biblical Past and Future: Any Witness? The Bible discusses the origins of those of Indian heritage and discusses some of the witness to them.
End of Mayan Calendar 2012–Might 2012 Mean Something? There is a Mayan calendar prediction for change in 2012. 2012 changes were also centuries ago predicted by the Hopi Native Americans (the Hindus may have some predictions for the next decade as well). Do these Mayan/Hindu/Hopi prophecies have any value? Why might Satan have inspired this date? Does the Dresden codex show destruction of the earth by flood? Can the great tribulation start before 2012?
Does God Have a 6,000 Year Plan? What Year Does the 6,000 Years End? Was a 6000 year time allowed for humans to rule followed by a literal thousand year reign of Christ on Earth taught by the early Christians? When does the six thousand years of human rule end?
Can the Great Tribulation Begin in 2009, 2010, or 2011? Can the Great Tribulation begin today? When is the earliest that the Great Tribulation can begin? What is the Day of the Lord?