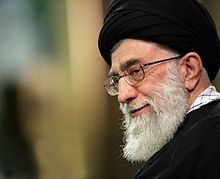 Ayatollah Ali Khamenei
The Iranian leadership has made statements about the proposed deal with the West (portion bolded below was by me):
April 9, 2015

Iran's Supreme Leader Ayatollah Ali Khamenei is stressing that a framework agreement with the West is no guarantee a final deal will be reached to scale back Tehran's nuclear program in exchange for lifting international sanctions.

In an address Thursday, Khamenei said he is "neither for nor against" the interim agreement reached last week by Iran and six world powers, insisting the deal is unfinished and non-binding.

However, Iran's most powerful official did express his continued support for the negotiations and said he is open to a compromise deal that "respects Iran's dignity and honor."

The cleric also slammed the United States for releasing a fact sheet following the talks that outlined Washington's interpretation of the agreement – a move he said reflected "devilish intentions."

Tehran and Washington have repeatedly disagreed over several key details, including the speed at which international sanctions against Iran would be lifted once a final deal is reached.

In a speech earlier Thursday, Iranian President Hassan Rouhani said Tehran would not accept any final deal unless all international sanctions are lifted.

"We will not sign any agreement unless all economic sanctions are lifted at once, on the very first day of the implementation of the agreement," Rouhani said at a speech to mark Iran's "National Nuclear Technology Day."

Sanctions

Iran has repeatedly demanded the sanctions be removed immediately and permanently, while the United States prefers a more gradual phasing-out process to ensure Iranian compliance.

Iran and the West have set a June 30 deadline to work out their disagreements, though Khamenei said Thursday it would not be "the end of the world" if that deadline were extended. http://www.voanews.com/content/rouhani-no-nuclear-deal-until-all-sanctions-removed/2712376.html

April 9, 2015

The framework deal agreed to after extended talks in Lausanne, Switzerland, states sanctions will be suspended after international monitors verify Iran is abiding by the limitations set out and that sanctions will resume if Iran fails to fulfill its obligations.

"It has never been our position that all of the sanctions against Iran should be removed from Day One," White House spokesman Josh Earnest said Monday.

Iran's Supreme Leader Ayatollah Ali Khamenei, who has the final say on matters of state, reiterated Rouhani's stance Thursday and said most of a fact sheet put out by the White House was contrary to what was agreed.

Khamenei also said there is no guarantee a final deal will be reached by the June deadline. "What has been done so far does not guarantee an agreement, nor its contents, nor even that the negotiations will continue to the end," he said, according to AFP.

"Everything is in the detail, it may be that the other side (the six world powers), which is unfair, wants to limit our country in the details," he added. "The nuclear industry is a necessity, for energy production, for desalination, and in the fields of medicine, agriculture and other sectors."  http://www.usatoday.com/story/news/world/2015/04/09/iran-president/25504319/
Iran apparently hopes that the West wants a deal so badly that it will accept more Iranian requirements.
As I wrote in November 2013, Iran has been able to delay the process, while presumably still working towards its nuclear objectives. Iran has learned that it can gain time by holding talks with the West and it continues to play that game–though the time may well come when it 'overplays its hand.'
Iran wants to takeover Jerusalem and lead the Islamic world.  It then wants to takeover the world.
That is what Iran's Supreme Leader Ayatollah Ali Khamenei really wants.
However, the bottom line is that although Iran wants to dominate the Islamic world, Bible prophecy shows that it will not. But, because leaders like its past and current presidents credit a non-existent Imam Mahdi for various events and its Supreme Leader has claimed to actually speak to him, the regime in Iran must be considered unstable and capable of taking steps that would seem illogical to outsiders.
This makes Iran dangerous.  Iran may well damage Israel (Isaiah 22:1-14) and even the USA.  But that will not end well for Iran (cf. Jeremiah 49:34-38)
But although it does provide support to various Islamic causes now, and probably will in the future, it will not be the power that the Bible teaches will be the coming King of the South. And if it is discovered not properly handling its latest nuclear agreement, its neutralization could come soon from outside sources.
Despite prophesied problems, ultimately, however, those in Iran will have an opportunity for salvation as the verse below is an allusion to:
39 'But it shall come to pass in the latter days:
I will bring back the captives of Elam,' says the Lord." (Jeremiah 49:39)
God is love (1 John 4:8,16). God intends to gather and resurrect the Iranians and offer them salvation (see also Universal Offer of Salvation: There Are Hundreds of Verses in the Bible Supporting the Doctrine of True Apocatastasis). A salvation that nearly all will accept as nearly all the Persians/Iranians who ever lived will be in the kingdom of God. A kingdom without fear or death or sorrow. A glorious kingdom. And that is the prophesied future for nearly all of the Persians.
God has a plan for those in Iran and it is better than what most there seem to believe (cf. 1 Corinthians 2:9).  But the current plans Iran's leaders have for it, is not good.
Some items of possibly related interest may include:
Iran in Prophecy Is Iran in Bible prophecy? If so, what does the Bible teach? What names, other than Persia, may be used to describe Iran? There is also a YouTube video titled Iran in Prophecy. Here is a related video Iran In Prophecy.
Universal Offer of Salvation: There Are Hundreds of Verses in the Bible Supporting the Doctrine of True Apocatastasis Do you believe what the Bible actually teaches on this? Will all good things be restored? Will God call everyone? Will everyone have an opportunity for salvation? Does God's plan of salvation take rebellion and spiritual blindness into account? Related sermon videos include Universal Offer of Salvation I: God is love  and Universal Offer of Salvation II: The Age to Come and the 'Little Flock' and Universal Offer of Salvation III: All Are to Know Jesus, But When? and Universal Offer of Salvation IV: Will the Guilty be Pardoned? and Universal Offer of Salvation V: All Israel Will be Saved? A version of the main article was also translated in the Spanish language: Oferta universal de salvación: Hay cientos de versículos en la Biblia que apoyan la verdadera doctrina de la Apocatastasis.
Jerusalem: Past, Present, and Future What does the Bible say about Jerusalem and its future? Is Jerusalem going to be divided and eliminated? Is Jesus returning to the area of Jerusalem? There is also a related YouTube video you can watch titled Jerusalem To be divided and eliminated.
How Will Middle East Peace be Brought About? Can humans bring peace to the Middle East? Here is a link to a related video: Middle East Peace? When?
The Gospel of the Kingdom of God was the Emphasis of Jesus and the Early Church Did you know that? Do you even know what the gospel of the kingdom is all about? You can also see a YouTube video sermon The Gospel of the Kingdom.
Anglo – America in Prophecy & the Lost Tribes of Israel Are the Americans, Canadians, English, Scottish, Welsh, Australians, Anglo-Saxon (non-Dutch) Southern Africans, and New Zealanders descendants of Joseph? Where are the lost ten-tribes of Israel? Who are the lost tribes of Israel? What will happen to Jerusalem and the Jews in Israel? Will God punish the U.S.A., Canada, United Kingdom, and other Anglo-Saxon nations? Why might God allow them to be punished first? Here is a link to the Spanish version of this article: Anglo-América & las Tribus Perdidas de Israel. Information is also in the YouTube sermons titled Where are the Ten Lost Tribes? Why does it matter? and British are the Covenant People. A short YouTube of prophetic interest may be Barack Obama and the State of the Apocalypse.
Will the Anglo-Saxon Nations be Divided and Have People Taken as Slaves? Will the lands of the United States, United Kingdom, Canada, Australia, and New Zealand be divided? What about Jerusalem? What does Bible prophecy teach? Are there non-biblical prophecies that support this idea? Who will divide those lands? Who will end up with the lands and the people? Here is a link to a video titled Will the USA and other Anglo-nations be Divided and Their People Made Slaves? Here is a related item in the Spanish language ¿Serán divididas las naciones anglosajonas?
Barack Obama, Prophecy, and the Destruction of the United States-Second Edition for Second Obama Term This is a 160 page book for people truly interested in prophecies related to Barack Obama and the United States, including learning about many that have already been fulfilled (which the book documents in detail) and those that will be fulfilled in the future. It also has a chapter about a Republican choice. This book is available to order at www.barackobamaprophecy.com. The physical book can also be purchased at Amazon from the following link: Barack Obama, Prophecy, and the Destruction of the United States: Is Barack Obama Fulfilling Biblical, Islamic Catholic, Kenyan, and other America-Related Prophecies? What About Republican Leaders? Second Edition for Second Obama Term.
Barack Obama, Prophecy, and the Destruction of the United States-Second Term-Amazon Kindle edition. This electronic version is available for only US$2.99. And you do not need an actual Kindle device to read it. Why? Amazon will allow you to download it to almost any device: Please click HERE to download one of Amazon s Free Reader Apps. After you go to for your free Kindle reader and then go to Barack Obama, Prophecy, and the Destruction of the United States-Second Term-Amazon Kindle edition.