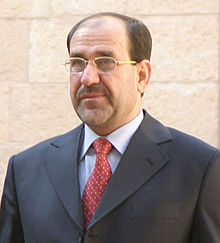 Iraqi Prime Minister Nouri al-Maliki

Iraq's top leader has rejected the idea that the USA proposed about making certain governmental changes and concessions in the hope to persuade certain leaders there to better unite in order to better fight the terrorist-linked group ISIS:
June 25, 2014

Iraqi Prime Minister Nouri al-Maliki has rejected forming an emergency government to help the country counter a surge by Sunni Islamist militants.

Maliki said Wednesday during a televised address that such a move would go against the constitution and the results of Iraq's April 30 parliamentary elections.

U.S. Secretary of State John Kerry said Monday that Iraqi leaders assured him they would meet a July 1 deadline for beginning to form the post-election government.

U.S. Support for Iraqi Security Forces and U.S. Interests

30-35 daily surveillance flights over Iraq
Aircraft carrier USS George H.W. Bush, guided-missile cruiser and guided-missile destroyer deployed to Arabian Gulf
300 military personnel to deploy to advise Iraqi security forces
Amphibious transport dock ship moves to Arabian Gulf with aircraft and Marines

Source: U.S. Department of Defense

Both Kerry and President Barack Obama have been urging Iraq to install a government that is inclusive of Iraq's Sunni and Kurdish minorities.

Maliki's Shi'ite-led government has faced criticism of sidelining the minorities and breeding sectarian tensions.  He called for unity in his address Wednesday.

The militants from the al-Qaida breakaway group the Islamic State of Iraq and the Levant have seized areas across northern and western Iraq.

US forces arrive

The United States is sending up to 300 military advisors to help Iraq counter the militants.  The first group of advisers began their mission Tuesday and more are scheduled to arrive in the next few days.  http://www.voanews.com/content/iraqi-pm-rejects-forming-emergency-government/1944406.html

June 25, 2014

Al-Maliki slams Sunnis

The sectarian rift in Iraq may have widened Wednesday when Prime Minister Nuri al-Maliki blamed his political rivals for "coordinating" the crisis.

Al-Maliki, a Shiite, accused Sunnis of collaborating with militants and slammed the call to have a national salvation government that would remove him from power.

"Iraq is facing a cross-border terrorist attack that is supported by some neighboring countries," al-Maliki added in a televised speech Wednesday.

He appealed to his Shia constituency by saying he is adhering to the wishes of of Shiite religious leader Ali Sistani, who called for volunteers to support the Iraqi army and government. http://www.cnn.com/2014/06/25/world/meast/iraq-crisis/
Iraqi Prime Minister Nouri al-Maliki's position is at odds with that of the USA.
Yesterday, US Secretary of State John Kerry said that the USA would not provide air strikes unless there were changes (Kerry Says US Air Strikes in Iraq Would Be 'Act of Irresponsibility').  Apparently, Iraqi Prime Minister Nouri al-Maliki has decided to try to fight ISIS without that type of USA support.
On the other hand, the Syrian government that the Obama Administration has repeatedly stated it wants overthrown has been making airstrikes into Iraq against ISIS:
June 25, 2014

Baghdad, Iraq (CNN) — At least 57 Iraqi civilians were killed and more than 120 others were wounded by what local officials say were Syrian warplanes that struck several parts of Anbar province Tuesday.

Sabah Karkhout, the head of Iraq's Anbar provincial council, told CNN that the attacks struck markets and fuel stations in areas such as Rutba, al-Walid and Qaim.

"Unfortunately, (the) Syrian regime carried out barbarian attacks against civilians in Anbar province," he said Wednesday. "Today we will hold an emergency meeting in Ramadi to address this issue."  http://www.cnn.com/2014/06/25/world/meast/iraq-crisis/
The Syrian interventions are concerning the USA:
June 25, 2014

Indications that Iran and Syria are providing military support to Iraq's Shiite government are raising red flags in the Obama administration, with top officials voicing concern that their involvement could create a "flashpoint" that only deepens sectarian tensions in the country…

Asked about these developments on Wednesday, Secretary of State John Kerry warned about actions "that might exacerbate the sectarian divisions that are already at a heightened level of tension." …

The involvement of Iran and Syria further complicates the Obama administration's position in trying to shore up the embattled Iraqi security forces as they face radical militants with the Islamic State of Iraq and Syria, or ISIS. http://www.foxnews.com/politics/2014/06/25/flashpoint-us-officials-concerned-about-iran-syria-intervention-in-iraq/
Israel and Jordan, despite each of them also having real issues with the Syrian government, apparently also are trying to take steps against ISIS:
June 25, 2014

As rebels from the Islamic State of Iraq and the Levant (ISIL) make additional gains in Iraq cooperation between Israel and Jordan is growing. A senior source in the Jordanian Embassy in Israel told Ynet, detailing Jordan's position regarding the ongoing crisis and potential US intervention.

"There is a very good cooperation between us regarding ISIL's growing presence in Iraq and Syria, but also on issues relating to other radical forces in the Middle East which have their sights set on Israel and Jordan," the diplomatic source was quoted by Ynet.

With the aid of Sunni tribesman, ISIL, which is an al-Qaeda breakaway group, has managed to take over parts of the tribal border between Iraq and Jordan for a short period of time. A recent report in Al-Arabiya claimed Jordan will send military forces to the area. http://www.worldbulletin.net/headlines/139502/jordan-and-israel-to-cooperate-against-isil-threat
As far as the overall situation in Iraq, the Obama Administration claimed again yesterday that it was caught off guard by the developments in Iraq, yet that has disputed by one or more intelligence officials:
June 24, 2104

The U.S. intelligence community warned about the "growing threat" from Sunni militants in Iraq since the beginning of the year, a senior intelligence official said Tuesday — a claim that challenges assertions by top administration officials that they were caught off guard by the capture of key Iraqi cities.

Earlier Tuesday, in an interview with Fox News, Secretary of State John Kerry said "nobody expected" Iraqi security forces to be decisively driven out by the Islamic State of Iraq and Syria, or ISIS, as they were earlier this month in Mosul.

But in a separate briefing with reporters Tuesday afternoon, the senior intelligence official said the intelligence community had warned about the ISIS threat.

"During the past year, the intelligence community has provided strategic warning of Iraq's deteriorating security situation," the official said. "We routinely highlighted (ISIS') growing threat in Iraq, the increasing difficulties Iraq's security forced faced in combating (ISIS), and the political strains that were contributing to Iraq's declining stability." …

Offering a grave warning about the current strength of the group — which is a State Department-designated terror organization — the official also said that barring a major counteroffensive, the intelligence community assesses that ISIS is "well-positioned to keep the territory it has gained."The official said the ISIS "strike force" now has between 3,000 and 5,000 members.

Further, the official said ISIS, as a former Al Qaeda affiliate, has the "aspiration and intent" to target U.S. interests.  http://www.foxnews.com/politics/2014/06/24/kerry-says-nobody-expected-mosul-collapse-despite-reported-warnings/
As far as targeting U.S. interests, I believe that the U.S., U.K., and others are subject to being hit by terrorism in the future from some tied to Iraq and/or ISIS (for more details, see Iraq, the King of the South, Armageddon, and Prophecy).  Iraq will be part of a confederacy that will harm the USA, UK, other Anglo-Saxon nations, and Israel per Psalm 83:2-8.
As far as the Obama Administration being caught off guard, I have been reporting for years (including prior to the election of US President Barack Obama) that I felt that Iraq could split into three pieces or so.  This realization is starting to occur to various ones in the media.  Notice a headline from yesterday:
Iraq crisis: the country is facing imminent break up say Western diplomats

Western officials say the crisis is 'the real thing' and are concerned that politicians cannot deal with its sheer scale

(http://www.telegraph.co.uk/news/worldnews/middleeast/iraq/10923597/Iraq-crisis-the-country-is-facing-imminent-break-up-say-Western-diplomats.html)
Bible prophecy indicates that Iraq will be part of an alliance called the King of the South (Daniel 11:40-43). Because of that, certain changes will have to take place in Iraq, and some are starting to happen.  It may also be that Iraq will split then two or more pieces of it will end up aligning with the coming confederation (cf. Ezekiel 30:3-5) of the King of the South.
Peoples in that alliance are also prophesied to make a deceptive deal with an end time European power (Daniel 11:27) as well as a deal with the leading people there in order to bring about the destruction on the end time descendants of Israel (Psalm 83:2-8), which would include the USA and its Anglo-Saxon descended allies.
Some items of possibly related interest may include:
Iraq, the King of the South, Armageddon, and Prophecy What will happen to Iraq? Is it the prophesied Mystery Babylon? What is Armageddon and how does that have to do with Iraq? Here is a related video Iraq, Armageddon, & Prophecy.
Iran in Prophecy Is Iran in Bible prophecy? If so, what does the Bible teach? What names, other than Persia, may be used to describe Iran? There is also a YouTube video titled Iran in Prophecy. Here is a related video Iran In Prophecy.
Is the Future King of the South Rising Up? Some no longer believe there needs to be a future King of the South. Might Egypt, Islam, Iran, Arabs, or Ethiopia be involved? Might this King be called the Mahdi or Caliph? What does the Bible say? A YouTube video of related interest may be: The Future King of the South is Rising.
The Muslim Brotherhood and the Rise of the King of the South The Bible tells of the formation of a power of nations that are in the Middle East and North Africa that are part of the final "King of the South" (Daniel 11:40-43) The Muslim Brotherhood wishes to have an Islamic empire with basically the same nations. This YouTube video explains what to expect from such a confederation.
The Arab and Islamic World In the Bible, History, and Prophecy The Bible discusses the origins of the Arab world and discusses the Middle East in prophecy. What is ahead for the Middle East and those who follow Islam? What about the Imam Mahdi? What lies ahead for Turkey, Iran, and the other non-Arabic Muslims? An item of possibly related interest in the Spanish language would be: Líderes iraníes condenan la hipocresía de Occidente y declaran que ahora es tiempo para prepararse para el Armagedón, la guerra, y el Imán Mahdi.
Egypt in Prophecy Does Egypt have a special role in end time prophecy? Will Egypt rise up and then be defeated. What does God teach will
What Should You Know About Turkey in Prophecy Do you know the Turkish people descended from? Did the Ottoman Empire possibly fulfill a promise in Genesis? Will Turkey support the European King of the North or Arabic King of the South? Will it betray one of them? Will Turkey be involved in the encouraging the destruction of Israel? Is Turkey going to become Catholic? Is Turkey mentioned in Psalm 83, Daniel 11, and elsewhere in the Bible? This video provides answers.
Damascus and Syria in Prophecy Will Bashar Assad hold power as he has it? Does the Bible show that Damascus, the capital of Syria, will be destroyed? What will happen to Syria? Will the Syrians support the final King of the South that the Bible tells will rise up? Which scriptures discuss the rise and fall of an Arabic confederation? Does Islamic prophecy predict the destruction of Syria. This is a YouTube video.
Is There an Islamic Antichrist? Is Joel Richardson correct that the final Antichrist will be Islamic and not European? Find out.
Anglo – America in Prophecy & the Lost Tribes of Israel Are the Americans, Canadians, British, Scottish, Welsh, Australians, Anglo-Southern Africans, and New Zealanders descendants of Joseph? Where are the lost ten-tribes of Israel? Who are the lost tribes of Israel? Will God punish the U.S.A., Canada, United Kingdom, and other Anglo nations? Why might God allow them to be punished first?
Will the Anglo-Nations be Divided and Have People Taken as Slaves? Will the lands of the United States, United Kingdom, Canada, Australia, and New Zealand be divided? What about Jerusalem? What does Bible prophecy teach? Are there non-biblical prophecies that support this idea? Who will divide those lands? Who will end up with the lands and the people? Here is a link to a video titled Will the USA and other Anglo-nations be Divided and Their People Made Slaves?
Barack Obama in Islamic Prophecy? There is actually a 17th century Shiite prophecy that some believe that Barack Obama will fulfill that will lead to a rising up of Islam.
Arabic Nazarenes May Have Kept Original Christian Practices Were their faithful Arabs who held to original Christianity?
Nazarene Christianity: Were the Original Christians Nazarenes? Should Christians be Nazarenes today? What were the practices of the Nazarenes.
Barack Obama, Prophecy, and the Destruction of the United States-Second Edition for Second Obama Term This is a 160 page book for people truly interested in prophecies related to Barack Obama and the United States, including learning about many that have already been fulfilled (which the book documents in detail) and those that will be fulfilled in the future. It also has a chapter about a Republican choice. This book is available to order at www.barackobamaprophecy.com. The physical book can also be purchased at Amazon from the following link: Barack Obama, Prophecy, and the Destruction of the United States: Is Barack Obama Fulfilling Biblical, Islamic Catholic, Kenyan, and other America-Related Prophecies? What About Republican Leaders? Second Edition for Second Obama Term.
Barack Obama, Prophecy, and the Destruction of the United States-Second Term-Amazon Kindle edition. This electronic version is available for only US$2.99. And you do not need an actual Kindle device to read it. Why? Amazon will allow you to download it to almost any device: Please click HERE to download one of Amazon s Free Reader Apps. After you go to for your free Kindle reader and then go to Barack Obama, Prophecy, and the Destruction of the United States-Second Term-Amazon Kindle edition.