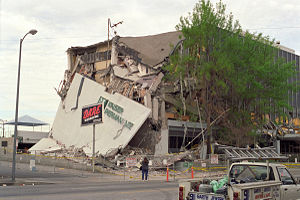 6.7 Earthquake in Northridge California Destroyed the Above Building of Kaiser Permanente As Well as Various Freeway Overpasses and other Buildings on January 17, 1994. The Northridge quake was over 10 times as powerful as the Chino Hills 5.4 quake on July 29, 2008

As I posted before (see Yes, There Was An Earthquake, But…), Timothy Zimmerman Carpenter (of I Saw the Light Ministries) believes that when he claimed on a May 22, 22008 YouTube posting that there would be a major earthquake in the California region in June/July 2008 and not one that was only 3,5, or 6 points (on the Richter scale), that his prediction came to pass when a 5.4 magnitude quake hit in Southern California on July 29, 2008.
I disagreed with him then and now as I do not believe that God told him to give a wrong scale of magnitude for an earthquake. Yet eventually, someone like him will make some predictions that will come to pass (he also claims that several of his other predictions have came to pass as well).
On March 22, 2008, Tim Carpenter posted:
UPDATE: 3-22-2008: IT IS NOW TIME TO MOVE INTO THE PLACES OF SAFETY. THERE IS NOT MUCH TIME. YOU MUST MOVE NOW NOW NOW NOW NOW NOW!!!!!!!!!!!! IF YOU BELIEVE THIS AND HAVE REPENTED FROM YOUR PASS PAGAN CUSTOMS AND TRADITIONS AND ACCEPT THIS WEBSITE AS GIVEN BY GOD AND ACCURATE, YOU MAY CONTACT ME FOR DETAILS. Everyone MUST be in place as soon as possible ASAP in 2008!
He posted on July 29, 2008:
Time is Short, the final 42 months start soon!!!
His home page currently states:
NOW is the Time to go into the Place of Safety / Safe Zones!!!! NOW!
Also, on his home page he tells people:
Step 1: Open Your Bible NOW!
And that is a very good first step.
So let's open our Bibles and see when we are supposed to flee to a place, and how long the faithful are in a place of protection/safety in the wilderness.
Jesus taught:
15 "Therefore when you see the 'abomination of desolation,' spoken of by Daniel the prophet, standing in the holy place" (whoever reads, let him understand), 16 then let those who are in Judea flee to the mountains (Matt 24:15-17).
That particular abomination has not yet happened.  So, now is not when the faithful are to flee.
Daniel wrote:
11 And from the time that the daily sacrifice is taken away, and the abomination of desolation is set up, there shall be one thousand two hundred and ninety days (Daniel 12:11).
So the fleeing takes place after a prophesied event–after the 1290 days begins.
Timothy Carpenter does have an article at his website on the place of safety where he quotes Revelation 12 extensively–but never mentions months–but presumably that is where he got his 42 months.
In Revelation 12, the Apostle John was inspired to write:
13 Now when the dragon saw that he had been cast to the earth, he persecuted the woman who gave birth to the male Child. 14 But the woman was given two wings of a great eagle, that she might fly into the wilderness to her place, where she is nourished for a time and times and half a time, from the presence of the serpent (Revelation 12:13-14).
The expression "a time and times and half a time" is considered by most scholars to mean 3 1/2 years, or forty-two months.  But if March 2008 or even today is the beginning of the time to be in the place of safety, then the 42 months should have started (they have not per Jesus' comments in Matthew)–thus the "prophecies" from Timothy Carpenter to flee now are also in error.  (He also told me in May 2008 that it was time to flee as he falsely claimed God had revealed to him the locations of various "Cities of Refuge".)
Similar to CGPFK's Ronald Weinland, Tim Carpenter simply does not seem to believe what the Bible states about the abomination of desolation being set up or when the 1260/1290 days begin.
On the one hand, he has been telling people since March 2008 to go to the place of safety and on the other hand, he claims that the 42 month (1260 days) has not yet began.
He simply cannot be correct according to the testimony of the Bible.
Remember that the Bible teaches:
20 To the law and to the testimony! If they do not speak according to this word, it is because there is no light in them (Isaiah 8:20).
Thus, I do not believe that Timothy Carpenter truly has "saw the light".  Maybe he will now.
But whether he does or not, now is NOT the time to flee.
Those interested in learning from the Bible why the end cannot be before 2012, where the place of safety may be, and more on biblical prophecy may wish to read all of the following articles:
End of Mayan Calendar 2012–Might 2012 Mean Something? There is a Mayan calendar prediction for change in 2012. 2012 changes were also centuries ago predicted by the Hopi Native Americans and the Hindu Indians (who were not even on the same continent). Do these Mayan/Hindu/Hopi prophecies have any value? Why might Satan have inspired this date? Does the Dresden codex show destruction of the earth by flood? Can the great tribulation start before 2012?
There is a Place of Safety for the Philadelphians. Why it May Be Petra This article discusses a biblical 'place of safety' and includes quotes from the Bible and Herbert W. Armstrong on this subject–thus, there is a biblically supported alternative to the rapture theory.
Why Be Concerned About False and Heretical Leaders? There have been many false leaders–here is some of why you should be concerned about them.
Who is the King of the North? Is there one? Do biblical and Roman Catholic prophecies point to the same leader? Should he be followed? Who will be the King of the North discussed in Daniel 11? Is a nuclear attack prophesied to happen to the English-speaking peoples of the United States, Great Britain, Canada, Australia, and New Zealand? When do the 1335 days, 1290 days, and 1260 days (the time, times, and half a time) of Daniel 12 begin? When does the Bible show that economic collapse will affect the United States?